You do wonder whether Ford's bastardisation of the original 1983 Ghia Barchetta concept was one of the car industry's greatest missed goals in the late 20th century. With more foresight, what could have stolen Mazda's thunder with its MX-5, six years later, morphed into a model whose mediocrity confined it to a short life in only two markets.
The Barchetta's inspiration came from one of the industry's archetypal 'car guys' and personalities, Bob Lutz. Already time-served at General Motors and BMW before joining Ford in 1974, Lutz's market insight was renowned, and by the early '80s he'd already been responsible for the radically-styled Sierra, which ushered in a new design language for the Blue Oval, and with it a change in perception for the brand.
How much is your car to insure? Find out in four easy steps.
Get a quote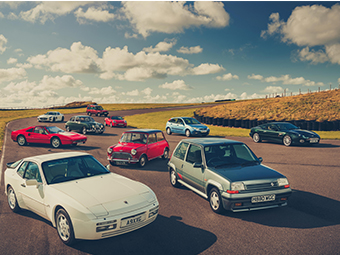 But at the Geneva Motor Show in 1982, the Sierra was still half a year away, and Lutz, then head of Ford Europe, was frustrated by the company's lack of new and interesting product. With the MG B and Triumph Spitfire recently consigned to long-overdue graves, the market in Europe and North America lacked affordable, two-seat sports cars (Fiat's X/19 being a notable exception). Fired by enthusiasm for Porsche's pared-down Speedster model from the 1950s, Lutz commissioned Ghia, the Ford-owned design house, to develop a concept for a low-cost, two-seat sports car, using existing Ford mechanicals.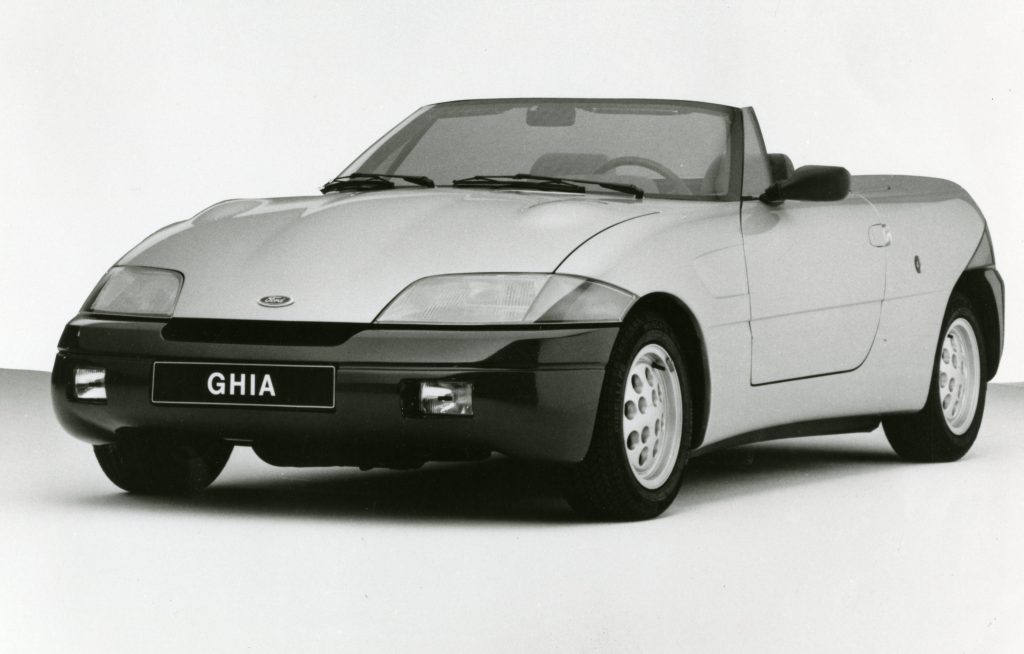 What emerged from the Turin-based design house in September 1982 – and also showcasing Ghia's talent for turning around production-viable concepts in the blink of an eye – was a little jewel of a roadster that had all the ingredients for fun, open-topped, budget motoring, while still looking fresh and modern. Based around the Fiesta XR2's platform, and using that model's well-proven 82bhp 1.6-litre, 8-valve motor, the Barchetta retained the Fiesta's wheelbase, but was significantly shorter, thanks to its near-zero overhangs front and rear. And while Ghia's striking two-door body wore a rather Heath Robinson-like canvas roof, with its matte grey bumpers, wrap-around indicators front and rear, pepper-pot 13-inch alloy wheels, and distinctive extractor-vents behind the front wheels, there really was nothing else like it – especially from a conglomerate like Ford.
"It was a very neat-looking car," Bob Lutz told thetruthaboutcars.com in a 2011 interview. "It was cute, but the functionality was close to zero: no back seat, no trunk… nothing – just a very basic, low-cost two-place roadster… I wouldn't let them change the engine placement. I said 'If we have a chance at putting this into production, we have to keep the Fiesta underpinnings'…(But) I needed some volume to make a viable programme out of it, so I figured we could do eight- to nine-thousand of them in Europe."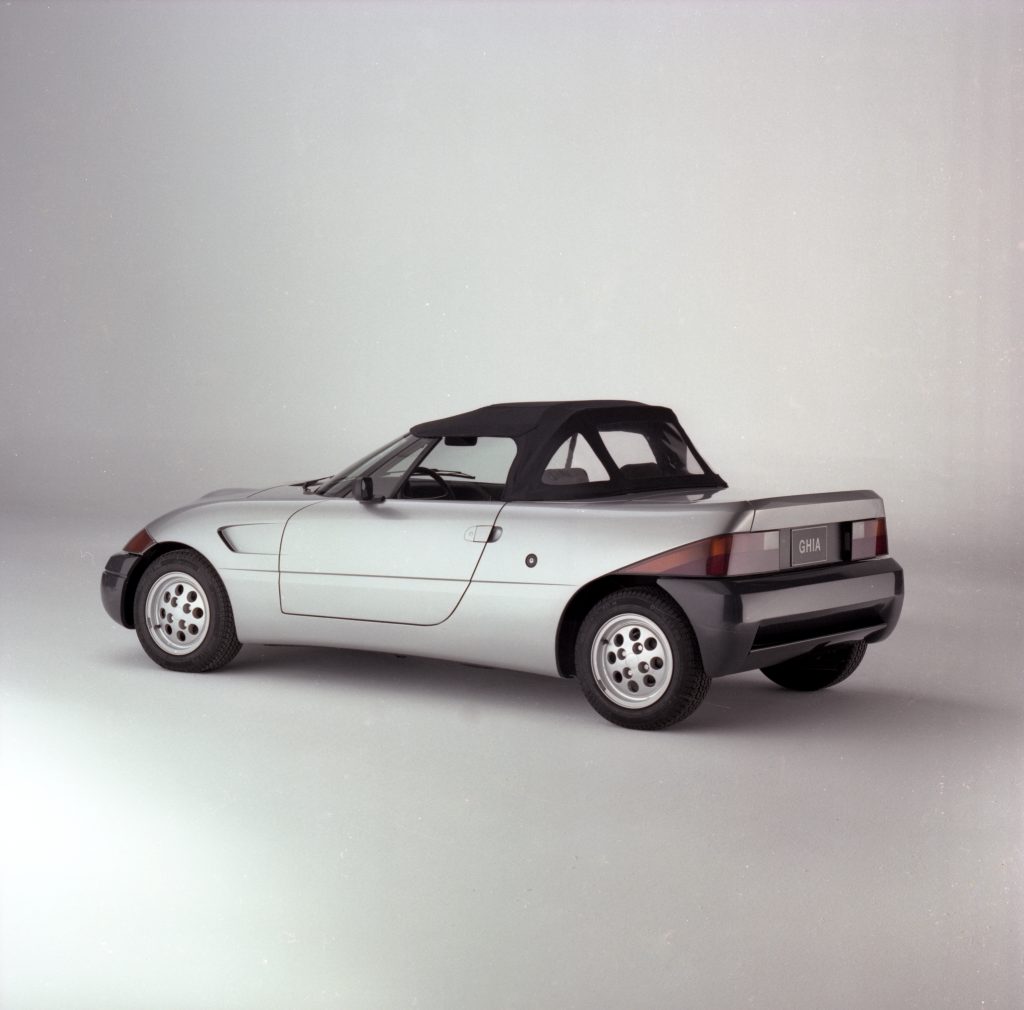 Despite Lutz's bullish ambition, some senior members of Ford still saw the Barchetta as no more than a concept: "Ford has no plans to build a car like this anytime soon," said its deputy design director, Donald F. Kopka. "The Barchetta is simply intended to demonstrate that an affordable and attractive two-seater project can be done."
However, during 1983, the Barchetta programme attracted a lot of positive customer reaction, as Ford exhibited it at various shows and exhibitions, even though in the States it would likely have retailed at around $8,000, when a four-cylinder Mustang Convertible could be had for $7,600. But in Europe – Lutz's intended market – there was clear demand for a production version; German fans even formed their own 'Barchetta Club', which gained over 10,000 members.
And this is where Ford Asia-Pacific comes into the story. An approach was made by territory chief, Alex Troutman, to Mazda with a view to productionising the Barchetta. But while Ford owned a stake in the Japanese car maker, Mazda was put off by the concept's front-wheel-drive architecture, and anyway, insisted that it was already busy with its own affordable rear-drive sports car (to become the MX-5/Miata). To make matters worse, it soon became apparent that Ghia lacked the capacity to develop the Barchetta further, so Ford offered the project to Italdesign. But according to Steve Saxty, author of Secret Fords, Italdesign's costs were set to be 40 per cent higher.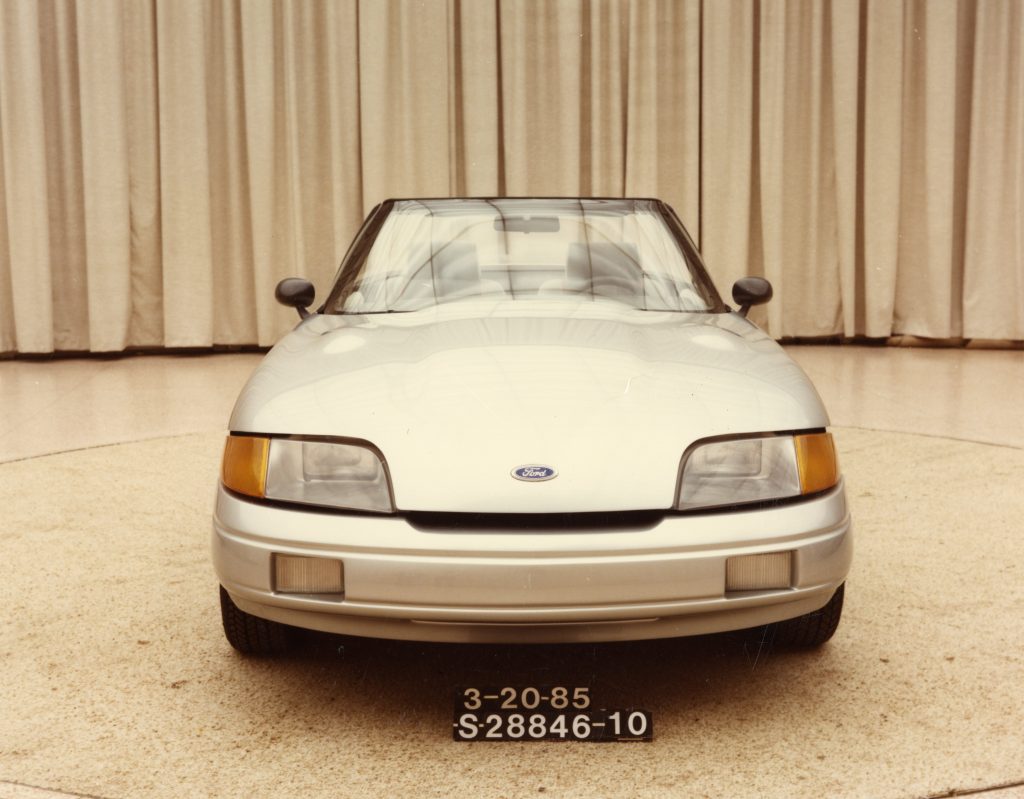 In the end, corporate caution won the day. Fearful that the Barchetta's design was too radical, and with Lutz by then making tracks to rival Chrysler, Troutman was forced to dumb down the front-drive sports car concept to satisfy Ford's recipe for production viability. Now using the drivetrain from the Mazda 323 saloon, the concept gained a rear bench, a boot and a far more conventional design, with longer overhangs and more weight: "Functionalising it wrecked it," declared Lutz. And since Ford's production capacity in Europe was not geared up for such a relatively low-volume model, manufacturing was shifted to Australia, where from 1989 it was built as the Ford Capri for the domestic market, and (from 1991) the Mercury Capri for North America, with both models ending in 1994.
And if Ford had stayed loyal to the original concept? Well, Mazda could tell you how that worked out.
Read more
Check out the Hagerty Media homepage for daily news, features, interviews and buying guides, or better still, bookmark it. Or sign up for stories straight to your inbox, and subscribe to our newsletter.