The full extent of the Mk1 Ford Escort's rallying success could have been only a glint in the eyes of engineers at Boreham when this 1968 advert for the Vauxhall Viva GT hit the pages of Britain's car magazines.
Yet one look at the two-litre Viva GT, coolly commanded with just a touch of opposite lock around a dusty corner, and you'd be forgiven for thinking Vauxhall was having a pop at its Essex rivals and their burgeoning racing and rallying success.
How much is your car to insure? Find out in four easy steps.
Get a quote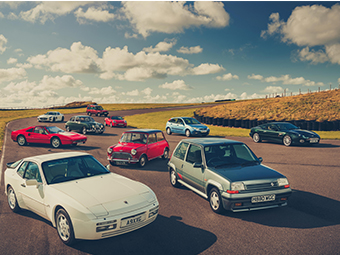 The only truly sporting Escort at the time was the Twin Cam; revered now, thanks to that Lotus-developed 1.6-litre engine, but the larger capacity Vauxhall absolutely had the measure of its 105bhp rival, just as it did – on paper at least – with the twin-cam-powered Lotus Cortina.
With just a single overhead cam, the Vauxhall's 2-litre made 112bhp, more even than the 1.6-litre Alfa Romeo Giulia Sprint GT. You can tell Vauxhall was proud of it, since its capacity is mentioned twice in the space of four lines (and its single camshaft three times throughout the ad), but with twin Stromberg carbs and a four-branch exhaust manifold it made up in bolt-on parts what it might have lacked to its rivals' extra camshafts.
The man behind the wheel might not have looked impressed, but deep down he was probably enjoying the Viva GT's other improvements over plebian models, such as an uprated clutch and gearbox, dedicated front and rear axles with uprated suspension, and servo-assisted 10-inch front discs behind 13-inch wheels.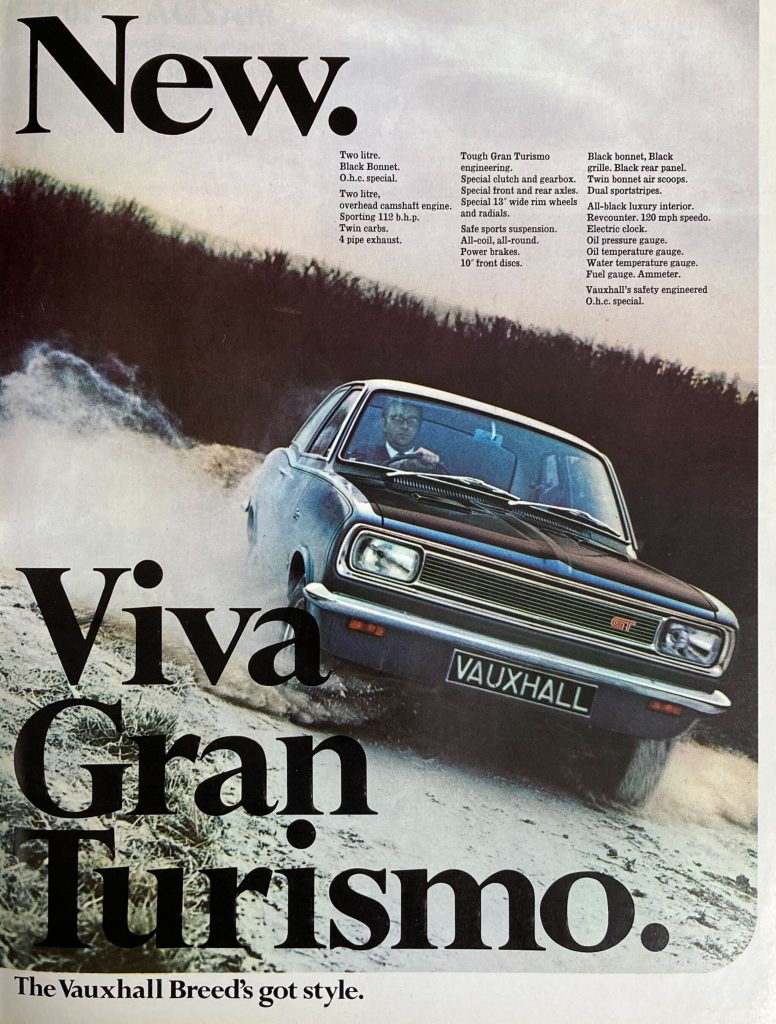 He would also be pleased by the 120mph speedometer boasted of in the advert. The reality was a shade over 100mph, but a 0-60mph time of around ten seconds flat was half that of the base Viva, and right up there with the numbers quoted by Ford of the Twin Cam and Lotus of the Cortina.
Oil temperature and pressure gauges, a water temp dial and an ammeter joined the speedometer, tachometer, fuel gauge and clock in a comprehensive instrument package. It's probably just as well our heroic driver wasn't staring at that lot mid-skid, but as pub car park ammunition, he'd be well armed.
And he wouldn't be getting any distracting reflections off the bonnet either, since Vauxhall painted it black for the GT – concealing the presence of a pair of air intakes, and matching the car's grille and stripe package.
The Ford equivalents get all the press today, and given their contemporary on- and off-track successes – as well as enormous sales figures – that's understandable. The Viva is much rarer, and difficult to value; if our £7000 Hagerty Price Guide figure seems low, it's because so few come to market.
But it's undoubtedly more affordable today than its Ford rivals, and as that 1968 advertisement shows, could still give them a run for their money in the hands of the right driver.
Read more
7 underrated British modern classics
How the Cavalier stole the Sierra's thunder
7 lesser-spotted British classics you can buy for under £10k