Let's call use of the term "sports car" creative licence for this 1964 advertisement for the Type 3 Volkswagen Variant, a car the copywriters would have you believe was perfect for sport and all manner of other pursuits.
Expectations of performance were a little different in 1964 of course; if the "sports car" Volkswagen's ad-writers had in mind was say, the Austin-Healey Sprite, then one imagines a briskly-driven Variant might indeed keep up.
The boast of an 85mph cruising speed probably wasn't unwarranted either. By 1964 the Type 3's 1.5-litre boxer four made a modest 44bhp, or 53bhp in Super form – neither a huge number.
But like all aircooled VWs to that point, the engine was designed very much with flat-out running in mind. It might take a while to get to 85mph, and it might not go much faster, but you could probably stay there all day without that low-revving flat-four complaining.
Sports car performance was only part of the brief, anyway. As the big pile of kit (apparently sourced from Selfridges) implies, the VW could do all this with the back end stuffed to the rafters with… well, stuff.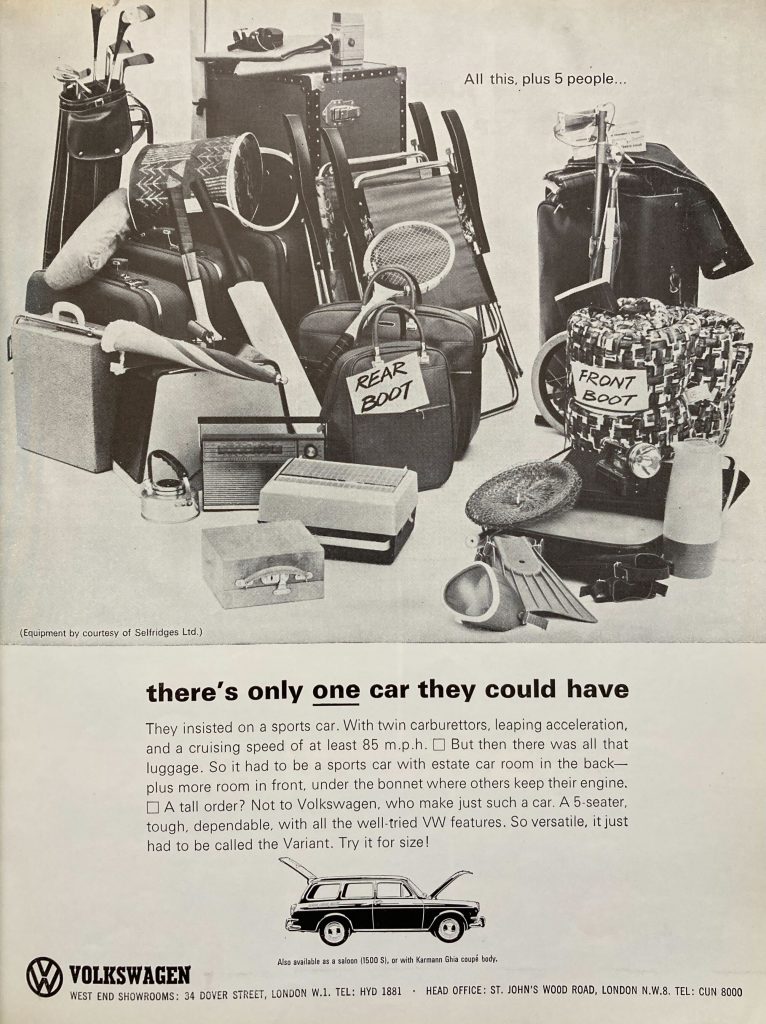 More than you'd have got in a Beetle, that's for sure, and like a handful of modern electric cars, one of the Variant's party tricks was usable luggage space in both the front and back. VW made good use of its flat engines in the Type 3, notably changing the Beetle's bulky cooling setup for a more compact unit.
You could then squeeze a luggage space on top, supplementing the one under the bonnet at the front, which itself was more practical than a Beetle, since the spare wheel had a bit more space to live upright behind what would normally be a grille.
Strangely, it took a while for VW to introduce the Type 3 into what you'd think to be its most obvious market: the United States. North America bought Beetles in droves but clearly had a thing for larger cars, so what amounted to effectively a bigger Beetle should have been over there from its 1961 launch. Instead, it took until 1966, was naturally well-received, and is now probably the best place to find rust-free Type 3s of all shapes and sizes.
One shape not yet mentioned, but crammed into the bottom of the ad, was the fancy one: the Karmann-Ghia. The Type 34 "Razor Edge" Ghia was introduced the same year as the Type 3, 1961, and sat on its platform.
This wasn't really a sports car either, of course, but if you didn't need to carry half of Selfridges around with you, it was arguably a bit closer to the definition than the Variant.
Read more
Ad Break: The Vauxhall Viva GT tried to tempt you from an Escort
Future Classic: Volkswagen New Beetle
The One That Got Away: Drew Pritchard has finally stopped selling the cars he loves