The Volkswagen Beetle's enormous success – globally, but particularly in the United States – was because it was affordable, and in no small part because it was marketed brilliantly.
We don't know how well the Kawasaki KZ-400 sold in the mid-1970s, but the brand's 1975 advertisement was very much from the "sincerest form of flattery" school of thought, and traded very much on the qualities that had made Volkswagen's small car a massive hit when it first arrived on US shores.
How much is your car to insure? Find out in four easy steps.
Get a quote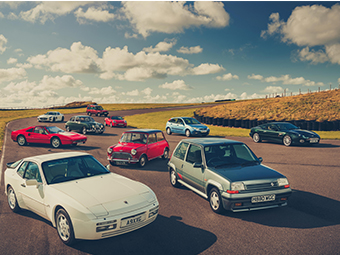 Even if there wasn't a Beetle right there in the frame, the simplistic layout, the font, and the straightforward ad copy are very much cribbed from VW's legendary ad agency, DDB (to the extent we'd not be surprised if Kawasaki went to DDB itself and said "more of that, please"). The tagline, "Think even smaller", was a direct reference to Volkswagen's "Think small" Beetle ad first seen in 1959.
But the brand was obviously trading on the Beetle's common sense too, illustrating how much you could get for your $995, and how much you could save as a result in this post-fuel crisis world.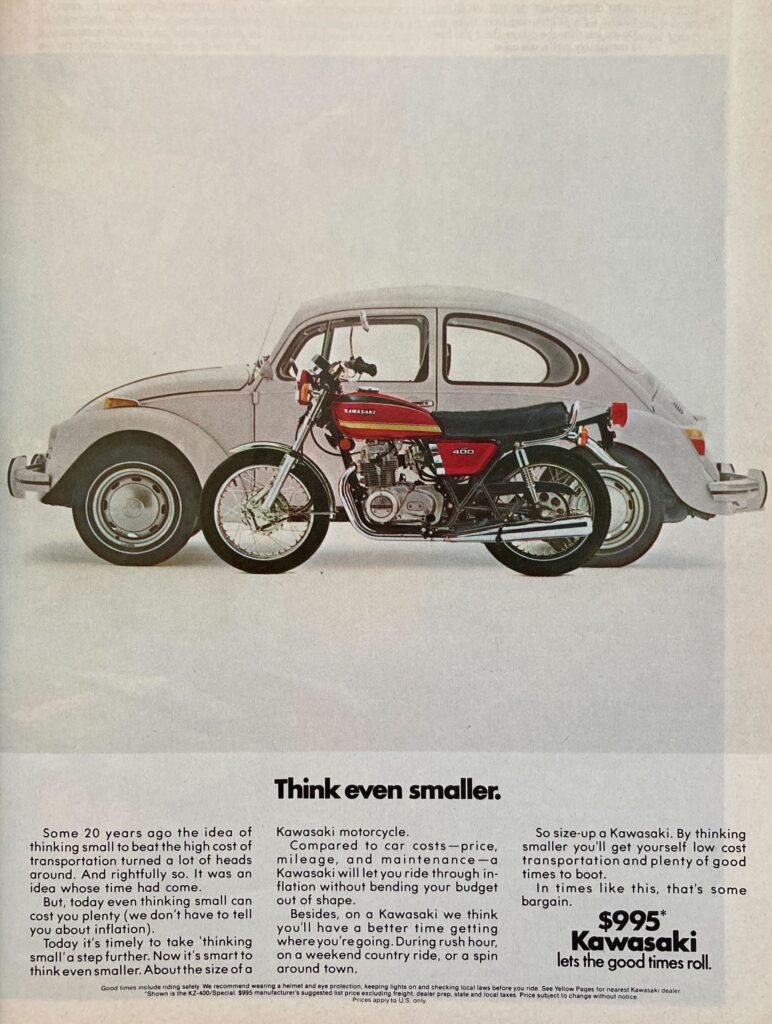 Even a Beetle, implied the copy, could start to get a bit expensive given the cost of fuel and inflation (starting to sound familiar, this), whereas for less than a thousand bucks a shiny new Kawasaki could save you on purchase costs, fuel economy and maintenance.
And be a lot more fun, which is another reason people bought Beetles. You got half the cylinders with a KZ-400 compared to a Beetle, but the 399cc parallel twin was good for around 35bhp for its 180kg (sans rider). A 1600 Beetle, in comparison, gave you only 13 extra horses but had to push another 650kg. Power to weight beats flower power every time.
Another feather in Kawasaki's cap, albeit not mentioned in the ad, was that from 1974, the company actually started building bikes in the US, the first foreign motorcycle manufacturer to do so. Whether home pride or favourable costs, it gave Kawasaki the edge over Honda, the KZ-400 outselling its Honda equivalent.
Maybe it did beat the Beetle too, which was already in decline by the mid-'70s and finally rolled over onto its back in 1977. The KZ-400 would last until 1980, by then with a four-cylinder engine. But with no Beetle to compare to, we bet its advertisements weren't quite as clever.
Read more
Buying Guide: Volkswagen Beetle (1938-2003)
50 years on, the Kawasaki Z1 is still one of the meanest motorcycles on the road
Ad Break: One Variant does it all