With Pearl White paint that was referred to in some circles as cocaine white, a body kit that ripped off the design of the Ferrari Testarossa and a flat-six' engine with enough turbo lag that you could make an espresso in the time it took for the action to happen, the Rinspeed Porsche R69 Turbo could only be a product of the 1980s.
In fact, it was in 1985 that this rare Rinspeed first strutted onto the sports car scene. Said to be one of only a dozen made, it harks back to a time when Miami Vice celebrated sharp suits and sharp policing practices, Dynasty was duking it out with Dallas in a television ratings war, and Phil Collins stormed the album charts with No Jacket Required.
How much is your car to insure? Find out in four easy steps.
Get a quote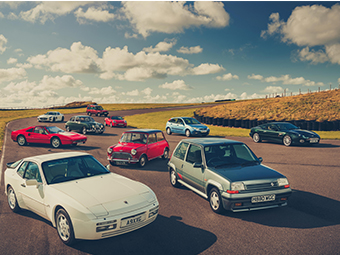 For obvious reasons, the Rinspeed Porsche R69 Turbo quickly became known as the Porsche Testarossa, doubtless failing to please either Rinspeed, Porsche or Ferrari. While a small number were made, Rinspeed did manage to attract international clients – as evidenced by this example, which began life as a UK car.
To enjoy R69 action, customers would have to present a Porsche 911 Turbo – the 930 – to Rinspeed. From its base in Zurich, Switzerland, the team was led by the man whose taste knew no boundaries, Rinspeed founder Frank Rinderknecht. In this instance, an entirely original, 1980 930 Turbo in Petrol Blue metallic paint was handed over to Rinspeed. The end result was original in an altogether different sense.
The Swiss car customising company redesigned the bodywork, giving the 911 a slanted nose – helped by using the pop-up headlights of the Porsche 944 – creating the straked flanks, and extending the rear bodywork over the engine, and finishing it off with the taillight clusters from the 944. Needless to say, during the process a modest amount of fibreglass and filler was likely to have been consumed. To finish everything off, a white suit with shoulder pads and white loafers was included. What fun that would have been – instead Rinspeed went down the conventional customising route and fitted each model with 15-inch Gotti split-rim alloy wheels with white centres.
The 3.3-litre, flat-six cylinder turbocharged engine drives through the original four-speed manual gearbox, while a sports exhaust was fitted later in the car's life. And they haven't been used sparingly, as this R69 has clocked up nearly 70,000 miles.
Significant maintenance work has been carried out over the past handful of years, as well as a respray of the main attraction – the Rinspeed bodywork. You can browse the full history of the car on the Collecting Cars site, where (at the time of writing) the auction has 11 days left to run and two offers have been submitted, taking the price to £50,000. Given the Hagerty Price Guide values an 'Excellent' #2 condition original 1980 930 Turbo at £98,000, those bids are likely to rise.
Needless to say, the Porsche Testarossa won't be to everyone's taste but that is precisely what will make such a car so appealing to some. It is a snapshot in time, a heady statement that sticks two fingers up to conformity. And who doesn't like to do that every now and again?
Read more
Opinion: Why I'm done with supercars
The BMW M5 E39 may be even hotter than we thought
Life's a beach: The new generation taking on Bruce Meyer's dune buggy