A custom Ferrari that bears more than a passing resemblance to a Mitsubishi Starion is to be auctioned at RM Sotheby's Paris sale.
The Meera S was created by coachbuilder Michelotti for a member of the Saudi Royal family in the early 1980s, and currently resides in Dubai. Based on a 1980 400i the car was completely rebodied, and all we can see is Mitsubishi. The hidden A-pillars give the appearance of wraparound glass, and, uniquely, each pane including the side windows and rear window has its own wiper.
How much is your car to insure? Find out in four easy steps.
Get a quote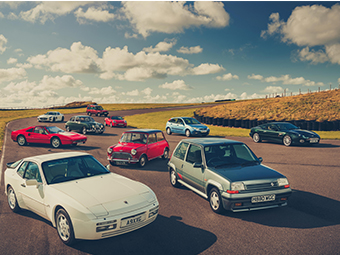 RM Sotheby's calls it a 'symbol of opulent 1980s design', and they're not wrong. The metallic white paintwork is a shade called Bianco Fuji – the Japanese references don't just end with the boxy styling, apparently – and it contrasts heavily, perhaps too much for some, over a red and cream leather interior that's certainly more vivid than anything you'd find in a Starion. And is it just us, or does that collection of instruments in the centre console look a bit like the famous Nakagin Capsule Tower in central Tokyo?
Okay, perhaps all this is a little unfair. There's arguably some Clan Crusader in the Meera's profile (wait, is that better or worse?), and perhaps some Reliant Scimitar SS1 in the details – another of Michelotti's projects, incidentally.
Other innovations include a rear-view camera and dual-zone air conditioning. In 2010 the car underwent a massive £210,000 restoration by Ferrari Classiche (Maranello's in-house classics and restoration department) and yet the auction estimate is between £75,000 and £95,000.
That's more than the £44,000 that would get you an excellent 400i or even the £66,800 that would get you the best 400i on the planet, but it's relatively small beans for a one-off Ferrari, and particularly one that has recently been restored.
Still, the Meera S was apparently the last Ferrari to be designed by Michelotti. We can't possibly imagine why, can you?
Read more
Six months, 12 cylinders: We catch up with the RML Short Wheelbase
Meteor V12 tank-engined special is just a few tweaks from perfection
White Lightning: The Rinspeed Porsche R69 Turbo is terrifyingly terrific