Bonhams hosted its Les Grandes Marques du Monde à Paris auction on February 3, and the cars crossing the block were nothing if not eclectic.
While the presence of the usual high-end metal (and carbonfibre) came as no surprise – a Bugatti EB110 GT for instance, as well as a 1993 Jaguar XJ220, a hugely tasteful Ferrari 550 in Verde Inglese, and even a selection of vehicles from the early days of motoring – scrolling through the lot list revealed another pattern: The oddballs.
How much is your car to insure? Find out in four easy steps.
Get a quote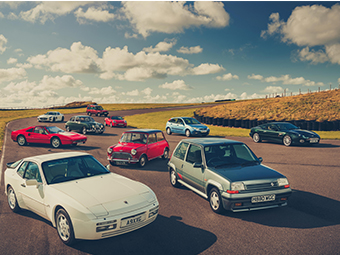 From replica racing cars to a one-off roadster and an Aston Martin that's somewhat more practical than the norm, these are our picks of the less usual suspects at the Les Grandes Marques sale, and the results they achieved during the auction.
1995 Sauber C9 'BMW M1' Group 5 replica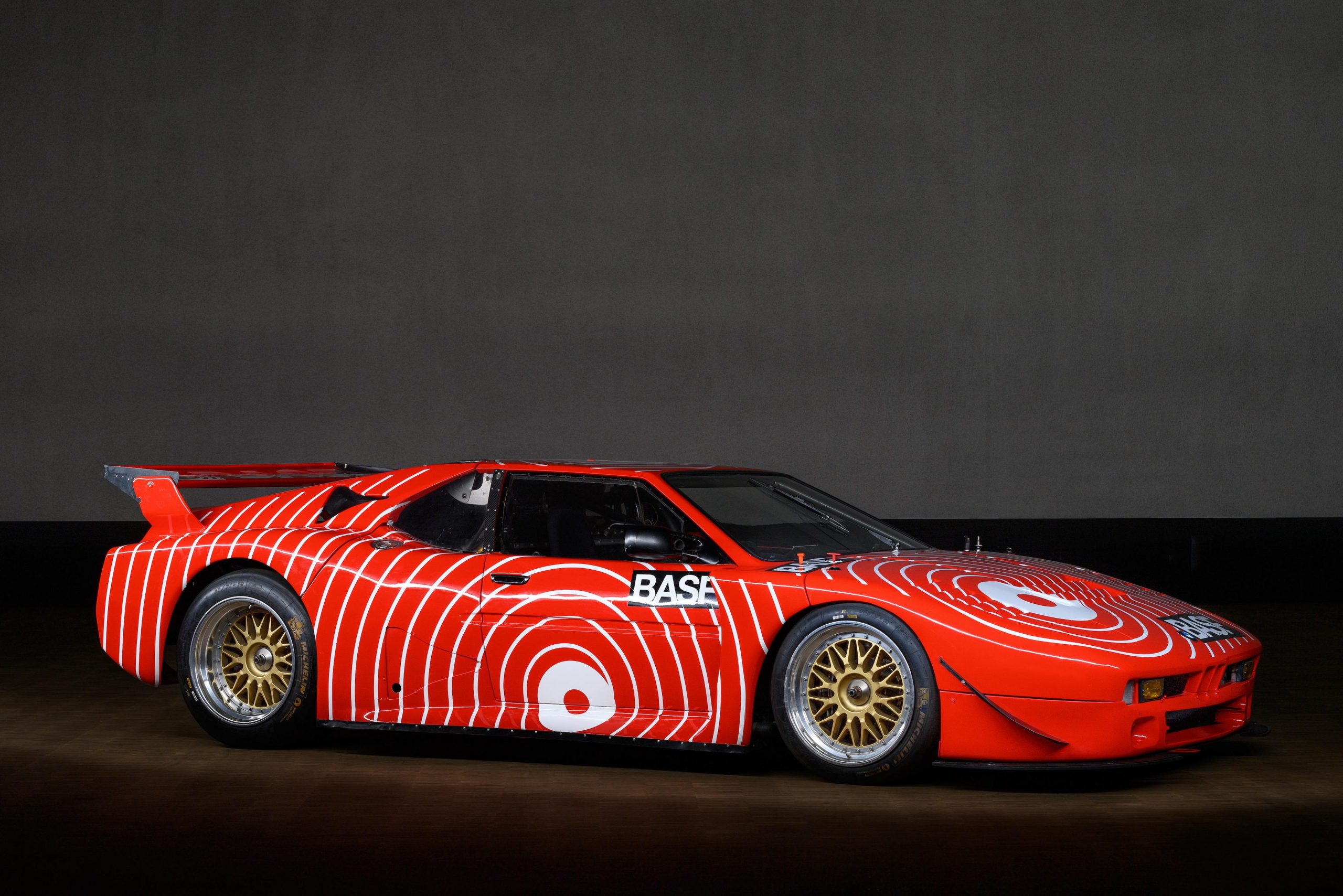 You've probably heard of the BMW M1, and probably heard of the Sauber C9, which twice won the World Sportscar Championship. That the two were ever combined is more of a surprise, but that's exactly how this BASF-liveried replica was conceived when it was built in Switzerland.
It's not, if we're being frank, the prettiest of race cars, even though both the original BMW M1 and Sauber C9 racers are spectacular lookers in their own right. With M1 styling stretched over a prototype carbonfibre C9 chassis it's certainly unique – the original C9 racers used an aluminium structure.
The engine too you won't find in either the M1 Procar or a factory-spec C9, since this car is running a 5.9-litre Chevrolet V8 making more than 620bhp. It's a real hodgepodge then, but pending a mechanical check-up it's said to be ready to return to racing.
Going into the auction with an estimate of €200,000–€300,000 (£166k–£250k), the M1 stopped some way short of that with a sale price of €149,500 (£126,500) including buyer's premium.
1974 Mercedes-Benz SLC Paris-Peking replica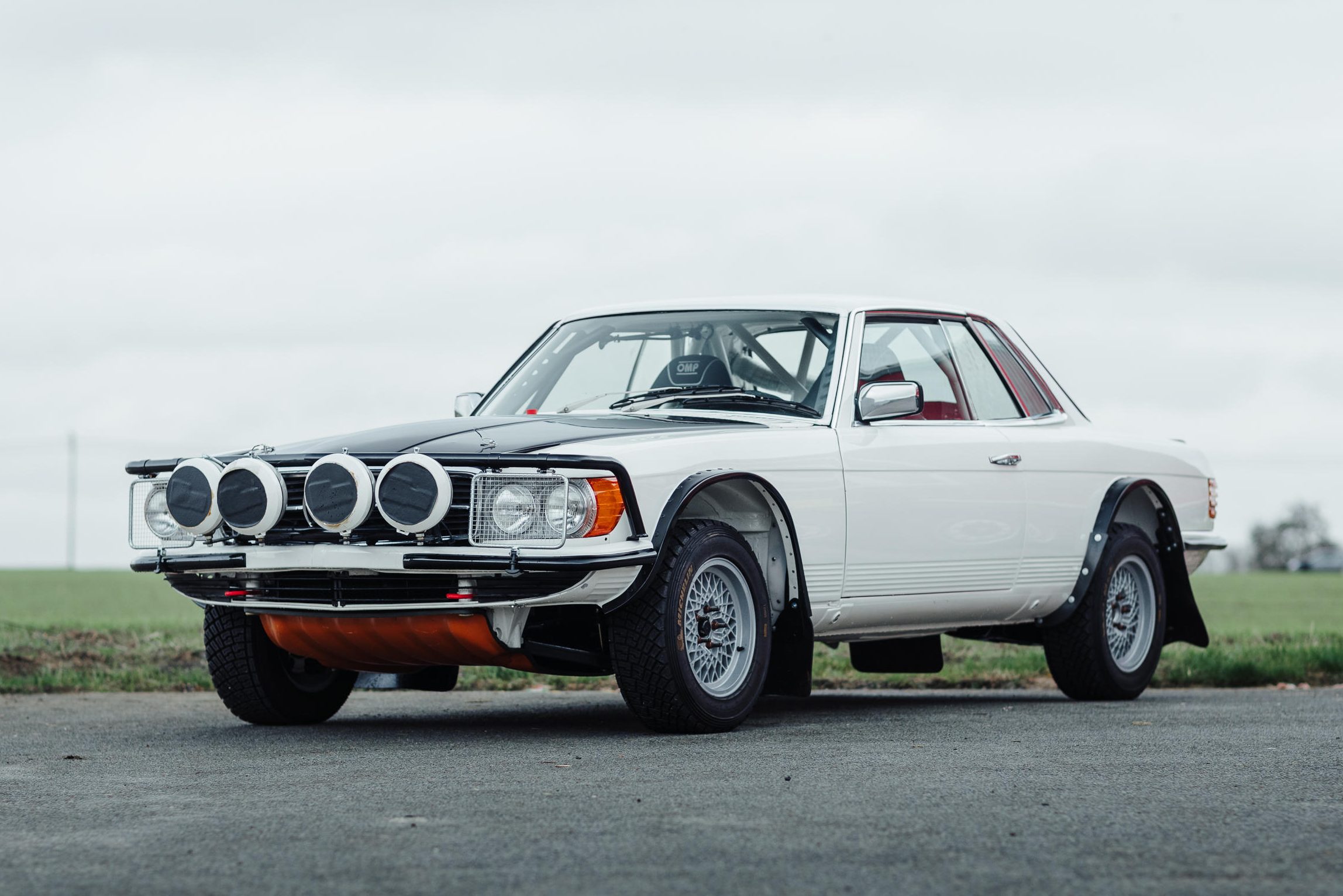 However unlikely something might seem as a racing car, somebody, somewhere, has probably still raced it. The Mercedes-Benz SLC of the 1970s is case in point, designed very much as an elegant cruiser but competing with no small success in off-road endurance rallies in period.
This SLC, presented with a €150,000–€200,000 (£125k–£166k) estimate, isn't one of the original rally cars, and was instead built for a private collector in 2016. SLC Racing in Slovakia built a 450 SLC donor car to the same specification as the original works cars, up to and including an expensive Reiger suspension system capable of handling the most challenging terrain.
Judging by the condition of this car it seems to have barely seen a layer of dust, let alone far-flung dirt, but would be a fabulous way of tackling a rally like the Paris-Peking. A relaxing companion too, since it maintains the donor's automatic gearbox – juxtaposed with an enormous hydraulic handbrake lever.
Cool it might be, but it didn't set any new records on the day, selling well below its lower estimate at €86,250 (£73,000). Still, as a way of joining in with some long-distance rallying, that looks like something of a bargain given the level of preparation.
2015 Volkswagen XL1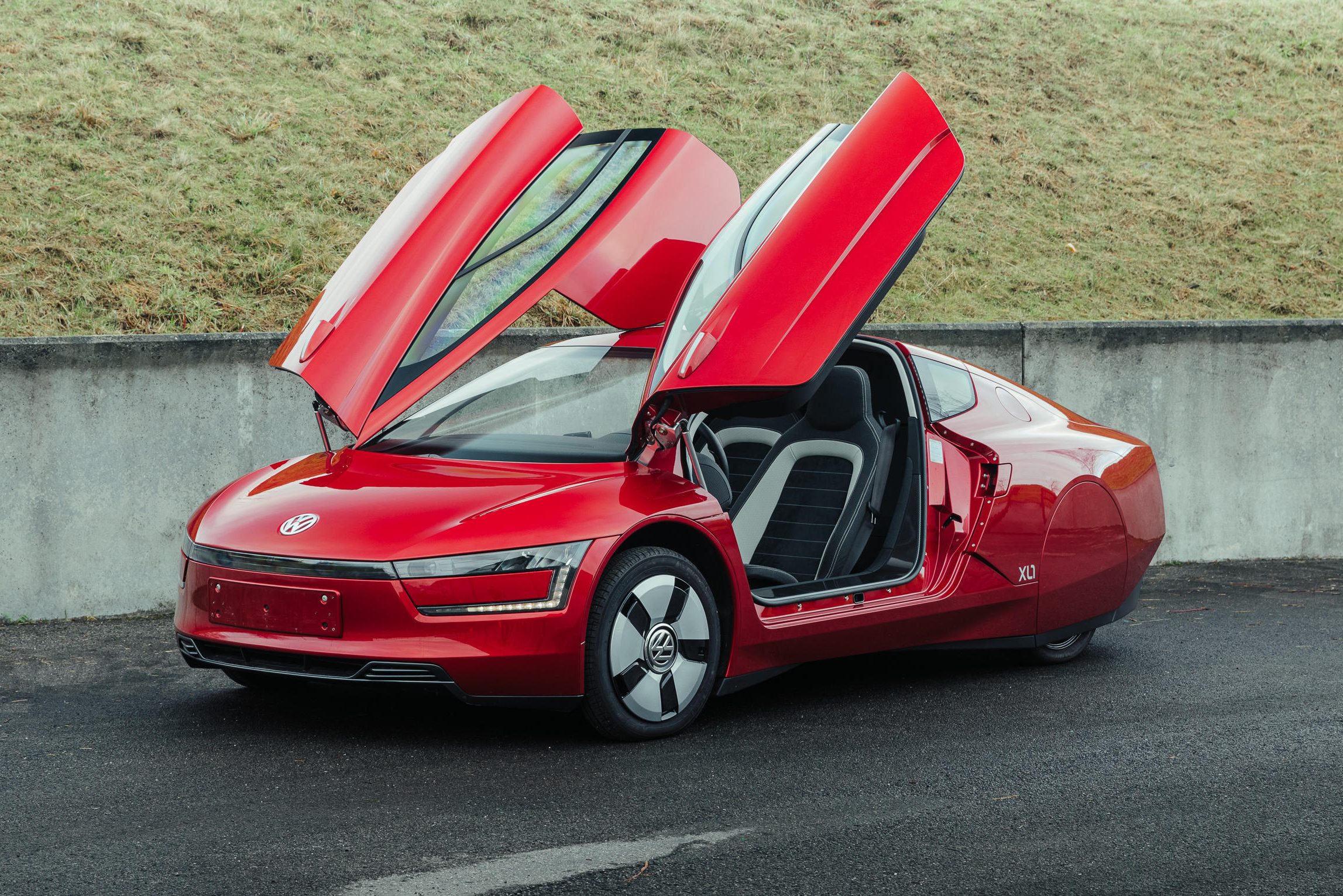 Volkswagen's eco-supercar is one of the more remarkable models launched in the 2010s. The production-ready conclusion of a project that began with former Volkswagen boss Ferdinand Piech's desire to build a "one litre" car (that's 1 litre of fuel per 100km, around 235mpg), the XL1 made its debut at the Qatar motor show in 2011.
History has already rendered it something of a likeable folly. XL1s are indeed ludicrously efficient, unique to drive (a combination of pure electric power and a two-cylinder diesel engine), remarkable to look at (with gull-wing doors and a teardrop shape), but also wildly expensive to service and somewhat compromised by their dedication to fuel economy.
This XL1 is rarer than most in its Sunset Red paintwork, and is thought to be the 59th built from a production run of 250. Its original owner has only added 405km to the clock which, given they cost around £100k when new, has made it a very expensive way of being fuel-efficient.
In contrast to the BMW and Mercedes above, the XL1 outperformed its estimate of €75k-€95k (£62k–£79k), selling for €97,750 (£82,750) including premium. It might not represent the industry's technological direction post-Dieselgate, but perhaps the XL1 will gain a second wind as a collector vehicle.
1993 Aston Martin Virage shooting brake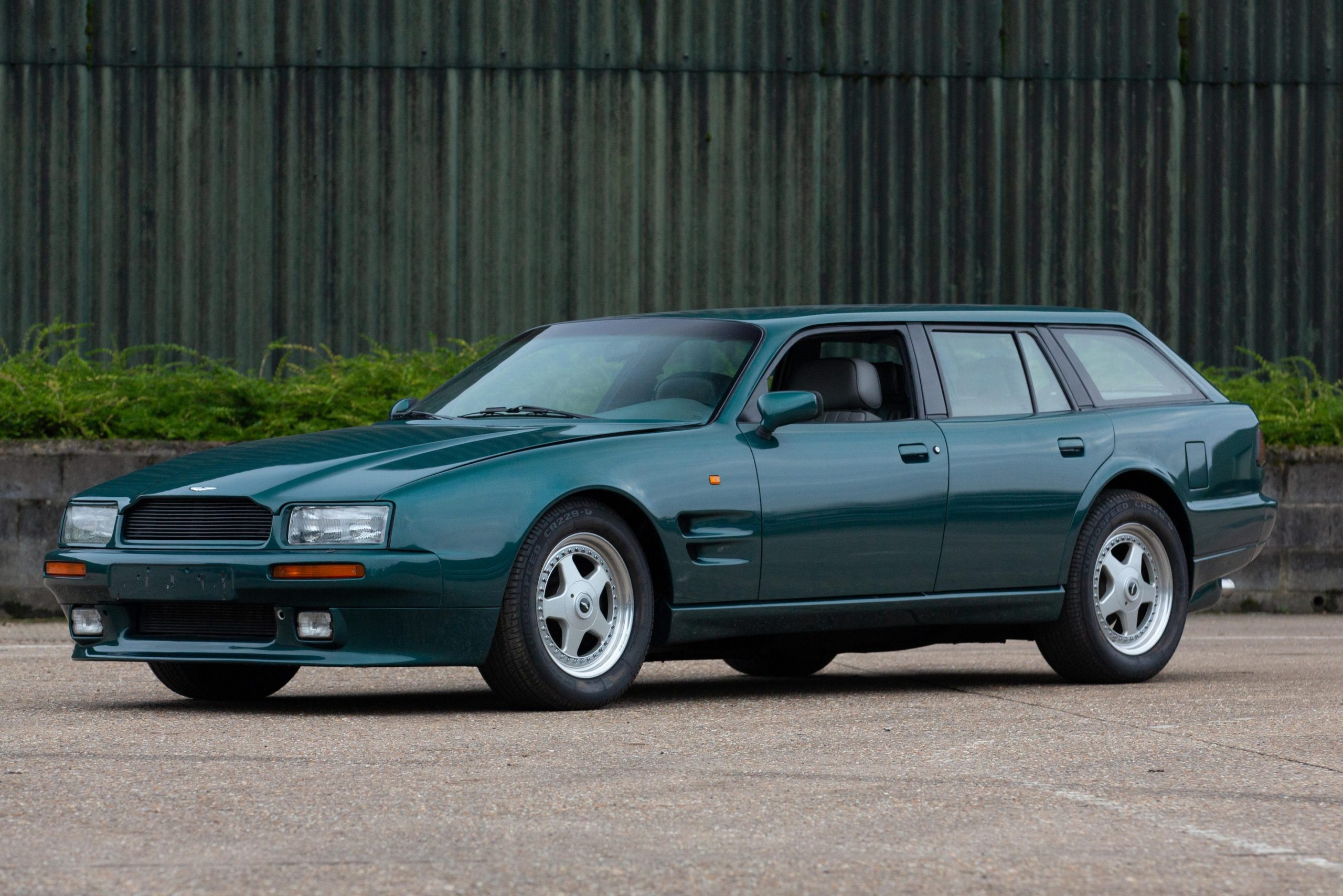 The internet goes wild for an estate car conversion, so what would people have made of the Virage shooting brake had the web been more widespread back in 1993? It's likely opinion would have been mixed; some simply praising its existence, others questioning its somewhat brutalist lines.
Not that the base Virage 6.3 was exactly subtle, particularly given its choice of powerplant: a bored and stroked version of the standard 5.3-litre Virage producing 456bhp. Aston Martin Works built a run of seven shooting brakes on an existing Works project, the Virage saloon, with a 12-inch increase in wheelbase over the more familiar coupe.
This particular one is known as 'Vacances', since its original owner, a German client, used it to go on his holidays. It also features a further power bump, to 475bhp, and even has a manual transmission. Bonhams did say the car may need recommissioning before use.
With a sale price of €149,500 (£126,500) including premium it fell just shy of its lower estimate of €150,000 (£125k). At around £33,000 less than a brand-new Aston Martin DBX, the buyer has found themselves with a much more stylish holiday holdall…
2016 Porsche 911 Turbo S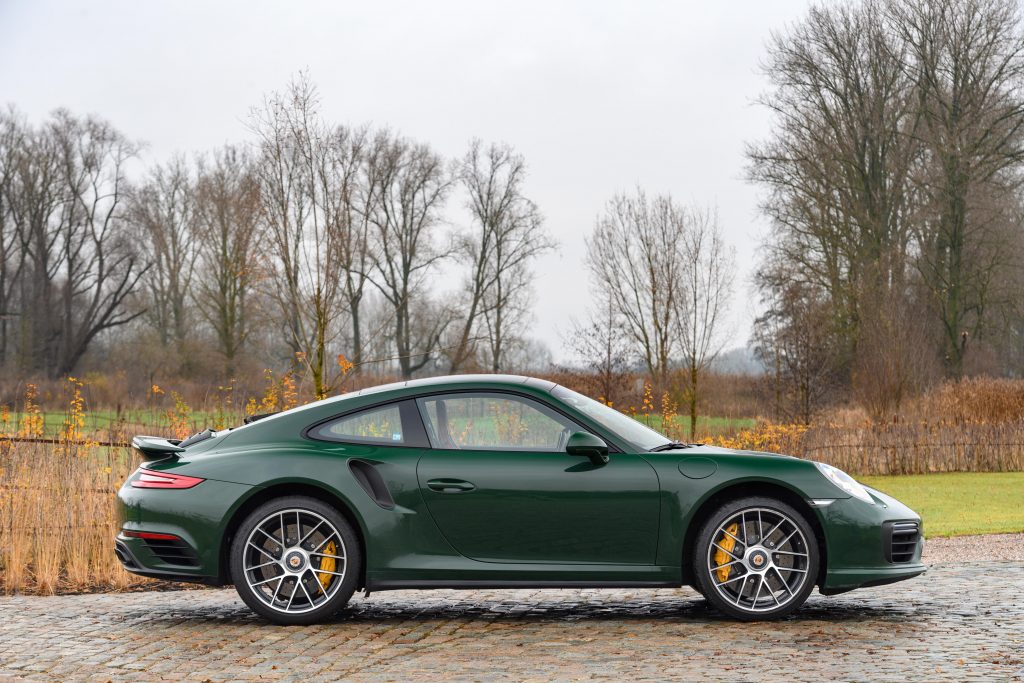 If this Porsche 911 Turbo S doesn't look quite right to you, then give yourself a pat on the back. The auction doesn't list a specific figure, but the car is sitting on a rare factory option of raised suspension, apparently requested by the original owner for greater comfort on long journeys.
We'd be surprised if there's not a little more to that story – maybe those long journeys also contain a few unmade roads – but given we're now seeing 'Safari'-style prototypes of the latest 992-generation 911 circulating the Nürburgring, you might call this 991 ahead of its time.
Other than that, and a fetching shade of British Racing Green paintwork, you might think there's not much more to this Turbo S, but there's one final thing you can't see: an odometer showing 333,000km. That must make it one of the highest-mileage 991s in existence.
Bonhams listed an estimate of €60,000 to €80,000 (£50k–£67k), and a sale price of €80,500 (£68,000) including buyer's premium means they were right on the money. Hopefully the buyer will have no qualms about adding to that impressive mileage tally.
1996 Opac Più Roadster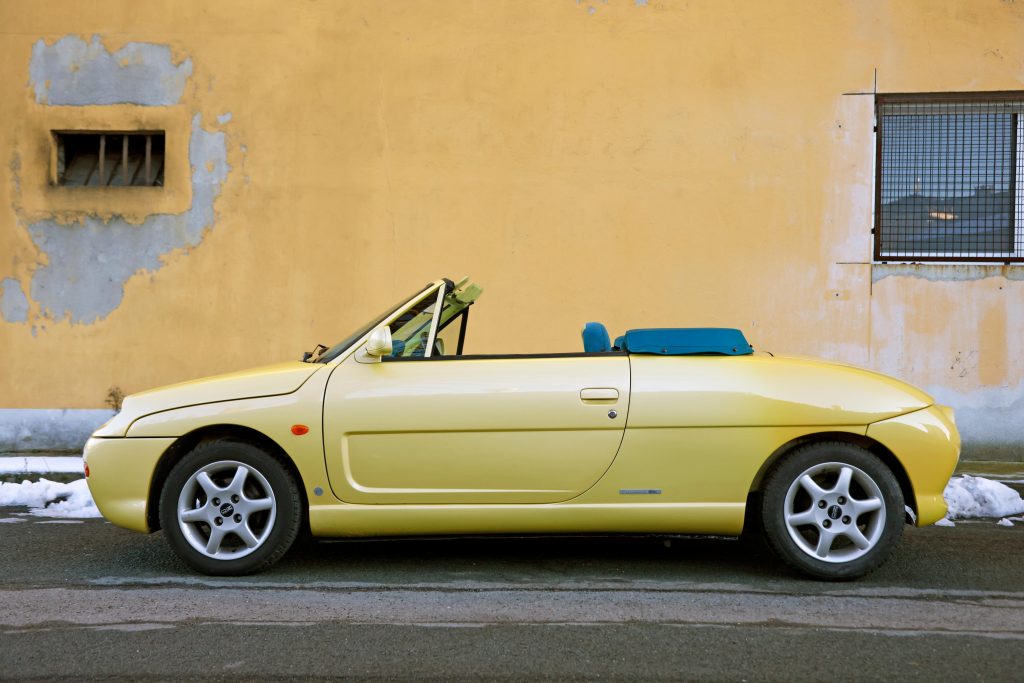 If you're familiar with Fiat's Barchetta of the 1990s then you'll know that under its svelte skin you'd find the platform of the contemporary Punto. Well this cute Opac Più Roadster is what you'd get if you applied the same treatment to the Peugeot 106, and it's the only one in the world.
Displayed at the Turin motor show in 1996 the Più was built by Opac, a company typically contracted by other manufacturers to build soft-tops and prototypes. The car was based on a Peugeot 106 XSi but clothed in a typically 1990s bubble-like body and with a custom interior (albeit using some familiar 106 parts).
The current owner discovered the car while researching the Lancia Hyena, with some body panels on the unique Delta-based coupé produced by Opac. The Più was apparently in a rough state and had never been registered, but has since been brought back to running order – and its rarity was reflected in a €40,000 to €60,000 estimate (£33k–£50k).
Unfortunately, buyers on the day clearly didn't agree. The bijou roadster sold for just €16,100 (£13,600) including premium in the end, less than you might expect to pay for some of the best examples of the Peugeot 106 base car in its sporty Rallye form. Some oddballs are clearly a little too odd.
Read more
One-off Ferrari Meera will be an auction star(ion)
Will 2022 be the year you drive something weird and wonderful? Here are 9 oddballs for the bold
10 cars that broke the Hagerty Price Guide in 2021