A performance Sierra would top the Christmas list of many fast Ford fans, but they don't come cheap. Earlier this month, a 9000-mile, 1986 Sierra RS Cosworth sold for a record £132,750 at the NEC Classic Motor Show – a car that cost £16,000 when new (£43,660 adjusted for inflation) and the equivalent of a new Porsche 911 Carrera 4 GTS with a few trimmings.
Elsewhere, a dealer is asking £110,000 for a Sierra RS500 Cosworth, while a concours Sapphire RS Cosworth could be worth £35,000 according to the Hagerty Valuation Tool, possible more on a good day at the auctions. Your best options for an affordable fast Sierra would an XR4i or XR4x4, but you could be looking at £20,000 for the best examples.
How much is your car to insure? Find out in four easy steps.
Get a quote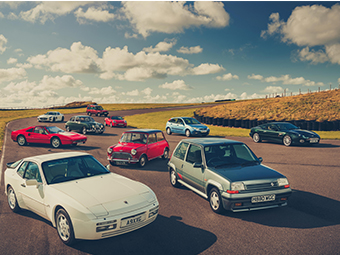 This is an alternative. It's called the Ford Sierra XR8, and although it was built for the South African market, there's one available a little closer to home. North Yorkshire, in fact, so you can look forward a wonderful drive home; the North York Moors would be alive with the sound of V8.
Like many legendary performance cars, the Sierra XR8 was created to satisfy homologation rules, in this case to allow Ford to go into battle against the BMW 745i and Alfa Romeo GTV 3-litre in South Africa's Group One championship. In a nutshell, the XR8 was a standard five-door Sierra with a Mustang V8 squeezed into the front, but there's a little more to it than that.
In 1984, Ford's director of product development in South Africa, Derek Morris, explained to the country's CAR magazine why a European XR4i wasn't used. "The XR4i uses a three-door bodyshell and the 2.8-litre Cologne V6, neither of which are available here, so it meant that we would not have been able to produce the XR4i here at an affordable price."
Morris continued: "That's where the XR6 comes in, as it makes use of the five-door bodyshell and Essex 3-litre V6 we already have. But we also needed a top performer in the range, and here the Mustang V8 won out in the end, because it gives us what we want with the least cost and complexity – there are no turbos and things to fiddle with and the V8 is simplicity itself to service and maintain."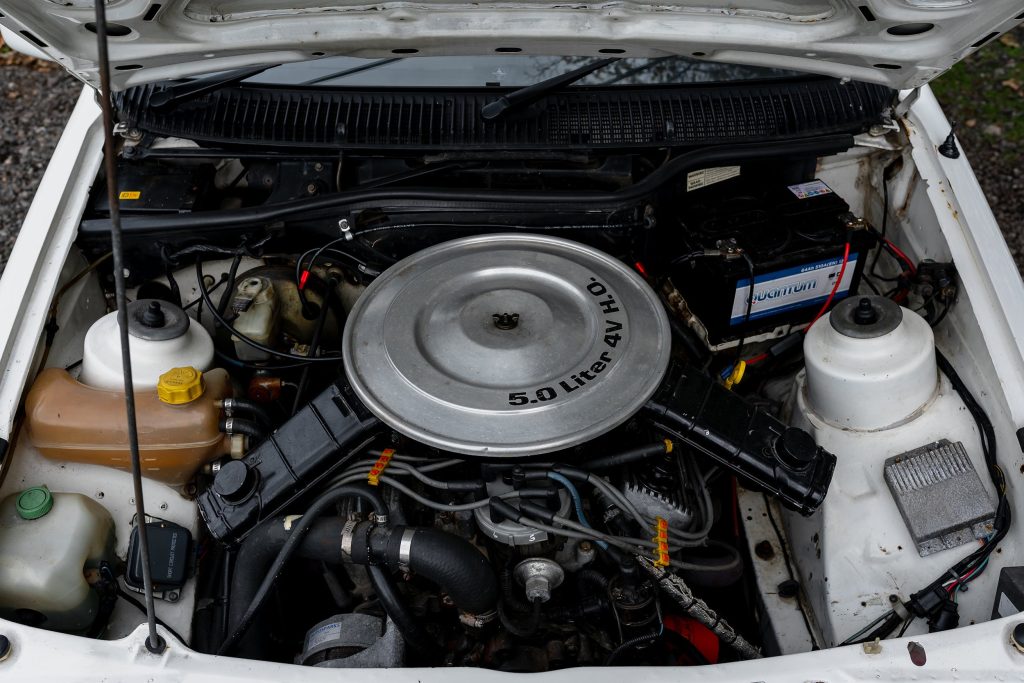 Ford knew that a 3-litre engine wouldn't be enough to make the Sierra competitive. The triple-Weber Ford Cortina Interceptor was having a tough time on the track, so the V8 would help to level the playing field with the German and Italian rivals.
A feature in Classic Car Africa outlined the role played by Bernie Marriner, Ford South Africa's legendary motorsport boss, who was chatting with V8 specialist Willie Hepburn at a Kyalami race meeting. Brian Gush, the acting chief engineer, told the magazine: "Bernie's guys offered the V8 up to a Sierra prototype and, of course, it didn't fit, with the main problem being the water pump fouling on the bonnet lock carrying crossmember."
Marriner asked Morris for help, who agreed that the project could continue 'out of hours' with no impact on his team's day jobs. Gush said: "We used a Ford North America 5-litre Mustang engine with a four-barrel Holley carburettor in standard tune. It was only 100mm longer than the V6.
"The Sierra driveline would not handle the V8's torque, especially the gearbox, differential and driveshafts, so we selected a Granada five-speed gearbox with shortened input shaft and unique prop shaft linked to a Granada differential unit and unique CV joints and driveshafts."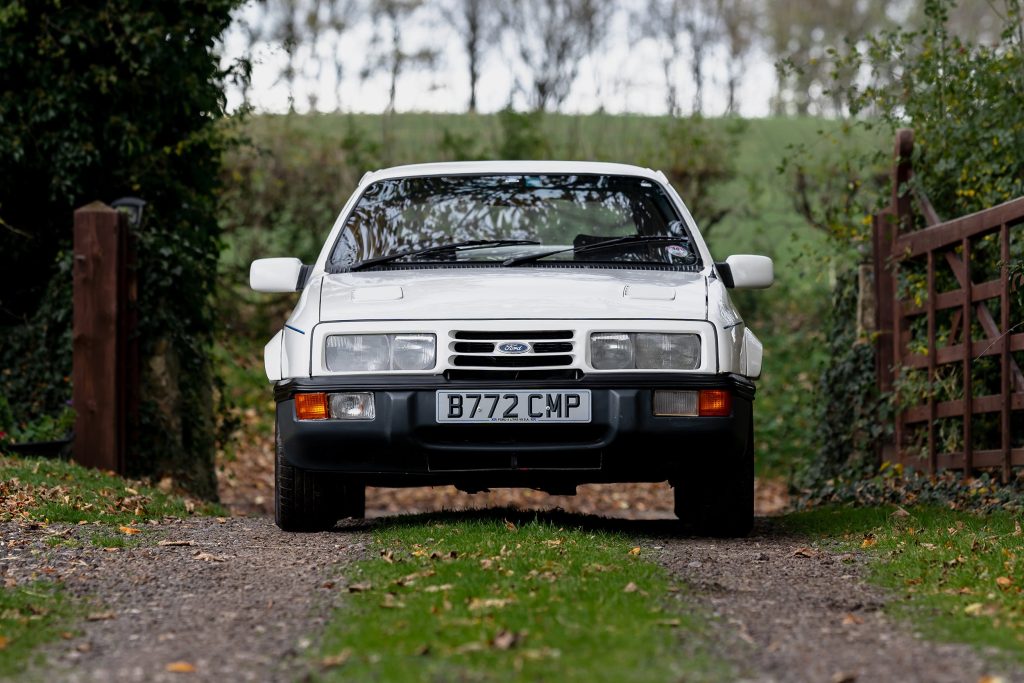 A pair of headlights from the Sierra 2.3 flanked a custom glassfibre grille, with the XR8 riding on 6J Ronal 15-inch alloys, machined to fit over the calipers. Stopping power came courtesy of AP Racing four-pot calipers at the front and modified ATE Porsche 914/Ferrari 308 calipers at the rear. A 'bi-plane' rear spoiler was used once it was discovered that it delivered lower lap times.
The small-box V8 produced 200bhp 'out of the crate', but the figure quoted for the Sierra XR8 was closer to 215bhp – it helps when you're not working to tough US emissions standards. The engine-driven fan was replaced by a pair of electric fans, with the grille pushed forward to allow for the marginally longer engine.
Ford quoted performance figures of "under eight seconds" for the zero to 62mph sprint and "in excess of 225km/h (140mph)" for the top speed, so the XR8 was no slouch.
For context, a Sierra RS Cosworth could hit 62mph in 6.2 seconds before maxing out at 150mph. The XR8 had one distinct advantage over the 'Cossie': an eight-cylinder soundtrack. CAR called the acceleration "gut-wrenching", before describing the V8 as "purposeful and raunchy". Three words stand out: "real muscle car".
The XR8 was granted international Special Vehicle Operations (SVO) approval, with Bob Lutz, the then executive vice president of Ford, flying to South Africa to do the sign off at Aldo Scribante racetrack. He ordered two, one for himself and another for display at Ford's Dearborn HQ.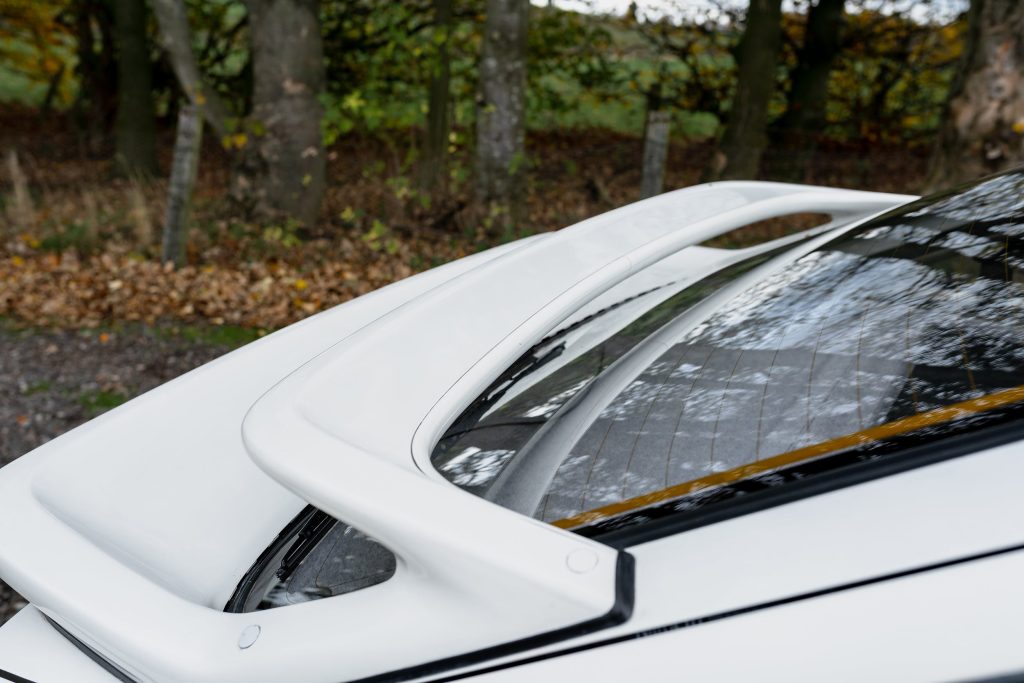 A total of 252 were built, including a pair of prototypes, with the first two sold to Ford enthusiasts from the Cape West Coast. That's 50 more than required, with all cars completed before the XR8 went racing.
Car number 88 was originally imported to the UK in 1990. It's not the first time it has been for sale over here; it sold for £9350 at a CCA sale in 2016, before appearing again in 2019.
It's amazing how something can look so familiar yet subtly different. At the back, you'd be forgiven for mistaking it for a Sierra XR4i – the XR8 badge is the obvious clue to its identity – but the grille is the biggest giveaway at the front. The RS-style bonnet vents fitted to this car aren't standard.
All cars were finished in Ford Motorsport white, with tri-blue stripes running along the flanks and boot, and grey/blue PVC panel below the doors. The inside will be familiar to anyone who owned a Ford Sierra in the 1980s. Velour and V8 – what a combination.
It's not the only XR8 for sale in the UK. The Car Cave in Scotland is selling car number 216 for £19,995, which should provide an indication of what XR8 number 88 is worth. Both cars require a little work, so you can put your own stamp on this slice of South African performance car history.
Read more
Unexceptional Classifieds: Ford Sierra L
Our Classics: 1986 Ford Sierra RS Cosworth | Steering rack comes under scrutiny
40 years ago Ford's bold new Sierra shocked Britain's conservative drivers