Even when they're not acting as 200mph billboards Formula One cars and their drivers are more often than not selling something.
It's a fact F1 fans have become familiar with over the past 70 years of motor sport's pinnacle racing series. Yet we all know that just as there are winners and losers on the grid, so there are good and bad TV ads.
How much is your car to insure? Find out in four easy steps.
Get a quote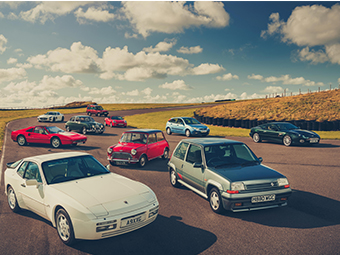 Here's our Grand Prix of TV commercials featuring F1 stars and cars.
1. James Hunt with Morecambe and Wise
Taking the chequered flag is this 1977 spot for Texaco featuring James Hunt, fresh from his World Championship victory, together with the top comedy duo of the 70s – Morecambe and Wise. Victory comes from this quick exchange alone:
Eric: "Good morrow Jane"
James: "It's James"
Eric: "It's the way you walk"
2. Nigel Mansell's Metro
A streamlined, moustache-free Nigel Mansell shopping for a Metro, Eric Idle as the smarmy salesman and a surprise cameo by Murray Walker. This Austin Rover advert from 1988 is worth a podium place. Murray and Eric also advertised Metro and Maestro specials which apparently didn't cost a Murray Mint.
3. Shell's flying fuel stop
Shell and Ferrari have been linked since 1924 when the fuel company provided oil and petrol to a young Alfa Romeo racer named Enzo. In 1997 Shell celebrated with this spectacular air-to-ground refuelling spot, shot in the heat of the Mojave desert.
4. Around the world in 60 years with Shell and Ferrari
As you'll have already seen, when Shell and Ferrari get together it can be pretty epic. The 2007 Circuit ad takes an incredible 60-year journey around the world from Italy to the USA, China, Brazil and Monaco. Unlike the refuelling film (spoiler alert – they added the refuelling rig in post-production) everything was shot for real with no CGI. Volume up for this one!
5. Damon and Murray's pizza night
"It's go!" in 1996 as World Champion Damon Hill leads Murray Walker into a Pizza Hut for an evening of stuffed crusts, with Murray commentating on the action at every turn. Nice move up the inside to the salad bar, Damon.
6. Jackie gets in Tempo
Jackie Stewart and the people at Ford are good buddies. They even got together to form Stewart Grand Prix, but one can imagine the special relationship was really tested when Ford asked Jackie to shill for the Tempo. As he understeers around a track the best thing the great Scot can find to say is that it was "designed from the wheels up."
7. Lewis and Fernando's on-screen rivalry
The intense competition between teammates Hamilton and Alonso is made light of in this Mercedes TV spot from 2007. Who knew at the time that their rivalry would lead to Alonso's premature exit from the team and McLaren being fined $100m in a spying scandal?
8. Three men and a baby with Nico and Michael
A couple is stranded by the roadside on the way to the hospital with the woman about to give birth. And who should come to their rescue? Not one, but two Mercedes Formula One drivers. But who will they pick to get them to the delivery room on time – the seven-times World Champion or the young gun?
9. Milky Mark
Anything Hugh (Jackman) can do Mark (Webber) can do… worse. As he clearly demonstrates by attempting to hold a tune in this 2010 commercial for Canberra Milk. Grin and bear it if you can. Mark obviously had to.
10. Kimi, kidnapped
And rounding up our Top 10 F1 ads is a bizarre Scandinavian Noire-style twisted tale of how Kimi Raikkonen became a brand ambassador for Makia Clothing. This one is really beyond words. Just enjoy the weirdness.