You may not have heard of Hubert Fabri but you can bet the Belgian collector of significant classic cars is smiling to himself. Next month, 15 of his rare Aston Martins, Bentleys, Bugattis, Ferraris, Lamborghinis and Lancias will go under the hammer, and industry observers expect records to be broken.
On 5 September, the collection of some of the world's most sought-after cars will be brought to market in the grounds of Hampton Court Palace, a stone's throw from the Thames. From there, a virtual auction will take place, and all being well the auction should set a record for the highest average price per vehicle, at a staggering £2.5m.
How much is your car to insure? Find out in four easy steps.
Get a quote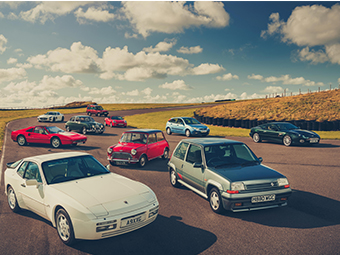 Six of the 15 cars are tipped to set a record for the individual model, too. When you consider that Fabri has owned some of the cars for several decades, you can appreciate why he'd be smiling at the prospect of Gooding & Co's Passion of a Lifetime event.
Fabri made his fortune through rubber and palm-oil plantations operating throughout Africa. Gooding & Co told Hagerty it did not wish to confirm the identity of the owner. However, the cars are of such significance, it hasn't been hard for people to figure out who is selling them.
The California-based auction house announced it would hold its first sale outside of America, in April. That had to be postponed until September. Previewing the event, Gooding & Co said, "These 15 extraordinary cars hail from one of the world's most revered private collections and represent the culmination of decades of research and dedication. The collector's meticulous passion for the very finest brings together the most coveted and valuable examples of European sports and racing automobiles of the 20th century."
Here are six highlights from the Passion of a Lifetime auction, and the records that could be broken.
1961 Aston Martin DB4 GT Zagato
Estimate: £7,000,000 – £9,000,000 ($9.3m – $12m)
Current record: £9,422,773 ($14,300,000) RM Sotheby's
Revealed at the 1960 London Motor Show, Zagato rebodied just 19 Aston Martin DB4 GTs, making each one considerably rarer than a Ferrari 250 GTO. Its immediate rival was the Ferrari 250 GT SWB Berlinetta, and with more than 300bhp from its straight-six cylinder engine, the British car put up a valiant resistance to the competition-specification Berlinettas emerging from Maranello.
The Hagerty Price Guide tracks the value of concours examples at £9m. This model, chassis 0176/R, was the sole example finished in Peony, a dark red. Its first owner was Teddy Beck, who bought the Zagato new in October, 1962 for £5,210, from Hersham and Walton Motors in Walton on Thames. Subsequent owners have included Victor Gauntlett, former chief executive of Aston Martin.
Hubert Fabri has owned his DB4 GT Zagato since 1985. However, he hasn't always been entirely complimentary about it: "Why didn't it sell at the time?" he pondered, in 2014. "Simply because it was overpriced, too heavy and not competitive. I've put my Zagato on the track and you soon see why. This overweight, over-high lump of an engine only generates comic understeer worsened by its short wheelbase."
1934 Bugatti Type 59 Sports
Estimate: In excess of £10m ($13.3m)
Current record: £1,321,500 ($2,407,937) Bonhams
This former works Grand Prix Bugatti was campaigned in 1934 and '35, with the likes of René Dreyfus achieving a third Place at the Monaco Grand Prix and an outright win at the Belgian Grand Prix at Spa. It is powered by a supercharged, straight-eight engine and boasts a former royal owner, King Leopold III of Belgium. Better still, it is entirely original; all of its five owners to date have preserved the car's patina and resisted the temptation to restore it.
The existing sales record of £1.3m, for a 1933 Type 59, was established back in 2005. If the Passion of a Lifetime auction is successful in attracting some of the most serious collectors in the world, this example could fetch almost 10 times as much.
John Wiley, Manager of Valuations for Hagerty, says the auction has created a buzz across the classic car community. "If either of the Bugattis sell, this year could be the first year since 1991 that a Bugatti has the highest auction price for the year. If the Bugattis don't sell, the Aston Martin DB4 GT Zagato would need to sell for more than $7.1 million to beat the 1932 Bugatti Type 55 Bonhams sold in March."
1937 Bugatti Type 57S Atalante
Estimate: In excess of £7,000,000 ($9.3m)
Current record: £6,333,278 for a Type 57S ($7,700,000) RM Sotheby's
A mere 17 examples of the Type 57S Atalante were built by Bugatti. This car, chassis number 57502, was originally bought by Earl Howe, co-founder of the British Racing Drivers Club and former president of the Bugatti Owner's Club. Its next owner uprated the 3.3-litre, straight-eight engine with the fitment of a Marshall supercharger.
However, things went downhill later in the Bugatti's life. It eventually found its way into the hands of Dr. Harold Carr of Newcastle, England, in 1955, was parked in Carr's garage sometime in the early '60s and wasn't discovered until after his death, in 2007, looking decidedly sorry for itself. Since restored, the type 57S Atalante is as grand and opulent as pre-war cars come.
1924 Lancia Lambda 3rd Series Torpédo
Estimate: £320,000 – £400,000 ($427k – $534k)
Current record: £231,791 ($302,000) Gooding & Co
Forget about its modest value, this is a remarkable motor car. Widely considered a ground-breaking model, Vincenzo Lancia's Lambda set the standard that competitors scrambled to match, in 1922. It featured an innovative monocoque chassis, independent sliding-pillar front suspension and narrow-angle V4 engine, and offered a driving experience said to be head and shoulders above its contemporaries. In the same family for two generations and 60 years from new, it is said to have more recently undergone a sympathetic restoration.
1919 Rolls-Royce 40/50 HP Silver Ghost Alpine Eagle Tourer
Estimate: £1 – £1,400,000 ($1.3m – $1.86m)
Current record: £443,933 ($810,000) for a post-WW1 Silver Ghost, sold in 2005
With the current record for a post WW1-era Silver Ghost standing at nearly £444,000, this 1919 Alpine Eagle version could comfortably exceed such a sum. The Alpine Eagle variant was based on the car that competed in the 1913 Alpine Trial. Driven by privateer James Radley, it won every stage of the reliability run, soldiering on through Austria, Croatia, Slovenia and Italy, and beating Bugatti and Daimler in the process. Previously restored by P & A Wood, a Rolls-Royce specialist, it's ready to recreate the Alpine Trial all over again.
1924 Vauxhall 30-98 OE-Type Wensum
Estimate: £800,000 – £1,200,000 ($1m – $1.6M)
Current record: £436,355 ($557,313) Bonhams
William "Bill" Boddie, the editor of Motor Sport magazine, drove or rode in just about every pre-war car going, and declared the Vauxhall 30-98 the greatest of all, writing, "For me no car of the vintage period has the same appeal as a 30-98." That's some complement. Yet many will fall under this car's spell without knowing of its reputation; its rare Wensum bodywork (just 12 OE-Types featured it) is both sporty and elegant, a streamlined affair for the era that mimics a motorboat, without any doors and complete with a beautifully finished deck behind the third and occasional passenger seat. The Wensum style was created by Vauxhall's Jock Hancock, who was said to be inspired by a boat that he kept on the Norfolk Broads.