Can it be that time of year already? Yes it can. 2020 has been a memorable year for all the wrong reasons, but you can make it memorable for all the right reasons by selecting a unique present for any petrolhead in your life, using our 2020 Christmas gift guide for inspiration.
This hand-picked selection of Christmas presents for car and bike enthusiasts has something for everyone, with everything from desk tidies to silk scarves, gaming technology to coffee with a difference. We'd be happy to find any of these under our tree. So let our our Christmas gift guide help you put a smile on someone's face.
How much is your car to insure? Find out in four easy steps.
Get a quote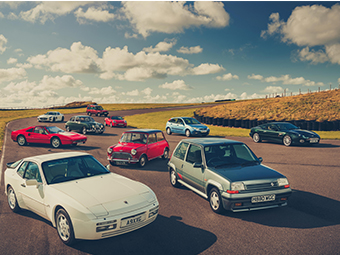 Jerry can hip flask
The first entry on our Christmas gift guide will help maintain festive spirit levels well into the new year. The jerry can hip flask is made from stainless steel it has a 5oz capacity – about five and a half 25ml shots – and has 'emergency fuel' engraved on both sides. There's also room to have it personalised with up to three letters, or numbers, at no extra cost. We'll swig to that.
Price: £19.99
Shop at: Motor Sport magazine
Liberty scarf
Destined to be worn while zipping around in a convertible, this chic Liberty silk scarf is one of four designs painted to commemorate the 2020 lockdown. Produced in a limited edition of just 100 and printed in Como, Italy, dahling, it features motifs taken from the Liberty archive beside uplifting messages.
Price: £75
Shop at: Liberty
Retro racing car toy
No Christmas gift guide would be complete without a toy for young or young-at-heart petrolheads. This near-indestructible, the Turbo toy racing car by Playforever is a homage to the Formula 1 cars of the 1980s. Riding low to the ground on rubber tyres, No 8's red and black bodywork is coated with a super glossy, super tough, UV finish. Suitable for children aged one year and above, but it has universal petrolhead appeal.
Price: £27.80
Shop at: Playforever
Lancia Stratos HF poster
Dedicate a wall to one of motorsport's most legendary machines with this limited-edition poster of the Lancia Stratos HF. Dressed for the occasion in its iconic red, white and green 1974 Alitalia livery, the phenomenally successful rally car has been replicated using cutting-edge 3D modelling techniques for a limited edition run of 1000 prints (50 x 70cm).
Price: £41.90
Shop at: Automobilist
Classic car show biscuits
Forget online events, this is the best way to get a classic car show fix in 2020. Parked inside a decorative tin, there's a feast of 16 handmade gingerbread biscuits shaped and iced to commemorate some of Britain's finest vintage vehicles; including a Jaguar, Rolls Royce and Aston Martin. Four wheels never looked so tasty.
Price: £45
Shop at: Biscuiteers.com
Le Mans coffee
Twenty-four hour endurance not guaranteed. Drive Coffee's Le Mans edition is a medium roast Colombian bean with tasting notes of chocolate, toffee and almond. Shipped in a stylish airtight tin canister with a design nod to the GT40, this is for drivers who run on caffeine.
Price: £13.65
Shop at: Drive Coffee
Lego Land Rover Defender
With nearly 2,600 pieces to assemble, LEGO Technic's Landie is the ultimate lockdown project and once it's built there are lots of features to keep you occupied. Functions include a four-speed sequential gearbox, all-wheel drive with three differentials, independent suspension on both axles, a working winch and a six-cylinder engine with moving pistons. Suitable for 11-plus.
Price: £159.99
Shop at: Lego
Build a Porsche 911 advent calendar
A guilt-free way to count down to Christmas. This advent calendar comes with all the components and equipment you need to build a 1:43 scale model of a 1963 Porsche 911. Instructions are accompanied by a detailed history of Porsche and its racing pedigree in a keepsake book.
Price: £60
Shop at: Me and My Car
Desk tidy
The Citroën 2CV just got dinkier. Like the car, this desk tidy was designed to be simple and practical, but carries pens and paperclips rather than people. Its friction motor may not see it win in a race against the real thing, but fun can be had propelling it across the desk.
Price: £15
Shop at: Executive Pens Direct
Playstation 5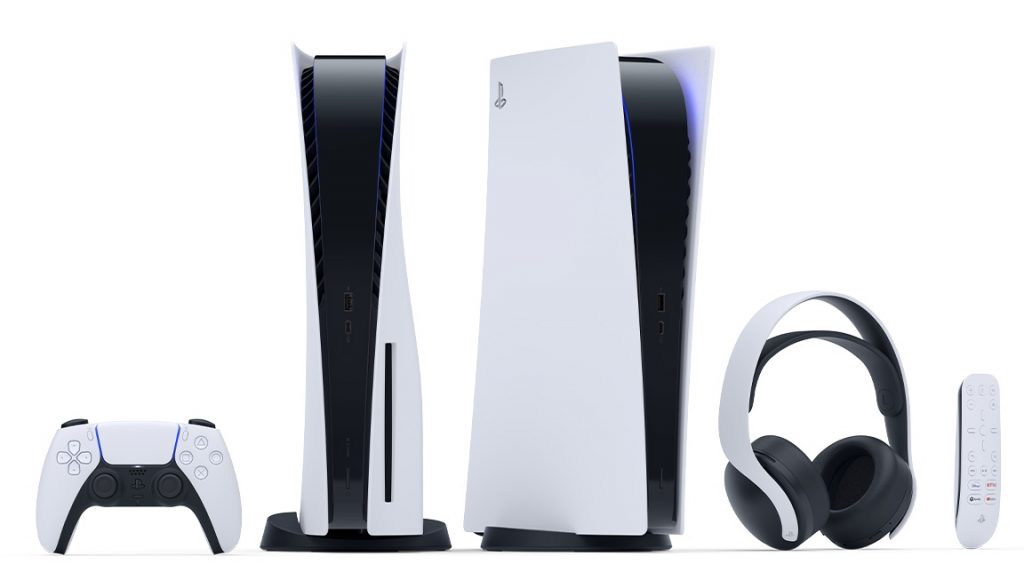 This Christmas is all about one thing if you're a gamer: the war of the consoles. Microsoft and Sony is also are going head to head this season, and for fans of driving games the launch of Gran Turismo 7 might just be reason enough to slip on your driving gloves and place an order for the PS5. The acclaimed Sony-exclusive racing game looks promising from early previews, and the PS5's tech spec is impressive. Available from 19 November, the big question is will stocks meet demand?
Price: from £359
Shop at: Game
Magneto magazine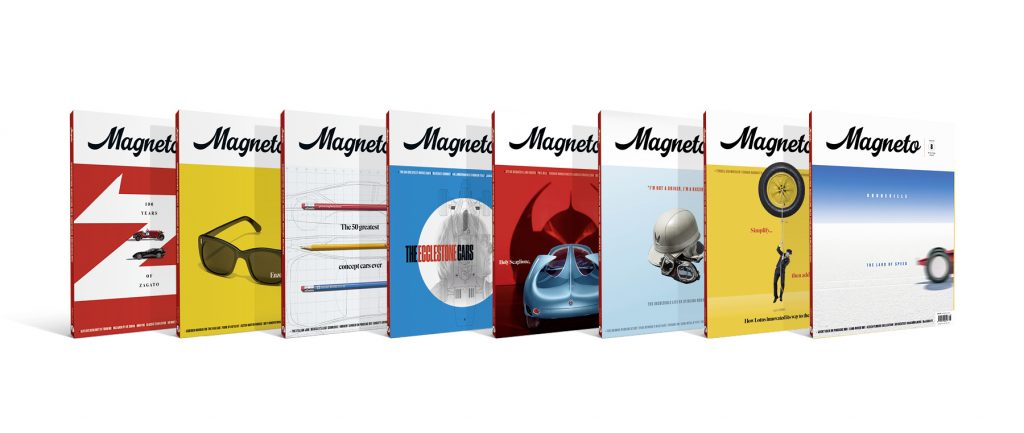 Indulge yourself with a subscription to Magneto magazine, the classic car journal that will look at home on any coffee table. Imaginatively designed, thoroughly researched and perfectly printed, it provides an escape from the everyday and encourages car enthusiasts to set aside some downtime and unwind with a great read every three months. And Hagerty clients can claim a 25% reduction for a year's subscription, using the promotional code Hagerty25.
Price: £28.50 (see text)
Shop at: Magneto
Hairy Bikers pie maker
There's not a lot of culinary mechanics to get to grips with in order to successfully make a pie with this piece of kit and even the Hairy Bikers advocate using pre-made, shop-bought pastry to make life easier. Think of it as a sandwich toaster for pies.
Price: £35
Shop at: Menkind
Piloti women's driving shoes
Piloti's Vittoria driving shoes for women deserve to be worn beyond the footwell. Available in a variety of colourways including black and blush, pictured, these classy leather and suede trainers are a one-of-a-kind find for women who want a shoe that's comfortable to drive in and looks the part. With built-in support and cushioning in all the right places, they're breathable and have extra durable soles. For men, the high tops are worth a look.
Price: £150
Shop at: Piloti
Luckies Fuel Candle
Perfumed to take you trackside in one whiff, the Fuel Heat Haze candle by Luckies gives off a comfortingly familiar aroma of warm metal and gasoline. The confusing part is that the 100% soy wax candle is made from a formula of fragrances that includes apple, raspberry, aldehydes and balsam.
Price: £17.95
Shop at: Luckies
Nomad t-shirt
Help plant a mini forest and buy someone a cool t-shirt at the same time. The Nomad tee is made from 100% organic cotton, is ethically produced in India and for every item Tentree sells, you guessed it, they plant ten trees.
Price: £34.95
Shop at: Tentree
Racing Icon mugs
Legacy Legends make the kind of novelty mug that people actually want. There are over 300 designs in their catalogue and each hand-printed drinking vessel pays tribute to a different motorsport icon. Dishwasher and microwave safe.
Price: £25
Shop at: Legacy Legends
Carhatt women's overalls
Overalls that are tailored to work with a woman's curves when they're at work are coveted, so snap up a pair of Carhartt's Crawford bib overalls before they sell out. Made from a durable mix of cotton and spandex, with a double layer to protect the knee and pockets aplenty, they don't just look good, they do the job.
Price: £79.99
Shop at: Tinker and Fix
Bond Cars: The Definitive History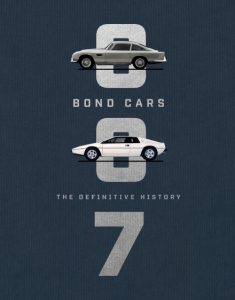 It all began in 1962 when 007 outran his pursuers in a rented Sunbeam Alpine. Covering almost 60 years of Bond and the cars he's starred alongside, this collector's edition comes with exclusive posters and documents from the EON Bond archives, as well as original call sheets, technical drawings, story-boards, and previously unpublished photography and interviews.
Price: £50
Shop at: Penguin
Seatbelt bag
Twelve metres of recycled seatbelts have been used to create this electric blue shoulder bag named Helena Hobo. The technicolour strap has been woven using fabric offcuts that would have otherwise made their way to landfill and its designer and maker, the ethical accessory brand From Belo, donate eight meals to homeless people with every purchase made. A sturdy, water-resistant buy for automotive tastemakers with a conscience.
Price: £131
Shop at: From Belo
Rapid Response by Dr Stephen Stephen Olvey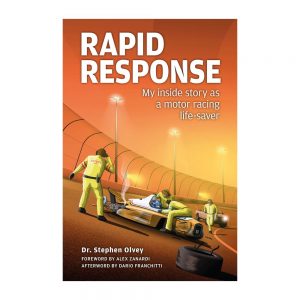 First published in 2006, Dr Stephen Olvey's memoir of saving lives and improving safety in professional motorsport is a fascinating and occasionally sobering read. Updated and revised with the addition of an afterword by Dario Franchitti, it's a valuable contribution from one of the industry's unspoken heroes.
Price: £25
Shop at: Evro Publishing
Suixtil Nassau polo shirt
Imitation is the sincerest form of flattery and there's no one less deserving of a bit of copycat behaviour than the late Sir Stirling Moss. The Nassau polo is styled on the shirts he wore during the 50's and 60's and the eagle-eyed will spot the distinctive Suixtil logo embroidered on the chest and engraved on the shell buttons.
Price: £85
Shop at: Me & My Car
Speedo coasters
The final entry for our 2020 Christmas gift guide is a fun one; drinks coasters for the analogue generation. A set contains six glass coasters and each one features a different speedometer design. Whether you're revving up the day with some caffeine or slowing down with a G&T, just drink, plonk, and repeat.
Price: £20
Shop at: Not On The Highstreet