Hagerty launches a competition to find promising young motoring journalists. Win a commission to write for Hagerty, a day with our media team at the Goodwood Revival and mentoring by Andrew Frankel, one of the UK's top motoring writers.
As the Editor of the Hagerty Newsletter, I enjoy working with some of the UK's best classic motoring writers. It's great to see their passion for historic vehicles expressed in articles that inform and entertain readers from all around the world, and it has been very rewarding to see some of our them going on to become award-winning journalists.
How much is your car to insure? Find out in four easy steps.
Get a quote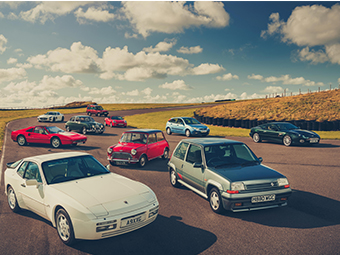 Now Hagerty is looking for the next generation of writers: young people who love classic cars or bikes and want a future in automotive journalism. We need writers who can capture the feelings aroused by our wonderful hobby, people who can visit a show and find a new angle or build rapport with those they are interviewing to present a fresh perspective. We need writers who are self-sufficient, able to seek out interesting stories and present well-written copy on time.
Whether you're already a freelance writer or someone who wants to make a career in the industry, if you're aged 18 to 25 we want to read your stories. We're looking for an 800-word article on any subject connected to vintage, classic or modern classic (pre-2000) motoring. Entries should be in Word or Pages format and emailed to uknews@hagerty.com by midnight on 31st July 2019.
All entries will be considered by a panel of judges connected to automotive journalism who we'll unveil later this summer. The top three articles will be published in the Hagerty Classic Cars newsletter, and the winning writer will be commissioned to write a further six articles for Hagerty, have his or her story sent out to some of the UK's top classic magazine readers, and will be invited to attend the 2019 Goodwood Revival as a guest of Hagerty, spending the day with Hagerty's media team.
The winner will also benefit from mentoring by award-winning journalist Andrew Frankel, one of the UK's top motoring writers. Andrew will spend time helping the winner to develop their style and benefit from his vast experience in the business.
So, what are you waiting for? Grab your laptop and start typing!
T&C's apply; contact us for more details. There's no cash alternative to the prize, it does not represent an offer of employment, and the judges' decision is final. Those shortlisted may be asked to prove their age. Good luck!