When Hagerty launched its 2019 Young Writer competition back in June, it had no idea how popular the contest would be. The judging panel, consisting of Hagerty's John Mayhead, award-winning journalist Andrew Frankel and Pistonheads founding member Paul Garlick, were in for a shock.
'The response was amazing,' said Mayhead. 'It wasn't simple to enter – we asked for an 800-word story with a classic motoring subject – so we had no idea how many we'd receive. By the deadline, we had been overwhelmed by both the quantity and quality of entries.'
How much is your car to insure? Find out in four easy steps.
Get a quote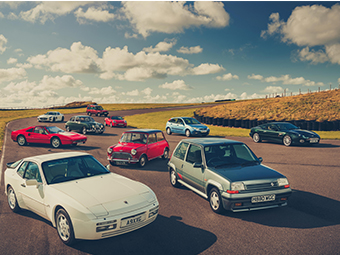 'It made our job as judges very difficult,' he continued. 'Just reducing the field to a shortlist of three was hard enough, let alone choosing a winner.'
Finally, three were chosen: Mohammed Patel's Ode to the 962, a story about Porsche's sports-prototype racing car, Yousuf Ashraf's tale of the import and modification of his Alfa Romeo Giulia saloon, and Charlie Martin's detailed look at the Metro 6R4's racing history. Unable to set them apart, each was then given a further short-notice 500-word tiebreaker about a subject presumably unfamiliar to any of them: the Bugatti Type 57 Atalante. From this, Patel emerged victorious, writing a clear history of the subject car but cleverly adding a modern context. To be fair to the quality of Martin and Ashraf's writing, they were awarded joint second place.
'We were blown away by the quality of the writing,' said Hagerty MD Marcus Atkinson. 'A number of the entrants were of the quality you'd expect from one of the major car magazines. It's hugely reassuring to know that there are young people out there who combine a great writing style with a real passion for motoring.'
Mohammed Patel and his wife joined Hagerty's content team at the 2019 Goodwood Revival, given tours of the paddock and Bonhams tent, and Patel spent an hour with Andrew Frankel who talked him through ways to develop his style. 'I just wanted to say a huge thank you to [Hagerty] for a truly special day, it was one that we won't forget!' he said.
Click on the links below to read the winning stories.
Mohammed Patel: Ode to the 962
Yousuf Ashraf: Alfa Romeo Giulia