Back in December 2005, one of the most memorable Top Gear episodes aired. In it, not only did Ellen Macarthur smash the Suzuki Liana lap record, but Clarkson, Hammond and May each bought a budget supercar: respectively a Maserati Merak, a Ferrari Dino 308 GT4 and a Lamborghini Urraco.
Hagerty has been tracking the latest generation of more affordable supercars, watching advertised values* over the last year. With a budget of £25,000 here are Hagerty's favourites.
How much is your car to insure? Find out in four easy steps.
Get a quote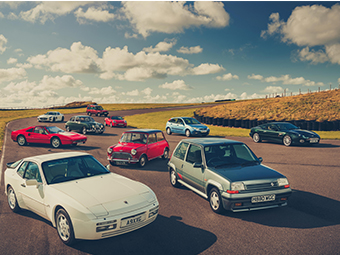 Maserati GranTurismo 4.2
In many ways, the GranTurismo is the spiritual successor to the Maserati Merak. Beautiful, flowing two-door coupe bodywork, an engine that sounds phenomenal, rear-wheel drive and a dodgy driving position: so far, so similar. But then you drive one: the GranTurismo's Ferrari-derived 4.2-Litre V8 engine kicks out nearly twice the bhp of the Merak, the back seats are actually usable for human beings, and the build quality is on another level compared to the Citroën/Maserati era. It's a great car and it now offers a massive amount for the money.
It seems the market agrees with us, as values have been surprisingly firm over the last 12 months. Low asking prices are static at around the £20,000 level but high prices seem to be gradually creeping up, from £28,750 last December to £31,000 now. We even found one very low mileage car advertised for £45,000. Are prices now on the up? For a good, low mileage (but regularly used) car in top condition, we think they may be.
Bentley Continental GT
The Continental GT was a model designed to tempt the masses with a 'gentleman's sports car' and it worked. The model took Bentley from being a company more used to creating coachbuilt masterpieces to a manufacturer that was, at peak, producing around 10,000 Continental GTs per year.
With the Continental GT's 6-Litre, twin-turbocharged W12 engine, very comfortable walnut- and leather-trimmed interior and even a Breitling dash clock, they created a very aspirational car. Today, there are so many of them on the market that you can pick one up for well within our budget.
Values seem to still be working their way down. This time last year, the cheapest advertised was £20,000 and the most expensive £52,990. This week, that range is down between £15,000 and £44,990, and has shown a relatively steady softening each month throughout the year. That's a median value of just under £30,000, for a car that does 0-60mph in under five seconds and tops out at nearly 200mph. Are they at the bottom of the bell curve yet? Time will tell, but the sheer number for sale (almost all our other tracked models combined) mean that it's a buyer's market.
Porsche 911 (997) 3.6 Carrera 4
Despite knocking out over 200hp less than the Continental GT, the Porsche 911 (997) C4 hits 60mph from a standing start in exactly the same time of 4.8 seconds. It's nowhere near as luxurious as the other two, but it is lighter, more nimble, and… it's a 911. For many people (generally men of a certain age) this is an automotive itch that has to be scratched.
So why should you buy one? The 997 may be seen in the future as a watershed car. The big changes brought in by the 996 (water cooled engine, fried egg headlamps and elongated bonnet) were refined in the 997. Mechanically, (especially later), it was more proficient and the profile and interior harked back to the simplicity of the original 1960s cars.
Like the Bentley, advertised prices have gradually descended throughout the year. In December 2018, the range was £27,000 to £44,950; twelve months later this was £22,995 to £39,990. Hagerty's gut feeling is that 997 Carrera 4 values have still a little way to fall, but probably not as low as 996 C4s that can be bought for around £15,000. Low mileage cars in unusual colours (anything other than black, dark blue or silver) are already becoming very hard to find, and they'll keep their value best in the future so may be worth buying soon.
For those with deeper pockets
Our budgetary constraints were… well, too constraining, so we decided to look at a couple of more expensive options. First, the Audi R8 5.2 V10 (to 2015). This is a dead cert future classic, or I'll eat my seat covers. It's a poster car for Generation Z, a model that gained its following through video game placements, movie cameos and internet exposure. It looks like a supercar, sounds like a supercar, and with prices starting at around £45,000, it's now worth just over a third of what someone paid for it new. OK, quite a lot were made, but in 12 months of looking, we've seen almost no change in low or high advertised prices, so they seem to be holding their value very well indeed.
On the other side of the coin, we looked at another beautiful car that is undoubtedly a supercar: the Ferrari California T. Whereas the Audi R8 is all Germanic precision, the California T's Pininfarina-designed body is full of expressive curves. Its 3.9-Litre twin-turbo V8 sings and produces an impressive 552bhp, whilst the ride is comfortable without feeling soft. It's a great car, and one that was miles better than the earlier California it replaced. The only problem we found were the values: the advertised ranges dropped steadily month-on-month from between £107,750 to £169,850 a year ago to £96,950 to £124,995 last week. Although this represents around 2/3 of the car's new value, it seems the trajectory is still downwards; now may not be the time to buy.
So, what would I buy? On looks, practicality and the stability of values, We would have to go for the Maserati GranTurismo, but if it was my own car, I'd probably save up a bit longer and buy a 4.7S with the MC Shift gearbox, probably on standard springs and dampers. In black or white with black trident alloys it looks amazing and quite a few have been looked after fastidiously by private petrolhead owners. Let us know in the comments what you'd buy.
*Values were of standard, non-write-off, sub-50,000 mile cars advertised on a major UK for sale website one day a month over the dates shown.