There have been more Mini conversions than we've had hot dinners – and trust us, as former road testers who have spent decades on the road, we've had plenty. But few have been as eye-catching as this project that turns the humble Mini from a front-engined, front-wheel drive runabout to a rear-engined, rear-wheel drive rocket.
What began life as a 1982 Austin Morris Mini City with a 1-litre engine and just enough speed to nose ahead of a double decker has been transformed into a high-revving, 2-litre buzzbox that will surprise unsuspecting sports car drivers in any traffic light Grand Prix.
How much is your car to insure? Find out in four easy steps.
Get a quote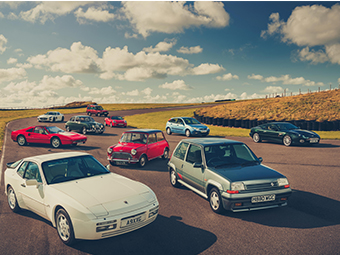 As you'll hear from YouTube presenter Petrol Ped, at the heart of the conversion is a Honda engine from a Civic Type-R, which boasts 215bhp, and is wedged in just ahead of the rear wheels The work was initially carried out in 2014, by Z Cars – a Kent-based tuning company that has been meddling with Minis and more for the past 20 years – but the Mini's owner found he was having so much fun that he couldn't stop using it – come rain, shine or even salt-gritted roads. That took its toll on the body, so a restoration was called for, which has just been completed.
The conversion uses the K20A2 engine from a 2002 Honda Civic Type-R, which offers 215bhp at 8000rpm, and 149Ib ft of torque at 7000rpm, making for the sort of driving experience where you have to roll up your sleeves and get stuck in. Hang in there and the rev limit arrives at 9000rpm.
According to Z Cars, the stripped-out Mini weighs about 740 kilos, giving it a power to weight ratio of 260bhp per ton. However, anyone feeling adventurous can opt for forced induction; a supercharger kit could take that to 340bhp if desired. We'll happily settle for a 'mere' 240bhp in a tiny thing like this.
The Mini may have made a name for itself through the use of a transversely-mounted inline-four-cylinder engine driving the front wheels, but Z Cars tears up that template and fits a tubular steel frame to accommodate the Honda engine and six-speed gearbox. Other engine options include a Suzuki Hayabusa and Subaru flat-four.
Other changes include increased track width and accompanying flared wheel arches, a new cooling system, uprated brakes, suspension that's adjustable for camber and toe, Gaz coilover shock absorbers and a bespoke fuel pump and fuel system, and completing the picture are 13-inch alloy wheels with sticky Yokohama Advan tyres.
If you are stuck for something to treat yourself to this Christmas, we humbly suggest adding a Z Cars Mini to your wish list for Santa.
Read more
Driving the Light Car Company Rocket – Gordon Murray's original hypercar
Revisiting the greatest barn find yet | Barn Find Hunter
Video: Richard Hammond's Workshop preview shows the former Top Gear presenter making a muddle of things