It's ironic that so many brands are now referencing their historical predecessors when creating the latest breed of SUVs, because compared to their hard-working, often agricultural forebears they're otherwise unrecognisable.
Nowhere is this more apparent than in their performance, as Jason Cammisa's latest drag race video shows.
How much is your car to insure? Find out in four easy steps.
Get a quote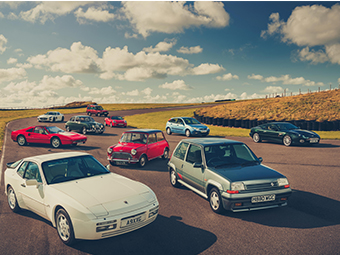 This time around Jason pitches two of the latest American high-performance 4x4s – the Ford Bronco Raptor and Jeep Wrangler 392 – against the German Mercedes-AMG G63, and a Brit, in the form of the Land Rover Defender V8.
All have history stretching back decades, but while all started as working vehicles, they've since evolved into off-roader shaped toys, and ones offered with enormous performance. So much performance in fact that for a fifth challenger, Cammisa includes an Italian supercar: a Lamborghini Gallardo.
Just as the average family car today can give a sports car from thirty years ago a hard time, the straight-line performance of the latest breed of hot-rodded SUVs brings them well within reach of a low-slung supercar – though as the video shows, some are closer to supercar performance than others.
It makes for quite a spectacle as all four cars rear up like a speedboat and bludgeon their way down the course. And while giving a large 4×4 enormous power isn't the cleverest way to go quickly, and possibly not the most… err, socially acceptable way these days, there are some mighty fine noises to go along with it.
So do any of them beat the Lamborghini (with its own rather fine noises)? You'll have to watch to the end for that, but if there's one thing you can guarantee, it's that the Lambo wouldn't do similar on a rough and rutted surface.
Watch the full video above, or head over to the Hagerty YouTube channel for more drag races, engine rebuilds and car profile videos.
Read more
AMAZING! Time-lapse engine rebuild of a Chevy 283 small-block | Redline Rebuild
The Toyota GR86 is a modern day Porsche 944 | Jason Cammisa on the Icons
Future Classic: Land Rover Defender