"Advance Britannia. Long live the cause of freedom. God save the King." So ended Winston Churchill's May 1945 Victory In Europe (VE) speech to Britain and the colonies. According to contemporary Movietone newsreels, there weren't a lot of motor cars in the joyful celebrations that followed, when folk danced, sang, lit bonfires, hung from impossible perches and imbibed, from the look of it, deeply.
Nevertheless the recommencement of making cars and the future of the motor car itself were on a lot of minds even during hostilities with Nazi Germany. The famous Foleshill factory fire-watching team from Jaguar, had devised the famous XK six-cylinder engine, while over in Germany, Major Ivan Hirst had a vision of Germany building the Volkswagen Beetle in vast numbers.
How much is your car to insure? Find out in four easy steps.
Get a quote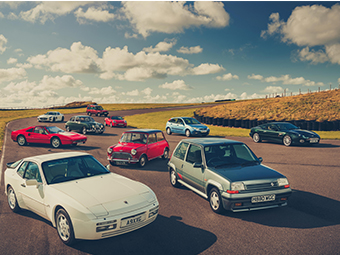 In the UK car manufacture was seen as a way out of the economic depression. Indeed the comparisons with today are almost too tempting; an exhausted and demoralized public, shortages of key components and raw materials, and mothballed car factories, with a desperate need to return to civilian production and profit.
Just the month before VE Day on April 5, the cabinet's ministerial subcommittee on industrial problems had met to discuss the motor industry. In 1939 the Government had effectively taken charge of the motor industry to direct it into war production and it was a very different (and smaller) set of motor makers that emerged at the end of the war. This was the commencement of the "export or die" era and the UK government had even considered mandating a special, rear-engined 'export' car that the motor industry could cooperate on.
Yet in November 1945, Sir Stafford Cripps was heckled by attendees at the Society of Motor Manufacturers and Traders (SMMT) annual dinner when he suggested that "we must provide a cheap, tough, good-looking car of decent size – not the sort of car we have hitherto produced for smooth roads and short journeys in this country."
Blinkered views and penny pinching won the day, however. While the much-hated pre-war Horsepower Tax was repealed, the Treasury refused further changes to motor vehicle taxation. And it was that lack of imagination in fiscal incentives, in green-lighting innovative design, in forging cooperative relationships between car makers, banks, trade unions and government, along with steel shortages, which meant that most of the cars you could buy after the war were very similar to the cars you could buy before it. Most, but not all. Here are four cars of the Forties which pointed to a better sort of future.
Morris Minor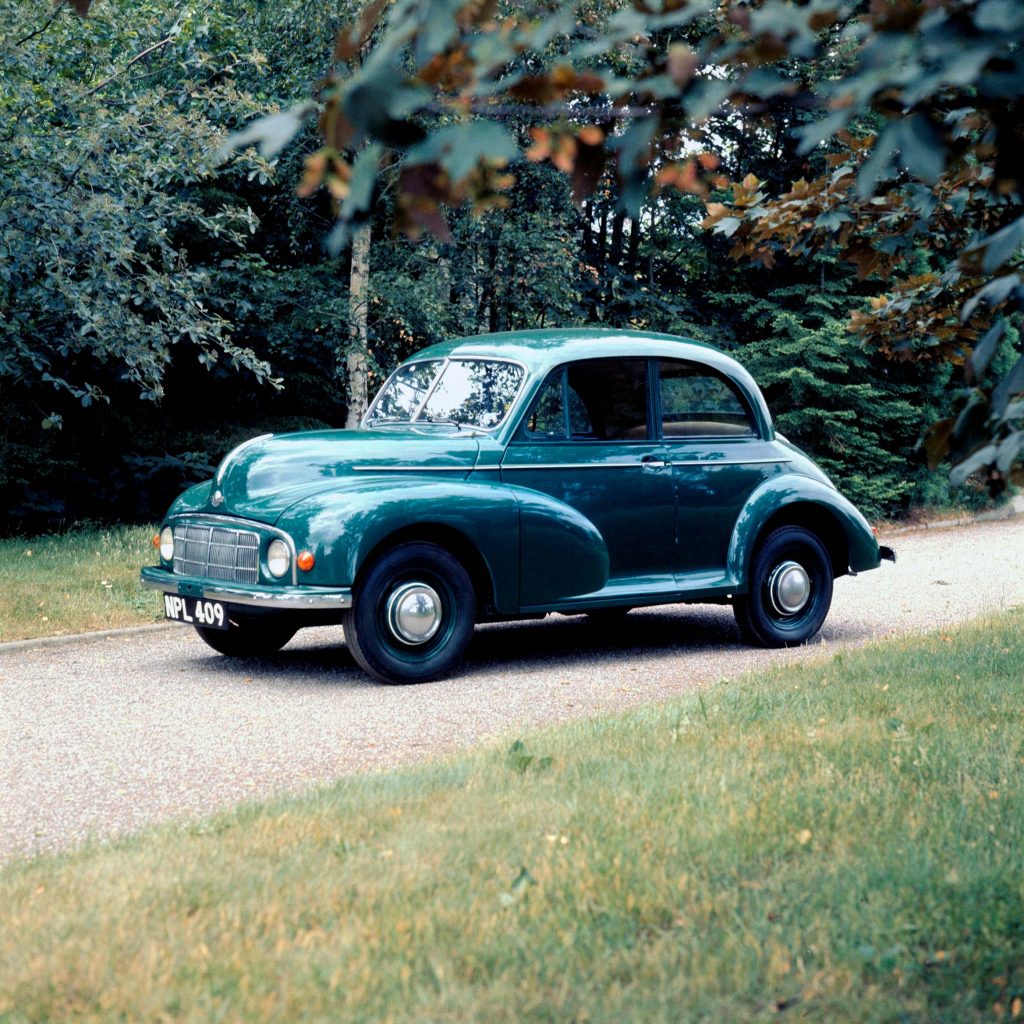 Launched: 1948
Alec Issigonis's first four-wheeled revolution for the Nuffield organisation was conceived in 1941 and used many of this talented man's ideas he'd had for the Morris 10. So the prototype 'Mosquito' had independent suspension, unitary body construction, rack-and-pinion steering, torsion-bar suspension and small wheels (14 inches) placed at each corner to maximise interior accommodation and minimise unsprung weight. To keep the frontal area and weight down, the proposed engine was to be a flat four-cylinder unit.
The rush to get it into production, however, meant that the innovative engine and independent rear suspension were deep-sixed. Morris vice chairman Miles Thomas had strongly backed the project, but when his boss Lord Nuffield (William Morris), backed the naysayers and threw obstacles in the car's path, he handed in his notice.
Issigonis stayed and saw his American-influenced little car with its crocodile bonnet into production, even adding four inches to its width just before the launch and tolerating the increasingly irascible Nuffield changing the name to Minor.
When tested by The Motor magazine in 1949, the car cost £358 10s 7d and its 919cc, side-valve motor gave it a top speed of 64mph, while 0-50mph took 24sec and there was the potential for 40mpg. "An attractive newcomer, which sets high standard of small-car stability, comfort and economy," said the testers.
It was a huge success, with over a quarter of a million produced of the first generation (1948 – 1953) and by the time production ended in 1972, more than 1.6 million had been built.
Jowett Javelin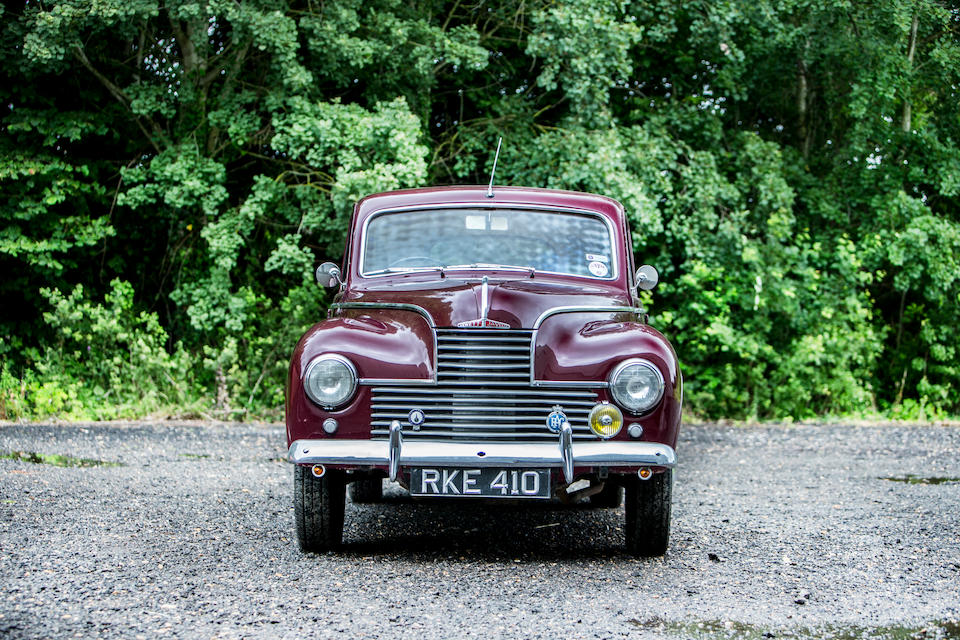 Launched: 1947
The lategreat LJK Setright – a fan of Bristols – once unkindly observed that while cars tended to suit the roads of the countries in which they were designed and built, the Jowett was perfectly suited to Bradford where it was built. The 1947 Javelin, however, was this little car maker's finest hour, one that would go on to be frustrated by industrial politics.
Designed by a young Gerald Palmer who had worked at MG and went on to great things at BMC and Vauxhall, the first Javelin was on the road in 1944 and almost ready for VE day (series production began in 1947). That modern aerodynamic body ticked a lot of boxes marked 'nice-but-too-expensive' for the rest of the motor industry, though Palmer managed cost design and engineering brilliantly.
He designed a 50bhp/76lb ft, 1.5-litre aluminium crankcase flat-four engine driving into a four-speed gearbox and then the rear wheels. The body wasn't strictly a monocoque as it was welded to a substantial steel chassis, but the torsion bar-sprung wishbone front suspension and similarly sprung live axle rear located with trailing links was as modern as the hour and gave excellent ride and handling. It weighed just over a ton and its handsome bench seats accommodated six. On a good day you'd see 80mph on the Smiths speedometer set in the handsome wooden dashboard underneath the toughened Triplex windscreen, with 0-60mph in about 22 seconds and around 30mpg.
The Javelin was tested by The Motor in 1949 the year the little car took class wins in the Monte Carlo rally and the Spa 24 hours. At that time it cost £959 1s 8d and the test pronounced it "a high performance small car, which will stand the most searching comparison with the products of any other country."
They built over 23,000 before production ended in 1953, but it wasn't lack of demand that halted production of this advanced saloon, it was corporate politics. Ford had purchased body supplier Briggs Motor Bodies and they said they no longer wanted to bother with such small quantities and wouldn't extend credit. Jowett had nowhere else to go and that was it for the car and the firm.
Rover 75 P4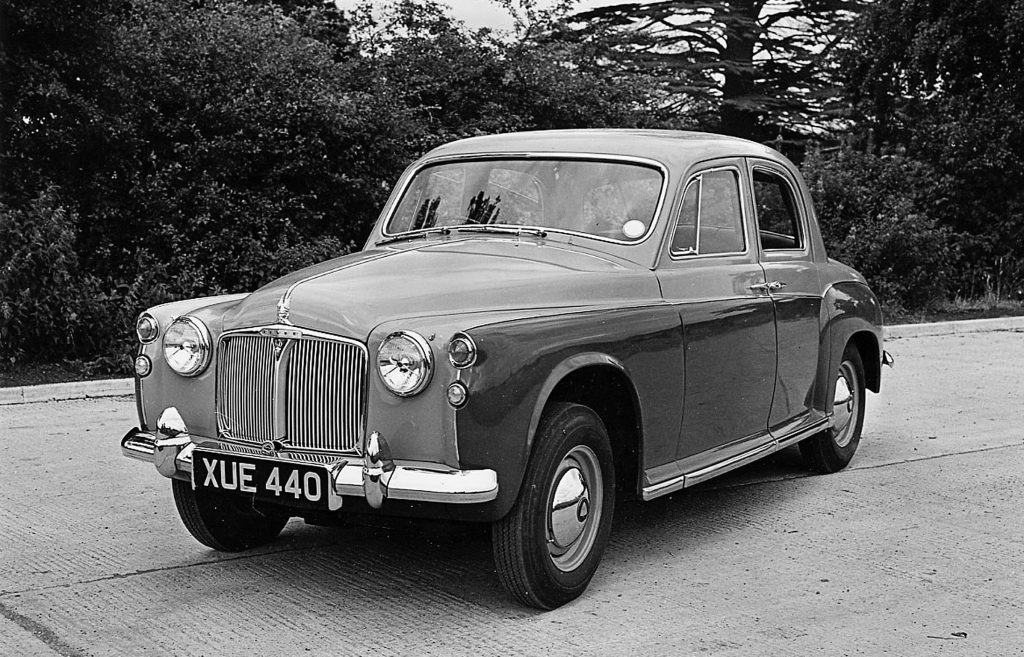 Launched: 1949
Following the distinctly pre-war looking P3, the 75 or P4 was a huge leap forward. Gordon Bashford's charming and modern coachwork replaced fusty separate running boards, a separate radiator grille and headlamps, with all-new proportions. Bashford was a huge talent, going on to be instrumental in the first-ever Land Rover, the revolutionary Rover P6 and SD1, and the 1970 Range Rover.
The Rover's style was derivative, from Studebaker's new-generation cars, but done with critic-confounding panache and a new-found practicality and generous accommodation – especially the boot. The cabin was gorgeous, groaning with wood and leather, chromium plate and a unique His Masters' Voice wireless set. And it was trend setting, although the early cars' Cyclops centre headlamp wasn't universally adopted and subsequent models gained a smoother and better-looking front end.
The 2.1-litre, six-cylinder was smooth, with modern hard-chromium bores, but it was basically a carry over and its white-metal main bearings and valve arrangement were old fashioned, as was the column-mounted gear change, which was also quickly changed. The first 75 model topped out at about 75mph, with 0-60mph in 29.2sec and 30mpg.
Its separate chassis and independent coil-sprung front suspension and semi-elliptic sprung live axle rear rolled through the turns and the weird hydro-mechanical brakes were utterly inert, but it was quiet and refined. Road and Track magazine thought it was great. "I honestly believe (barring the Rolls-Royce) that there is no finer car built in the world today," said tester, Bob Dearborn. The Motor wasn't quite so enthusiastic, praising the workmanship, but concluding "the Rover is not the sort of car to arouse strongly partisan enthusiasm… [but] admiration slowly but very surely increases as substantial numbers of miles roll inconspicuously by."
What distinguished the P4 was its makers' single-model strategy based around this car. The 75 might have been known as the 'aunty Rover', but it was a triumph of style, refinement and build quality, which appealed to post-war middle classes, who in subsequent decades bought similarly marketed Jaguars, Triumphs, Rovers and latterly BMWs in their hundreds of thousands.
Aston Martin Atom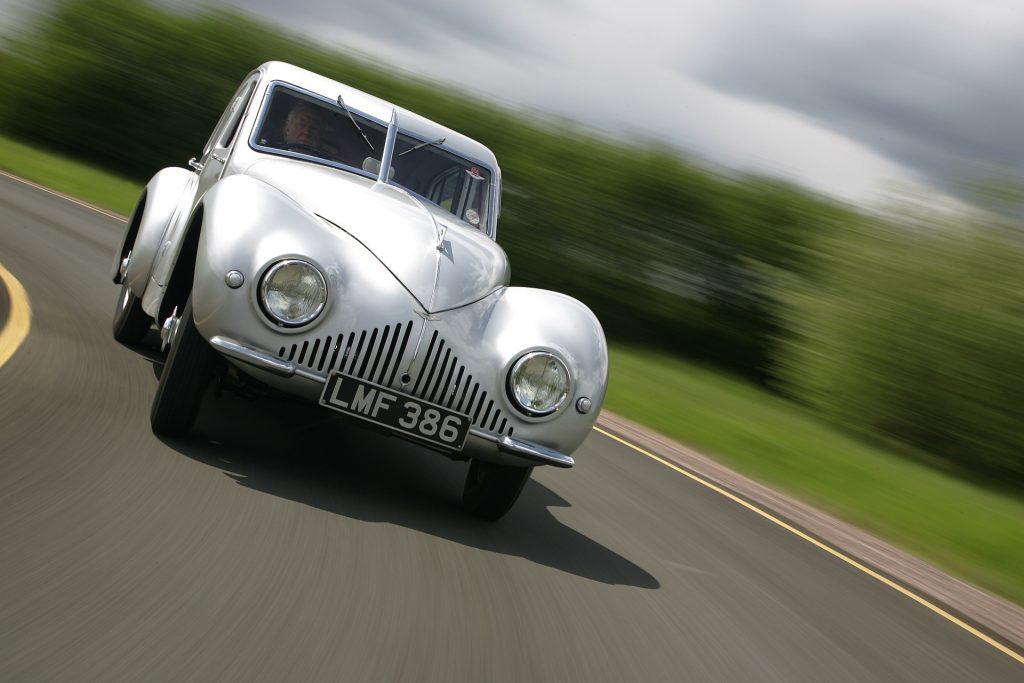 First shown: 1940
Gordon Sutherland's family owned Aston Martin between 1933 and 1947. When I met him aged 88, in 1996, he joked that "while saving Aston Martin was a reoccurring chore for all its owners, making money was optional.
"Actually saving Aston Martin was the simple part," he said, "Atom did all that… without it, I don't think David Brown would have been that interested in the company."
Sutherland's small ad in The Times was answered by industrialist David Brown, although in truth there wasn't a lot of Aston Martin to sell, as Brown later observed: just "the prototype, a few rusty old machine tools and the services of the Atom's designer, Claude Hill, who is very good."
But what a prototype was Atom. Developed and built before WWII by Hill under close supervision by Sutherland, this four-door saloon was so far ahead of its time it made its contemporaries look antediluvian. It was based on Sutherland's ideas for what an increasingly sophisticated post-war motoring world would require; high-speed cross-continental comfort with construction based on aircraft design and lightweight materials. The Atom's split screen, hammock seats and the use of self-tapping screws and Nyloc nuts, all followed aeronautical practice.
Built during 1939 and completed in 1940, this was Europe's first-ever concept car. Its name, 'The Atom' was registered with the SMMT. And the body construction consisted of welded rectangular steel tubes, with aluminium alloy coachwork was patented. So, too, was the trailing-arm front suspension designed by Gordon Armstrong and the Salisbury live rear axle supported by semi-elliptic rear springs with lever-arm dampers all round. Everything was designed for accuracy including the steering geometry using divided track-rod ends.
Under the bonnet was Aston Martin's own 1,950cc long-stroke four-cylinder, single-overhead camshaft unit and the transmission was a four-speed, electromagnetic semi-automatic unit from Cotal. In 1944, however, the engine was changed to a new 1,970cc push-rod four-cylinder designed by Claude Hill for reliability and ease of production, which gave it a geared maximum speed of 110mph. The prototype perfectly fitted Sutherland's targets: a car that had the performance of rivals with twice the power, with excellent ride and handling and a comfortable and quiet cabin.
It saved the company and pointed to a modern form of specialist car production at which Britain then and now, excels.
Hagerty's Willys MB jeep rolls for the D-Day 75th Anniversary