Price: £8995
Year: 1980
Mileage: 63000
Condition: Top notch
Seller: South Norfolk Classics
There's something inherently right about the idea of Japanese classics at the Festival of the Unexceptional. So many have been shunned from more typical classic car events, and yet for a time in the late 1970s and 1980s, they seemed to multiply almost overnight. With the same speed, those cars – cars like this Datsun 280C estate – vanished by the late 1990s, making them indicative of an era and collectible today.
How much is your car to insure? Find out in four easy steps.
Get a quote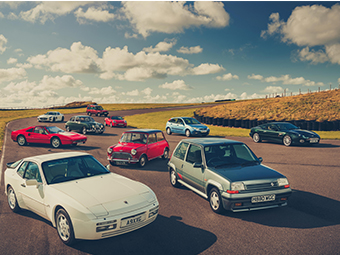 This 1980 Datsun 280C estate is no exception – when did you last see one? With DVLA figures indicating just 13 280Cs still exist, of which just two are roadworthy, the chances of seeing another estate are more remote than winning the National Lottery and marrying a brewery heir or heiress in the same week.
And this 280C couldn't tell more of its era if it tried. It's like stepping back to the emerging days of colour television, SodaStream and microwave dinners.
Bronze paint and a cacophony of different browns inside meld seamlessly into the mock wood appliqué on the tailgate – a tailgate which bears Nissan badging owing to the company's attempt to rebrand in the early 1980s. The lack of crushed velvet inside is perhaps disappointing given its era, nationality and size, but the leather's in excellent condition throughout and undoubtedly easier to take care of.
It doesn't look like a car which has covered 63000 miles, but the extensive history bears witness to the mileage. There are a few minor blisters, but this is a car that is rapidly approaching 40 years old and perfection can't reasonably be expected.
Survivors like this car always have stories – there's always a reason why something so rare has managed to survive through the years despite the odds. Perhaps an elderly first owner who kept it as his pride and joy? Maybe it's been part of a Nissan collection. We hope that the next stage of its life includes appearances at the Festival of the Unexceptional – and with its seven seat capacity and ample space for picnic hampers, the whole family can enjoy the day out too.