Price: £2300
Mileage: 59,000
Condition: Stonewashed
Advert: Car & Classic
Denim is a material severely underutilised in automobile interiors, but it is a material this SEAT Marbella Jeans has in abundance, and for that alone it deserves our attention.
How much is your car to insure? Find out in four easy steps.
Get a quote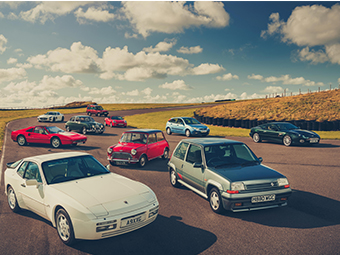 There had been denim-themed special editions before. Volkswagen introduced the Jeans Beetle in 1974, sporting a coat of orange paintwork, a set of stripes and of course the all-important denim seat covers. It then reprised the concept several times, the last as late as 2000 in the Mexican market.
American marque AMC also dabbled with denim, also in the 1970s – surely the decade of denim – with the Levi's Gremlin. This one was even painted the same colour as a pair of 501s, though the denim itself was a new kind better suited to the rigours of automotive use.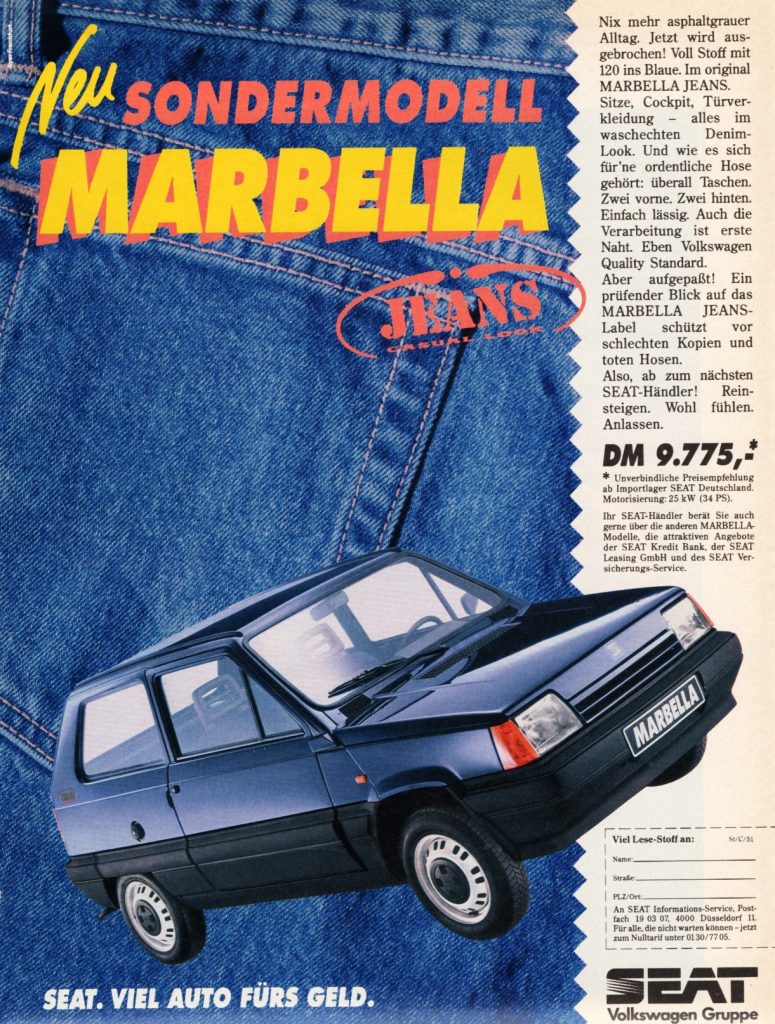 Jeep got in on the Levi's act too, while in the early 1990s, Peugeot's 106 Kid trimmed its seats and doorcards in the stuff. More recently, we've had the Fiat 500 by Diesel, with a nod to the clothing brand coming in the form of denim seat centres – though in a less obvious black, rather than stonewashed blue.
But while it's not an original idea, all of these special editions beat the old stickers'n'wheeltrims combo for imagination and seem a little more interesting as a result.
The Marbella Jeans went a step further than most, since the big hammock-style dashboard cribbed from the Fiat Panda also ended up trimmed in blue denim. Other particularly neat touches include map pockets behind the front seats that look like the pockets on your jeans, stitched-in leather patches bearing the legend 'Jeans – Casual Look', and small rivets at the intersection of some of the trim panels.
While the photos aren't the clearest we've ever laid eyes on, the denim trim, and indeed much of the rest of this Marbella seem (or should that be seam?) to be in pretty good condition.
The car was apparently reconditioned last year after spending a decade garaged, so there's a new radiator, thermostat, fan sensor, brakes and a fuel pump, as well as four new tyres. It also passed its MOT with no advisories back in April, for further confidence. That said, MOT checkers and the like don't seem to recognise the numberplate, so this may be worth investigating if you're interested.
Either way, it's a neat unexceptional classic in decent nick with one of the best special edition gimmicks you'll find. And for £2300, it's almost certainly possible to find a pair of jeans that'll cost you more.
Read more
Unexceptional Classifieds: Fiat Uno 1.0 ie
Vision Thing: Bear witness to my favourite things