Price: Auction
Year: 1983
Mileage: 43,000
Condition: Like it's still 1983
Seller: eBay
Every so often something comes along that is so transformative as to render whatever came before virtually forgotten.
How much is your car to insure? Find out in four easy steps.
Get a quote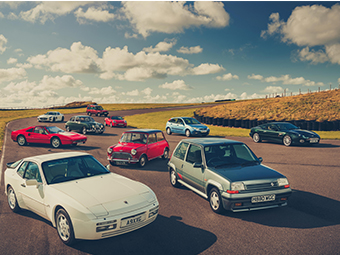 Did you know for example that before Nintendo's seminal Game Boy launched in 1989, the Japanese company sold a series of handheld consoles called the Game & Watch? And that it ran for over ten years?
Digital technology has a habit of making its predecessors obsolete but the Game Boy – with its cartridge media allowing for hundreds of different games, its long battery life and the scope of its accessories, buried its predecessor with little trace.
Not long after the Game & Watch was released, Peugeot's 205 did exactly that to its own predecessor, the Peugeot 104. We've come to expect each new car that comes along to improve upon the car it replaces but the 205's improvements were endless. It was prettier, handled better than anything else in its class, offered a large range of engines and body styles, and topped it all off by becoming a dominant force in motorsport.
It has proved enduring, helped by the success of hot versions and their recent climb in values. Basic versions remain an affordable way of indulging in one of the best small-car chassis around but also enjoying plentiful spares and a package that's usable in modern traffic. Those opting for the sporting models get the same benefits, but also ownership of an icon, even greater B-road thrills, and a fair chance their Rallye or GTI will be worth a few quid more when they come to sell.
Where does this leave the 205's forgotten predecessor? As a bit of a left-field choice, and a shoo-in for the Festival of the Unexceptional. A basic 205 will always be welcome at the Festival, but you can bet a car like this incredibly tidy 1983 104 GL up for auction on eBay will attract even more admiring glances.
Particularly when it's in this condition. The seller states it was fully rebuilt three years ago and it's not hard to believe when you see the condition of the paintwork, the pristine white wheels, and apparently unmarked seats.
As a 1983 it's a fairly late model, built as Peugeot was winding down production to make way for the all-conquering 205. GL trim marks it out as a fairly basic model and power comes from a 954cc "XV" carburetted four-cylinder, an engine that later made it into the 205 itself. Highlights of this particular car include service records, old tax discs, and even a photo album containing, among other things, its use as a wedding car in the 1980s.
With a starting bid of £3500 it's likely to go to a collector rather than a floating bidder – it is, after all, much easier to find a tidy 205 for less money and enjoy that car's manifold benefits. But like finding an old Nintendo Game & Watch at a flea market, this 104 deserves to transcend its forgotten status.