In a tribute to the cars celebrated at Hagerty's Festival of the Unexceptional, Giles Chapman peers into the past of Britain's everyday cars.
You'll have to forgive me a little rose-tintedness about this Nissan Micra, the second-generation, K11 model. Back in 1992-3 I put 30,000 miles on the clock of one and it was as trusty as a one-eyed mongrel, hauling me and car-loads of stuff up and down the country.
How much is your car to insure? Find out in four easy steps.
Get a quote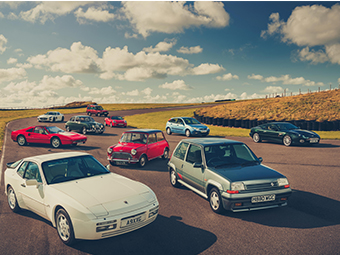 Admittedly it was not an obvious motorway mile-muncher – this Micra was meant for nipping around town – and my youthful thighs were apt to ache after three or more hours confined to its unsupportive velour driving seat. But my Micra was an automatic, with a continuously-variable transmission operated by a ridiculously tall shift lever shaped like a python. Once its whine had died down after the first burst – never a surge – of acceleration the little Nissan would purr along all day with its uncanny refinement.
Not for nothing did the car quickly build on the Micra brand's reputation as the UK's favourite 'grannymobile'. The previous K10 had been a winner with Britain's oldies from the start in 1982, because it was quiet, economical, compact and offered very light steering and an equally undemanding clutch pedal. It was a far better car than a Metro, and very well made – so durable that in 2005, 13 years after it became obsolete, a third of those sold in the UK were still giving good service.
The 1992 replacement drew on Nissan's retro-themed 1980s Be-1 limited edition, which reintroduced old-fashioned curves to small cars. The K11 ran with this theme, adding a tall cabin to its smooth lines and a minimal dashboard with the instruments in a pod perched on a parcel shelf of sorts. To reinforce the friendly nature of the car, the launch TV ad campaign featured this new Micra as a bubble-shaped cartoon character.
Under the stubby bonnet, though, it was bang up-to-date, with brand new engines in 1- and 1.3-litre sizes. All-aluminium construction, 16 valves, double overhead-camshafts, fuel-injection – Nissan's cheapest car boasted the sort of tech that had been supercar stuff in the 1970s, although it was there not for rocketing performance but to give proper liveliness while still interacting with the catalytic converters fitted as standard. There was a sweet five-speed gearbox as well as the wacky auto, and a driver's airbag, power steering, central locking and air-con were all offered in the higher echelons of the range. A 1.5-litre diesel was offered for European markets with a Peugeot motor, but not in Japan, where the car was called the Nissan March. In its homeland, too, there existed strange spin-off models, including a tiny station wagon, a power-top convertible, and one stripped of its already meagre luxuries and shiny bits and sold by minimalist store chain Muji (pictured, below).
This little Nissan was also a real boost for Britain's motor industry, joining the Primera in a much-enlarged Sunderland factory where the bodies and the engines were manufactured. These British origins meant it won the European Car Of The Year award for 1992 – the first Japanese-designed model ever to grab this precious gong.
This K11-model Micra was one of the best built, most refined and least troublesome small cars you could buy. What it lacked in kudos it more than made up for with paltry running costs.
The excellent car was on sale for 10 straight years with only a few visual tweaks and engine modifications to keep it fresh. During that time, and afterwards, it was the kind of thing any trustworthy mechanic would suggest you buy – not that it was in his interest for you to do that, because you'd rarely be back for repairs.
The humdrum Nissan name and lack of any credible performance model meant the Micra – despite its cuteness – continued to be the No1 choice for Britain's silver-topped retirees, while its easy-to-drive nature made it a favourite for driving schools. You either started or ended your driving years in one.