Most of the time, I'm a supporter of advances in motoring technology. I was very, very glad that I was in a relatively modern Toyota last March when a guy driving a 2019 Vauxhall Insignia drove in to the back of me at 50mph while I was stationary at a junction. Both cars were written off, but he and I, and my three kids who were in the back seat, all mercifully walked away. If we'd been in our 1970 VW Campmobile, things would almost certainly have been different.
I'm also aware that long journeys are now a lot more comfortable, and a lot more predictable that those I remember undergoing as a child in my dad's Cortina. Then, it was touch-and-go whether we'd have to take a break at the side of the A303, bonnet up, waiting for the radiator's kettle impression to end. Then there were the red-hot vinyl seats, the asthmatic window 'heater' vents, the dodgy brakes, the porridge-stirrer gearchange and the steering wheels that you could move a quarter of a turn without changing road position. Those were the days.
How much is your car to insure? Find out in four easy steps.
Get a quote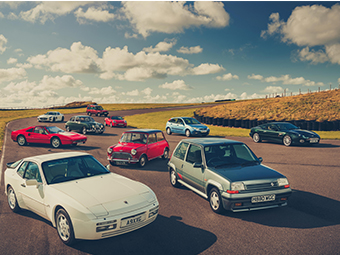 But… and it's a big but… there's a point at which technological advances just aren't helpful to the one person they should be there to serve: the driver. Some modern cars are just too damn clever for their own good, and it's to the detriment of motoring.
Take my 2015 Volvo V40 for example. In R-Design, Lux spec it's a very comfortable car and drives well on long journeys. At first, I only had one niggle – there's nowhere to put your phone – but I quickly realised that the satnav was awful, so the phone sits neatly on the shelf in front of the screen with Google maps displayed. Then, a few months after I bought it from a main dealer with a fresh service, it told me the oil was low.
I mostly work from home so this isn't a car that had stacked up the motorway miles. I'll admit to my shame that I hadn't checked the oil, but just assumed that a modern 2-Litre petrol engine with 30k on the clock wouldn't be a burner. Anyway, I opened the bonnet to see the level for myself. No dipstick.
Now, I'm a motoring journalist. I've rebuilt engines that worked afterwards, rewired entire looms and even fixed the digital clock on my Porsche 944. Granted, most of the cars I drive are as old as I am, but I'm not a mechanical fool. So, imagine my frustration when I just couldn't work out how to check the digital oil gauge.
The manual was useless. 'Move the selector wheel to access menu functions' it said. I moved the wheel by my thumb on the steering wheel that changed the functions on the central console. Despite searching every menu, there was no oil level option. I went online, and realised they meant another wheel on the indicator stalk. I found the oil level indicator… which was greyed out. I checked the manual again: I had to set it to 'Key position II'. Now, it's a key-in-the-dash kind of car, so 'Position II' wasn't obvious and wasn't mentioned anywhere in the literature. I tried key in, ignition on, key in, ignition off, key out ignition out. Nothing made any difference. Eventually, to my shame, I rang the dealer and they told me how to do it. I had to put the key in, without touching the clutch/brake pedals, press the start key for approximately two seconds. Obviously.
I can imagine the meeting in Volvo's Gothenburg HQ back when these were first designed. 'Hey, we have a great idea,' says Bjorn, head of Clever Engineering. 'We'll put in this clever oil level system and we can save €1.50 on a dip stick!'. No matter that you'll ruin the afternoon of every owner who just wants to have a). an engine that doesn't burn oil and b). if it does, you can check the level quickly with a dipstick.
Oh, and the other thing Bjorn forgot to mention is that even if you do all of that, fill it up with oil, then go to check the level again, it won't work. Apparently, you have to drive 30 miles then turn the engine off for a further five minutes before the correct level will be shown. Give me strength.
It's not just Volvo. I also have a 2012 diesel VW Sharan which has an Adblue delivery system. One day before Christmas, it told me the Adblue was low (it was full) and then started a 600-mile doomsday countdown until 'NO START'. What followed was an expensive voyage of discovery where my very capable local garage replaced sensors and reprogrammed the SCR system until the fault finally cleared. At no point was anything wrong with the engine, or anything awry with the Adblue system, nor were the emissions any worse that normal. On an old car, there wouldn't have been a problem to fix. Now, since the emissions scandal, VW are so petrified of being 'How Dare You'd' by Greta Thunberg that they make the engine stop working if you don't follow their exact instructions.
What's the answer? Maybe there's a technology sweet spot. My Porsche 944 was built in 1988. The heating, lighting, ABS brakes, gearbox, power steering and electric windows are as efficient as a modern car's, and more so than many vehicles on the road. The engine is solid and reliable, and the handling is legendary. But it's not a modern car: look under the bonnet and you see alloy cam covers, a distributor and… joy of joys… a dipstick.
Likewise, as Hagerty recently reported, there's been a real upsurge in post-1990 performance cars in recent months. The 'Youngtimer' collection at RM Sotheby's London sale was full of 1990s AMG Mercedes-Benz models, and they flew out of the door. These early AMG cars are phenomenally powerful, comfortable, and they have that low-production number hand-built feel to them. Plus, the boxy W124 body is exceptionally cool: just look at the black C36 AMG estate that RM sold and tell me it doesn't look amazing.
Then, for those of an Italian persuasion, there's the Alfa Romeo 156 GTA. Having owned a GT 3.2 V6 with the same engine, I know they're delicate and things – oil coolers, rear head gaskets, electrics – can (do) go wrong, but find one that has been properly looked after and you'll own an absolutely phenomenal car that can see off most other cars on the road. Just as importantly, when you open the bonnet you'll be presented with the wonderful Busso V6: an audible and visual treat that even has real chrome intake trumpets. With even the best in the country leaving you with a lot of change from £20,000 it doesn't get much better than that. Then there are the Ford Sierra Cosworths, the Lancia Delta Integrales, the Audi Quattros… They'll all officially be historic vehicles in a few years.
Autonomous cars, clever technology, limits on petrol and diesel… these are already affecting the cars we drive, and it is only going one way. Let's all go back to the golden era before it's too late.