In a tribute to the cars celebrated at Hagerty's Festival of the Unexceptional, Giles Chapman peers into the past of Britain's everyday cars.
The original Toyota Previa – a full 29 years old – was all but obscured in the swirling mists of time when a scruffy, dented but still working example was thrust back into the limelight in 2019.
Prime ministerial hopeful Boris Johnson was seen stepping from the trusty people-carrier, and waiting photographers got a telling glimpse of its rubbish-strewn interior. For a man who won't state how many children he has, we must presume he was trying to make a connection with the typical large British family; hey, people of Britain, look, my life is just as chaotic as yours. Previa ownership, ergo, demonstrates I really could be father of your nation.
How much is your car to insure? Find out in four easy steps.
Get a quote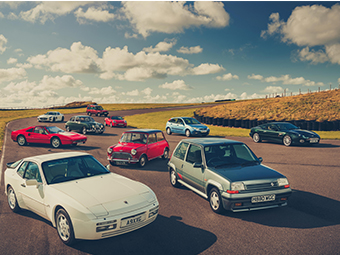 Big multi-purpose- or multi-passenger vehicles – MPVs – are a car craze that has died a death. Most families get by perfectly well with a crossover like the Nissan Qashqai and don't need a hefty eight-seater airport hotel bus.
Back in 1990, though, the tortoise-shaped Previa was the biggest news to hit family life since Ikea's bunk-bed-and-homework-desk.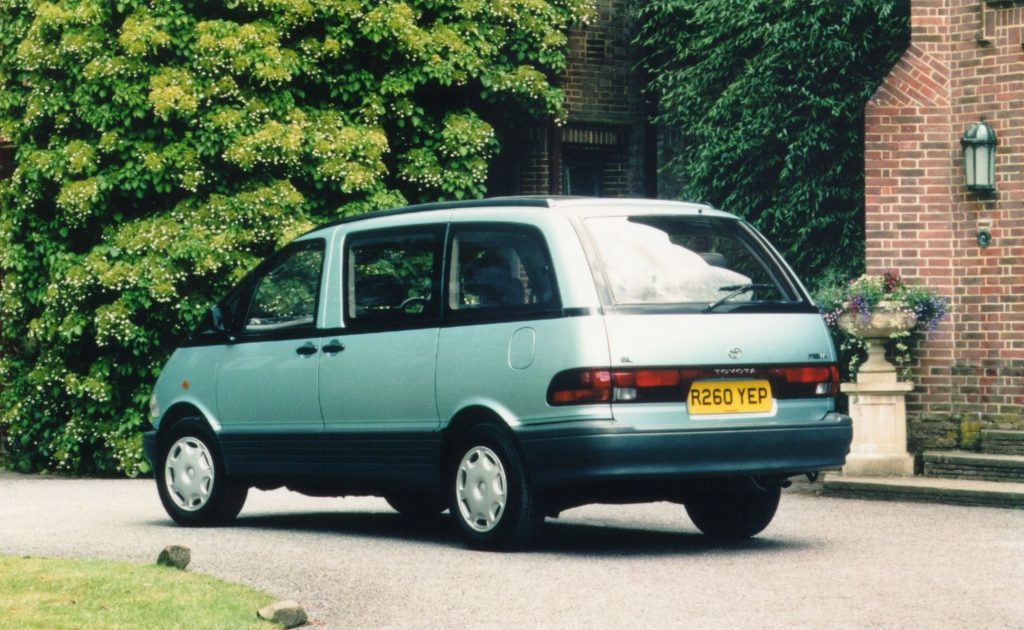 Toyota actually got in early with its Space Cruiser in 1983, basically a Lite-Ace van with seven velour seats and the pitching stability of a wheelbarrow. But the gamechanger was Renault's 1984 Espace. It was airy and versatile inside, drove like any front-wheel drive hatchback, and thanks to its plastic body and light weight was surprisingly brisk and efficient.
The need to out-do Renault led Toyota into radical design territory, and the Previa had its 2.4-litre four-cylinder engine under the floor below the front two seats, tilted over at an unusual 75-degree angle so it could be tucked out of the way. Mid-engined, yet not quite like an MR2. The power went to the rear wheels, so weight distribution was spot on and roadholding notably stable. The radiator, air-con, power-steering pump and fluid spouts were all accessible under the stubby bonnet, although you had to take the car to pieces to get at the sparkplugs…
The £18,260 Previa, though, was all about versatile space inside; seats for eight people, with the three-seater bench in the middle split in a two-one configuration. It could also be turned around to face those in the rear seats.
This was a big, heavy car, so top speed was only 109mph despite the 133bhp on tap from the fuel-injected 16-valve twin-cam. Options like automatic transmission (with a column-mounted shifter) and air-conditioning (including an on-board cool-box) sapped the power even further. One unusual aspect was there was just one passenger door to the rear compartment, which popped out and slid back so you could clamber in across the flat floor.
I went on a family holiday, which entailed driving across France in a Previa, and I got to sample every seat apart from the driver's. Thank goodness for air-con; with its two sunroofs and panoramic all-round visibility this glass bowl would have been unbearable otherwise in the baking summer heat. After three hours enforced sitting, I can't say any seat apart from the front 'captain's chairs' were especially supportive. But it was spacious. Mind you, in Japan and for arcane local tax reasons, there was a version called the Estima more than 4in narrower. That would have been a bit more fraught for a European vacation with a fractious brood.
When I did get a brief turn behind the wheel, I found the steering and composure notably good; acceleration was a bit sluggish but, then again, this was the pinnacle of school-run chic in the early 1990s, and you didn't want to get scowls from lollipop ladies. Eh, Boris?