Hagerty's Festival of the Unexceptional returned last weekend, and what a show it was (even if we do say so ourselves!) The turnout, like the weather, was glorious: 45 superbly unexceptional cars in the Concours de l'Ordinaire, a huge pre-1990 car park that was a show all to itself, and hundreds of happy spectators.
The Festival, now in its third year, had a superb line-up of cars. Clive Nelson's 1984 Matra Rancho made an immediate visual impact, as did Marc Wilmot's beautiful 1964 Austin J2 Paralanian camper van, complete with period accessories.
How much is your car to insure? Find out in four easy steps.
Get a quote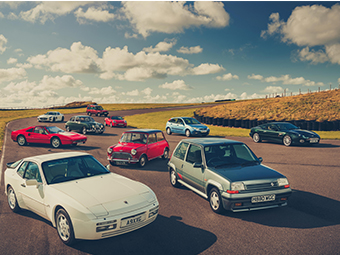 Jim Scott and his wife brought their superb two-owner 1966 Ford Cortina Mk I, driving it all the way from Gretna just for the event. Terry Curtis drove his 1983 Talbot Samba Cabriolet- a rare car, but also in absolutely immaculate condition. Representing the European Unexceptionals, Peter Bays brought his 1973 DAF 66 Marathon Coupe, Dave Boulton his 1980 Opel Ascona and David Longfellow his lovely Fiat 127.
The car park was also full of rarities. Bob Hirschhorn drove his 1992 Lancia Dedra- believed to be the UK's last surviving example- all the way from Malvern. An ultra-rare 1988 Vauxhall Cavalier Calibre was also in attendance- not really unexceptional, but when was the last time you saw one? Hagerty columnist Andrew Roberts was more in keeping with the event, arriving in style in his mint 1983 Austin Maestro.
Judging was completed in the usual light-hearted but professional style. Danny Hopkins, editor of Practical Classics was joined by columnist Sam Skelton, Pride of Longbridge organiser Tanya Field, Classic Car Buyer editor Jon Burgess, classic car author Giles Chapman, and Pebble Beach judge Nigel Matthews who flew across the Atlantic just to be at the event.
The judges chose a true workhorse as their winner: a 1980 Morris Marina pickup. This car was bought new by the owner, a farmer called Jonathan Papworth. He used the vehicle on his farm, then couldn't bring himself to sell it. Now restored, it came complete with straw bales in the back and two sacks of his own potatoes.
Second prize went to David Wilson's 1979 superb Volkswagen Golf L, totally original and having never suffered the fate of customisation that befell many of its brothers.
The People's Choice award was won by James Cook for his superb 1968 Hillman Minx Estate. His mouse-brown example is in stunning condition, even if not entirely original- the graphite-grey Minilites a more recent addition.
This year, the Festival also introduced a new competition: The Feast of the Unexceptional. Visitors were encouraged to bring 1970s-style picnics: thermos flasks, sausages and cheese on sticks, and prawn cocktails were all highly rewarded. The winner was Marc Wilmot, whose food was presented in under the canopy of his Paralanian camper.
Overall, the Festival of the Unexceptional works because it has one thing that other car shows don't: a direct, usually family link between the cars and the visitors. At other shows you can drool at the Ferraris and swoon over the Aston Martins, but unless you're really lucky you won't know what one feels like to live with. At the Festival of the Unexceptional, it's different: as you tour round the cars, you keep hearing one phrase: "my dad had one of those!" That's what makes this event special. Make sure you come and see what all the fuss is about next year!
There's more about the Festival of the Unexceptional here.