London taxis were never known for being especially rapid. While you might occasionally happen upon a driver attempting an impersonation of Nigel Mansell or, lately, Lewis Hamilton, the lethargic diesel engines, harsh-yet-spongy ride and skinny tyres are not made of the right stuff for winning a race from a set of traffic lights. But if you kitted out your London taxi with an 8.2-litre (502 cubic-inch) Chevrolet V8 and a 9-inch Ford rear axle, there's not much that wouldn't be left trailing in a drag race. And that's exactly what one driver did.
A hot rod black cab has come up for sale at, of all places, a fancy Austrian classic car dealership, rather than in the dingy depths of Bermondsey. The 1989 Austin FX4 and its cabbie once presumably plied a trade on London's streets looking for fares, doubtless refusing to venture north or south of the river, depending on where the driver reckoned business was most brisk.
How much is your car to insure? Find out in four easy steps.
Get a quote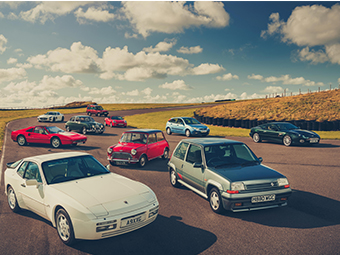 Converted in Britain, by custom car specialist TopGear Hayes, the original Nissan 2.7-litre diesel four-cylinder motor was scrapped and replaced with every hot rodder's go-to V8, an 8.2-litre Chevrolet lump. An automatic transmission, 9-inch Ford rear axle, comically large rear tyres, and bunch of other equipment was fitted.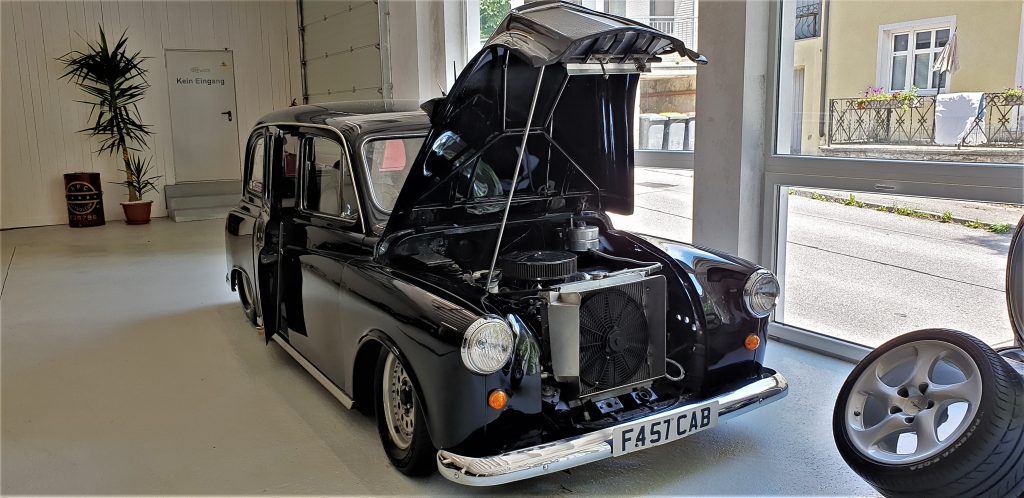 The ad says that the taxi is road-legal (note the cheeky 'CAB' registration suffix) and has hydraulic suspension at each corner, which explains why the vehicle appears to be squatting on the ground while parked. There's a comfy-looking driver's seat inside, as well as a handsome dashboard, and in place of a passenger seat are two massive subwoofers, each with their own amp.
Talking of passengers, this cab can only carry one fare-paying passenger. In an effort to house the huge Hoosier drag tyres, the rear seat is not a bench for three passengers, but rather a single chair flanked by massive, carpeted boxes. Hands up who's brave enough to sit over the differential and between the wheels and tyres as the driver drops the clutch for a full-bore launch?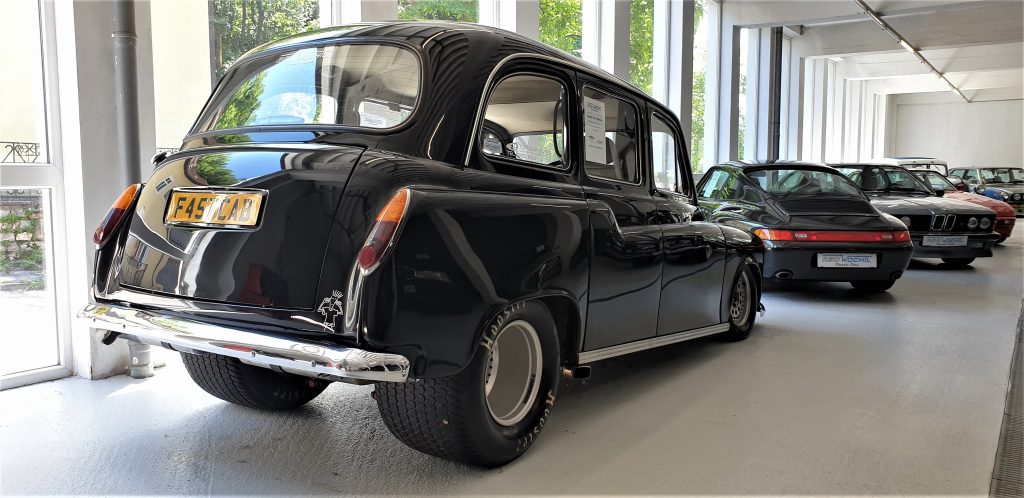 According to the listing, the taxi is owned by a private party and the Austrian dealership, RSD Wöcthl, is selling it on consignment with an asking price of €44,990, or roughly £40,000. That may sound expensive but for anyone with a burning desire to burn rubber across Westminster Bridge while ferrying one passenger at a time past Big Ben, it's probably a small price to pay for a doubtless hilarious set of wheels.
And with the meter still in the car, the passenger can watch and scream as the 1/4 miles – and pounds and pence – clock up.