Although it has Italian roots, the pint-size Isetta from 1953 is inexorably linked to BMW. In 1955, the German company bought the licensing rights to produce the small, efficient car a time when demand for more modest machines was rising. It would prove to be a shrewd move; the following year, the Suez Crisis was dominating the news and political agenda across Europe, and the cost of fuel was rising as a result of the crisis.
BMW produced the vast majority of the diminutive micro cars with single cylinder 250cc and 300cc engines that produced a humble 12 and 13 horsepower, respectively. They are certainly not the "Ultimate Driving Machine" sport sedans on which BMW later built its reputation, yet the Isetta developed a loyal following because it so well fulfilled its role as an economical runaround. For collectors today, the Isetta offers an iconic, quirky classic that, while not cheap, is a real talking point. Take it to any classic car show you care to mention and you can be assured a crowd will gather, regardless of which other so-called exotic cars are surrounding it.
However, over time some mischievous souls have sought to make their Isettas even more of a crowd puller, by sacrificing originality and focussing on fun. In other words, dropping a big engine into a tiny car.
How about an engine swap that keeps things Teutonic with four times the cylinders and four times the power? This 1957 BMW Isetta 300 recently sold on Bring a Trailer for $14,500 (£11,140) and packs an air-cooled VW 1600-cc four-cylinder engine. The rear suspension and drivetrain are all adapted from Volkswagen components and, with the factory 10-inch wheels up front, the car has the stance of a mini hot rod.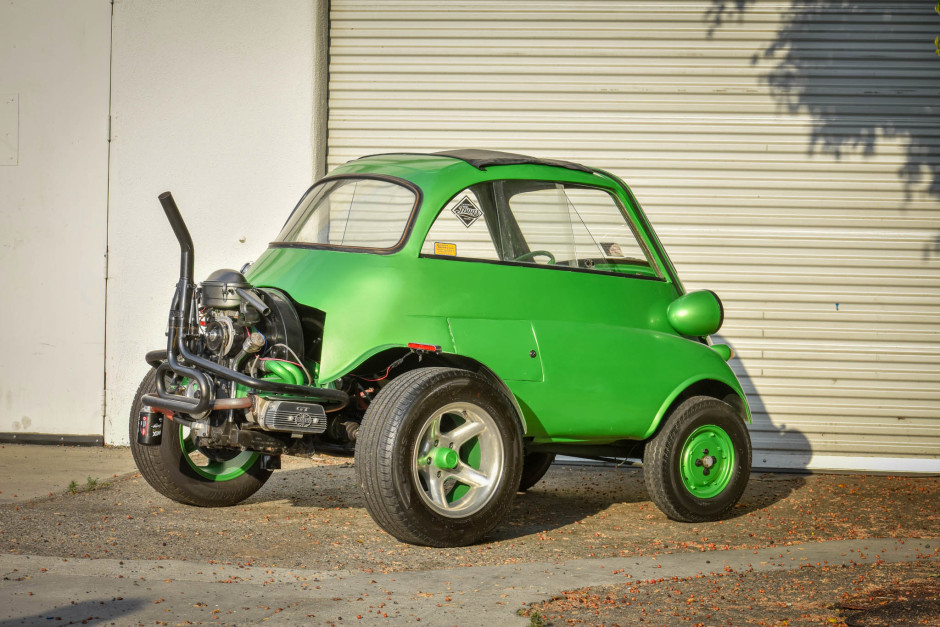 Just like a drag racer, the engine is on full display because it's just too big to fit under the factory bodywork. This car appears to be fully functional and the listing has a video that you may want to check out, as this froggy little grocery-getter is always one clutch dump away from a wheelie.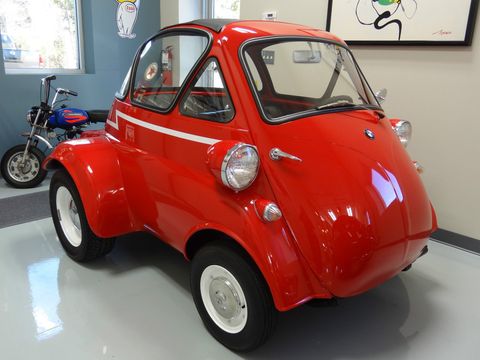 Keeping things air-cooled, the Corvair-powered Isetta (above) brings even more power to the micro machine. Unlike the previous, VW-powered pod, this "Corsetta" features custom bodywork to cover the engine, but the stance is quite similar. Again, the Isetta's rear wheels and suspension were replaced by the donor car's running gear.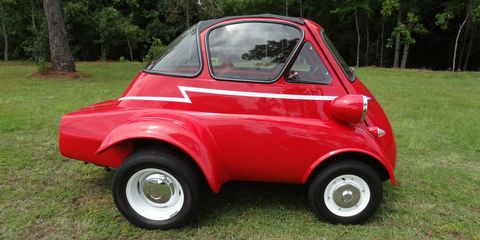 The car was built in the 1970s by a high school shop class and featured in the March 1977 issue of Hot Rod magazine. Its sculpted fenders and rear deck are surprisingly well integrated with the rest of the micro muscle car's lines. It's no surprise that with an even larger, more powerful engine out back and a still-short wheelbase, this thing is practically made to do wheelies.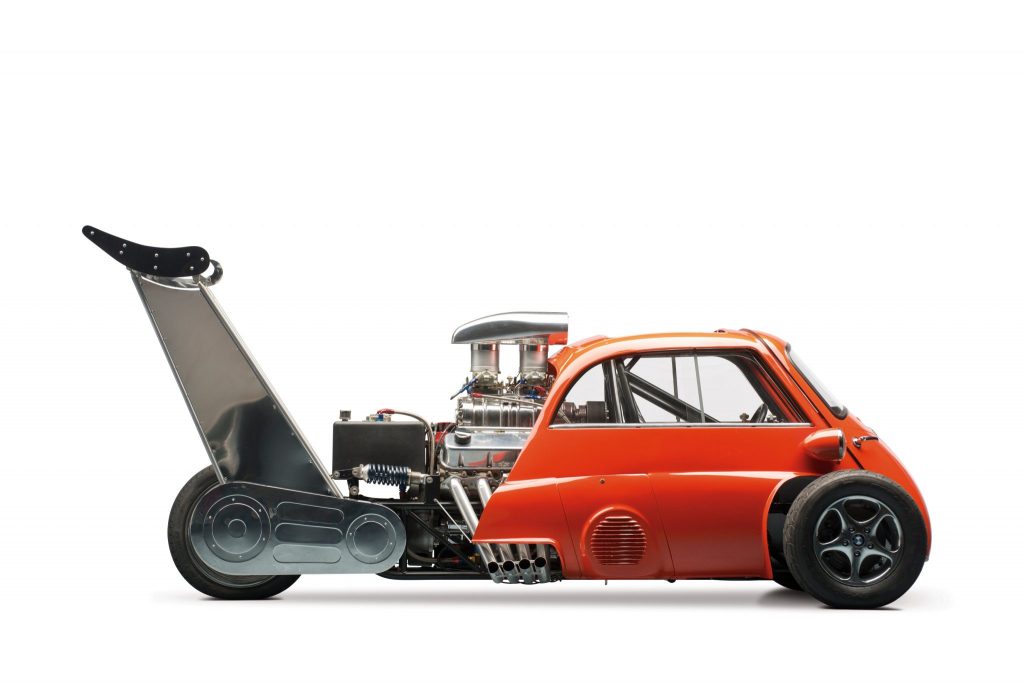 Finally, we bring you perhaps the single most famous engine-swapped Isetta of all time. Whatta Drag was originally conceived as a toy by Hot Wheels designer Phil Riehlman, in 1998, who added a blown V8, single rear wheel, and an oversized rear wing to turn the microcar into a dragstrip baiting missile. Bruce Weiner, who had a plethora of microcars already in his collection, decided to make Whatta Drag a reality in 2005. In 2013, it sold at an RM Sotheby's auction for $92,000 (£71,000).
This car is not meant for the road – nor the strip for that matter – but it is functional. The blown 502-cubic-inch big-block Chevy V8 ingests air through a BDS 8-71 blower and twin Holley 750 carbs and belches exhaust through a set of Zoomie headers. Its two-speed transmission sends power to the rear wheels by way of a belt-drive system that has polished covers just like the tiny toy original.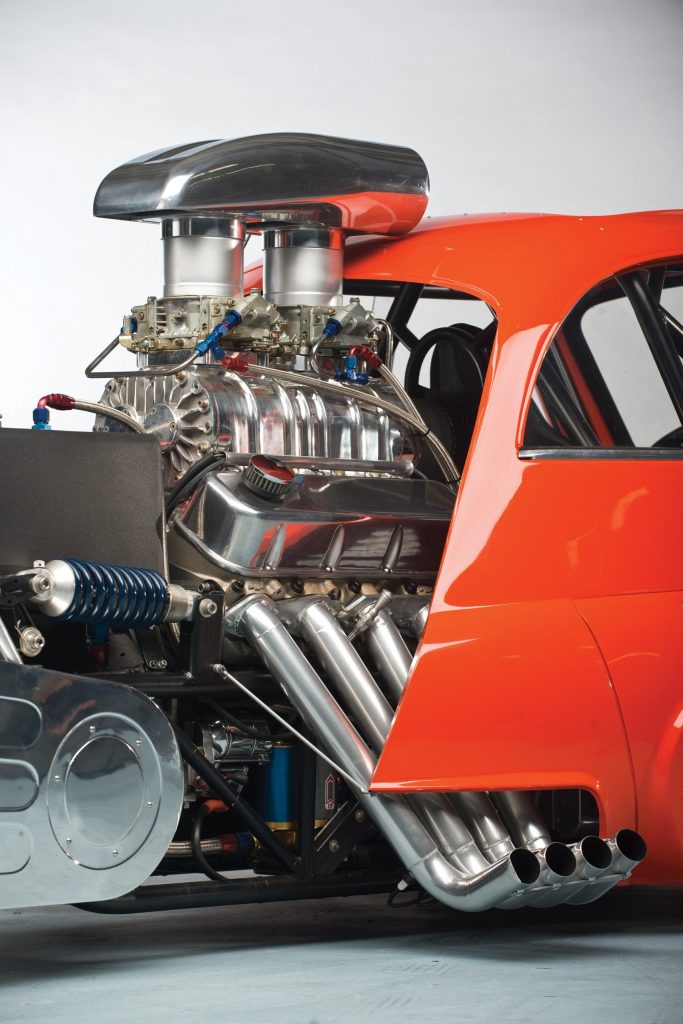 Even with its stretched wheelbase, Whatta Drag probably still fits in the compact spots at the supermarket, but we think it's best suited for burnouts. That much power through a single rear tyre, even though it is wide, is surely not for the faint of heart.
These three miniature marvels illustrate how you don't have to drive a priceless exotic from an Italian supercar brand to get noticed.
Via Hagerty US