I still clearly remember the fuss caused by the launch of the Lotus Elise in 1996. As a young man whose daily driver was a 1971 Alfa Spider and therefore accustomed to roadster ownership, the new Lotus nevertheless seemed like something from the future. I remember the discussions with my friends down the pub: 'The panels are glued together!' 'They don't even have a carpet… or a radio!'  'It's over a third lighter than the MGF!' I quickly rang my local Lotus dealer and requested a test drive.
On the road, the car was an absolute gem. Overtaking traffic was not only easy, it was fun: its Rover K-Series I4 1.8 engine loved to be revved, and the small Nardi steering wheel was more responsive than any car I'd driven up to that point. OK, so 118bhp didn't sound like much (and was almost identical to the power produced by my older Alfa) but with just 723kg plus a slim 20-something version of me to carry, it was more than up to the job. After a drive that made me smile from ear to ear, I pulled back into the dealership.
How much is your car to insure? Find out in four easy steps.
Get a quote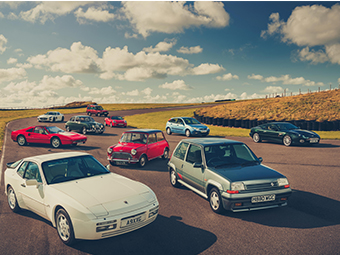 I didn't part with my money that day, or any of the other times I looked at Elises for sale. As a daily driver for someone regularly travelling to and from Europe it had too many compromises; my Spider's enormous boot, back seat, comfortable seats and simple hood made it seem like a grand tourer in comparison to the Lotus. Today though, as a weekend car, the S1 Elise has a huge amount to offer and very few drawbacks. It seems the market agrees, as early Elise sales increased in 2019 and seem to be trending upwards.
The Lotus Elise S1 has been tracked by the UK Hagerty Price Guide since October 2017, and values have remained static since then, with values ranging from £10,800 to £24,800. One of the main reasons for this stasis was the result of auction sales: in 2017, only two Elise S1s sold at UK classic auctions and in 2018 this dropped to just one, the remainder being no-sales. But, in 2019, the model seems to have turned a corner and all five examples offered for auction sold, with a range of between £8,658 and £15,950 and an average of £11,490.
Advertised prices also seem to be on the up. One major classic sales site averages £17,033 for the model, and another large performance car site lists an average of £19,409 although the latter includes three 'Type 49' limited editions (evoking the Type 49 that Hill and Rindt drove to F1 World Championship wins, complete with 'Gold Leaf' colours) that command around a 10% uplift in asking price.
So, what's the outlook for the Elise? All the signs are good: as we've recently reported, post 1990s cars are tending to sell well, especially well-known performance models. The Elise ticks all those boxes, there are plenty on the market and there's a hugely active Lotus community in the UK. With the very best examples of the S1 Elise now nudging our top Hagerty Price Guide figure, we're expecting our values to rise at the next update.
As with any classic, especially a model that wasn't a stranger to track days, history is everything and those with 'stories' may seem like a bargain but rarely are. Buy well though, and this is a superb sports car that will provide a raw, analogue driving experience that today is hard to find. Maybe it is time I had another look at the Lotus.