Looking to put 2020 in the rearview mirror as fast as possible? What better way to do that than in a classic racing car? There are thousands of vehicles at auction or on classifieds sites this month, including our guilty secret, Racecarsdirect.com, plus those from Mecum's Kissimmee sale and the events put on by Worldwide, RM Sotheby's, Gooding & Co, and Bonhams that would normally all be held live in Arizona, America. Here are our top seven picks. And they good news is, you don't need the budget of the Mercedes-AMG F1 team to go racing with them. Well, not all of them…
1969 Triumph Group 44 GT6+ Mk II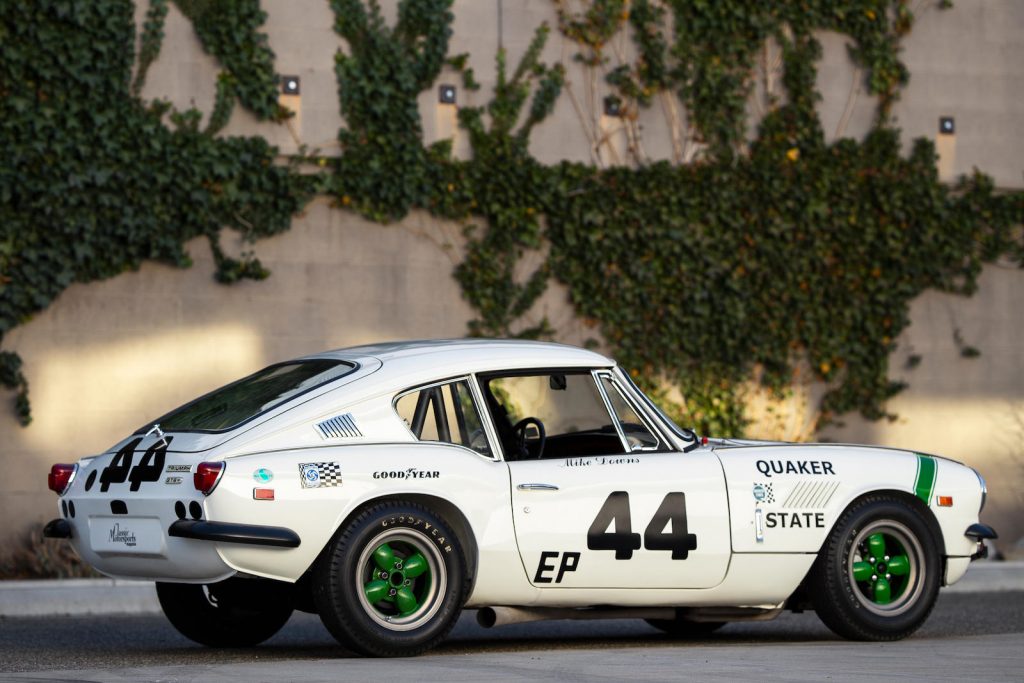 Auction: Bonhams, Scottsdale Lot 108
Estimate: $50,000 – $70,000 (£36,700 – £51,300)
What's not to like about a classic racing car that boasts an impressive track record but won't break the bank? Looking a bit like a scaled-down Jaguar E-Type, Triumph's 2-litre inline six-cylinder fastback GT6 was a steal when new and is still considered a bargain today. The same is true for its racing variants, and Bonhams is offering one campaigned by the Group 44 team in 1969 and 1970. (It won its class in the Sports Car Championship of America national championship in 1969.)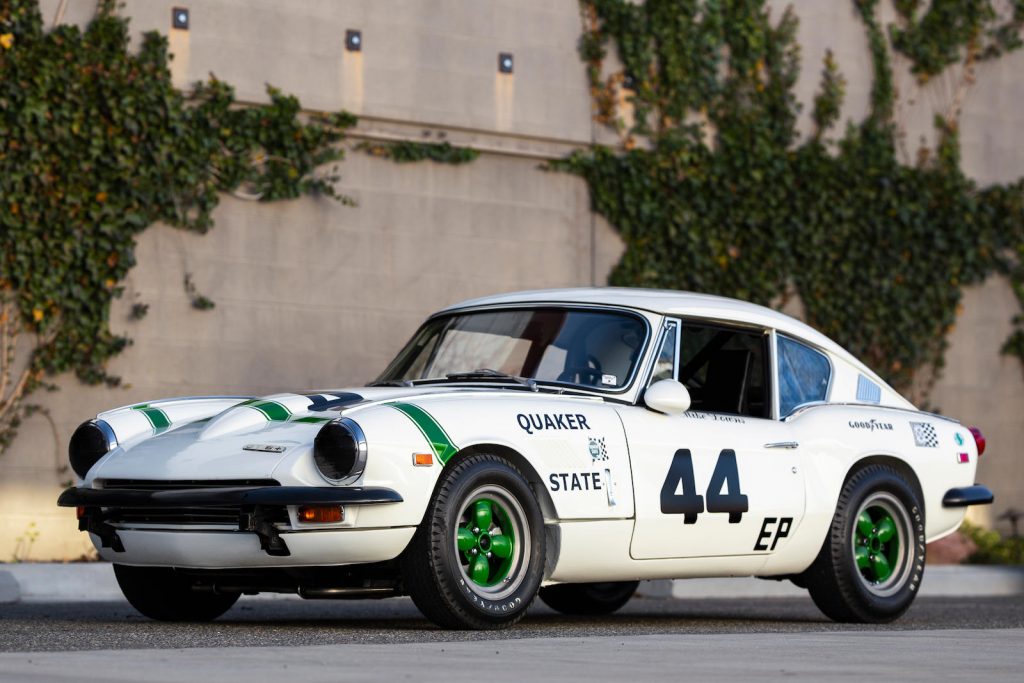 Perhaps fittingly given that the Triumph GT6 was intended to be a junior Jaguar E-Type, Group 44 would successfully race a Jaguar E-Type Series III Roadster. With an estimate of £36,700 to £51,300, it is slightly above the condition #1 (Concours) value of £28,000 for a road-going equivalent car..
1965 Shelby GT350R Fastback
For sale at: Mecum, Kissimmee Lot F158
Estimate: $1.2m – $1.5m (£880,000 – £1.1m)
Since the Ford vs. Ferrari movie, Shelbys have been hot. Everything from Cobras to the Mustang-based GT cars have been selling well. Of course, documentation and history matters when it comes to Shelbys, and Mecum is following up its record sale of the prototype GT350R for $3,850,000 (£2.8m) at Indy last year with another GT350R. Chassis SMF5R106 wasn't a team car, but it was raced in period and will likely go for a third of what the prototype sold for last year, or near the condition #1 (Concours) value for the car.
1990 Volkswagen Golf GTI 16v
For sale at: Racecarsdirect.com
Price: £7500
Want ultra-close racing in a championship that's great fun and dirt cheap? The Production GTI championship is one of the best going, and by taking on a car like the MkII Golf GTI, you get to hustle a hatchback that is, believe it or not, a 30-something classic racing car. The appeal of this racer is it's reliable, uncomplicated and you can buy all the bits at sane prices. And the fact it's something of an icon for certain generations is surely enough to sway the man-maths and find the money down the back of the sofa?
This 1990 model that's for sale for £7500 – bang on Hagerty's price guide for a fair condition 4 road-going GTI 16v – via Racecarsdirect.com won the Teekay Couplings MK2 Production GTI Championship in 2015, according to the seller. The hot hatchbacks are split into two classes, 16-valve and 8-valve models both in either 3- or 5-door bodystyles. The grids can count as many as 30 starters but strictly enforced driving standards keep the focus of this club level championship on fun, safe racing, for varying drivers from novice to seasoned veteran.
How much is your car to insure? Find out in four easy steps.
Get a quote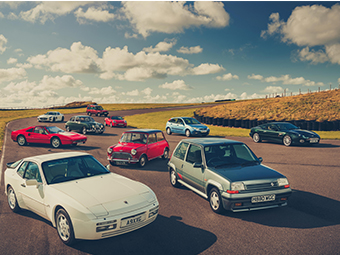 1952 Allard J2 Roadster
Auction: Worldwide, Scottsdale Lot 38
Estimate: N/A
Shelby's Cobra is arguably the most successful example of putting a high-horsepower American engine into a sporty foreign chassis and going racing, but it wasn't the first. In 1946, Sydney Allard set out to use Ford's V8 in his own chassis. Initially calling on Ford's 3.6-litre flathead, subsequent examples had larger and larger American V8s. Worldwide is offering this 1952 Allard J2 with a 6.4-litre Cadillac V8 and, while not exactly period-correct, the newer Cadillac engine maintains the spirit of the hold-on-tight performance of the Allard J2s. With the condition #3 (Good) value of the Allard J2 at $173,000 (£127,000), this classic racing car shouldn't be penalised too much for its lack of originality.
Auction: RM Sotheby's, Arizona Lot 141
Estimate: $5.75m–$7.5m (£4m – £5.5m)
Even though Allards dominated Jaguar's XK120 in racing in the late 1940s and early 1950s, Jaguar countered with the much more slippery C-Type. As Jaguar continued to innovate in the 1950s, it saw the opportunity to build an even more aero-friendly shape and use an advanced semi-monocoque chassis. The result was the D-Type, which won Le Mans in 1955, 1956, and 1957. With that competition record, D-Types are worth a considerable sum, and some can sell for a lot more with the right history. RM Sotheby's is offering the 1955 Jaguar D-Type chassis XKD-518 with an estimate of $5.75m to $7.5m (£4m – £5.5m). While the car is unusual because of its original red over red combination, it also has a well-documented history, which is important for D-Types. The question is, dare anyone race it?
1972 Lancia Fulvia Coupe 1600 HF Series 2 "Fanalino"
Auction: RM Sotheby's, Arizona Lot 124
Estimate: $30,000 – $40,000 (£22,000 – £29,000)
It's often said Italian cars were born to perform and this little Lancia is no exception. The 1972 Lancia Fulvia "Fanalino" rally car has a hot 1.6-litre V4 engine driving the front wheels. While the Fulvia didn't win the World Rally Championship, it did win the series' predecessor and taught Lancia what it takes to win – lessons it applied successfully with cars like the Stratos, 037, and Delta. This car doesn't have any period rally history noted, but it was campaigned numerous times in Europe between 2008 and 2014. Now showing some battle scars and rust, the car appears to be ready to enjoy without worrying about spoiling it.
1926 Bugatti Type 37 Grand Prix
Auction: Gooding & Co, Scottsdale Lot TBD
Estimate: $650,000–$850,000 (£477,000 – £624,000)
The line between neglect and patina on a race car is at times vague, but sometimes the patina looks right and can make the car worth more than its restored peers. Gooding & Company is offering this 1926 Bugatti Type 37 Grand Prix car chassis 37227 with a healthy amount of patina. Owned by one individual from the mid-1950s up until his passing in 2019, its condition reflects an original car that is rare among Bugattis of this era. Forgoing the exotic roller-bearing inline-eight-cylinder engine of the Type 35, this model achieved racing success with a less complicated and more reliable four-cylinder. Values for Grand Prix Bugattis vary widely, from the low six figures to several million pounds depending on the car's provenance. Chassis 37227 is expected sell in the top half of that range.
Via Hagerty US