On past auction form, competition stock has been difficult to shift and yet a 1959 Cooper Monaco with much retro-race history success did sell to a punter who had gone along to a pre-sale reception for a chat and a glass of wine, with no intention of buying anything. Justin Maeers was so smitten by the T49 Mk1 however that he outbid an Australian competitor and ended up paying £219,375 including buyer's premium for CM/2/59, which the intrepid new owner-driver promptly practiced the morning after acquisition and then raced in the Stirling Moss Trophy!
After an even longer bidding contest, the Ford Capri in Group 1 trim as raced by Gordon Spice in 1979, with some trophies to prove it, fetched £92,250. The Lea-Francis powered 1952 Turner chassis number 006 with cycle mudguards, that ascended Shelsey and competed at circuits from Castle Combe to Charterhall during the black and white snapped mid-1950s, achieved a milestone £81,000.
How much is your car to insure? Find out in four easy steps.
Get a quote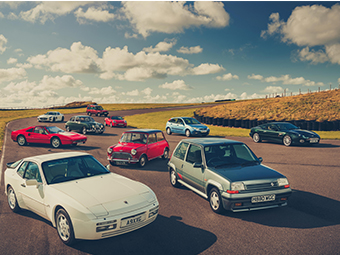 Three Grand Prix cars and two F3 single seaters driven by Italian F1 driver Piercarlo Ghinzani, who was on the front row in the sale room, also switched transporters, his Osella-Alfa FA1/83 from the 1983 season selling for £81,000 and a 1985 Toleman TG185, minus Hart motor but Cosworth DFV ready, for £30,938. An ex-Nigel Mansell 1978 March 783 that was on-the-button for Historic F3 went to a motor sporting gent in the seats for £56,250.
Although a 2015-completed Lynx XKSS Recreation failed to raise the £250,000+ forecast, and the £240,000 and £230,000 guides or more being suggested for a righthand drive 1972 Ferrari Dino 246GT and a lefthand drive 1991 Porsche 964RS were not forthcoming, 80% of the roadgoing classics auctioned during the sunny Saturday session, 37 of them, did sell. Whilst even on rain-lashed Sunday, which depressed both attendance at the event and enthusiasm to bid in the saleroom, the sale rate was still 65% and another 31 classics were re-homed in what amounted to a £4.6m sales total weekend.
The air-cooled Porsche 911 leader board at Silverstone was headed by a UK market 1989 930 Turbo Limited Edition with strakes and whale tail sold for £159,750, £20,000 more than the top estimate. A 1972 911 2.4S left hooker made a just over lower estimate £132,750, a 1973 2.7 RS Rep in RHD £101,250, £11,000 more than forecast, and a 1989 930 Turbo, again a RHD car, £73,375, £23,000 above the guide price. A coolant-cooled Type 997 2008 911 GT2 left hooker with Clubsport pack and no UK reg, that had been Porsche Reading maintained and stored since imported last year, made £120,375, within estimate band.
The top priced Italian was not a Ferrari, which makes a change, but a 1989 DeTomaso Pantera GT5-S on steroids, with even more muscular US Ford V8 in the boot exhausting through four tailpipes, which powered to a £157,500 result on Saturday, £37,500 more than expected.
A restored and mint 1962 190SL Mercedes-Benz in right-hand drive was also applauded when sold on Sunday for £151,875 with premium, £21,875 above the guide price. Whereas only the day before, another restored 1959 190SL in left-hand drive with hardtop had gone for £101,250, the lower estimate and what had been the previous auction market price for this appreciating mini-300SL model.
Three more valuations at these sales blipped my market monitoring radar screen. A driven 38,784k since 1990 Mercedes 190E 2.5-16 Evo 2 with stone chips at the front and seat bolster leather wear made grown men clap by selling for £100,688, over £25,000 more than the pre-sale estimate. To capture a US restored 1942 Ford GPW 'Willys' Jeep in khaki, the victor had to fork out £36,562 to more applause. The WW2 warhorse will be employed for peacetime journeys at a French holiday home.
And with the benefit of hindsight, your over-cautious reporter regretted not competing for a most authentically restored and nicely patinated 1963 Lotus Super Series 2 1500, which was annoyingly well bought for £24,188.
Within the alternative investment market, our classic sector would appear to be still motoring along with not too many breakdowns. For the next few months at least, the returns from rock-bottom interest rates are unlikely to offer any real competition to old cars. The best advice has to be – get out there and enjoy what we are, indeed, fortunate enough to have on cover whilst we can.