I've said it before, and no doubt I'll say it again: what a difference a few weeks makes. Last month, Hagerty reported that UK auction sales were flat: buyers were wary of purchasing cars unseen during the lockdown when they were unable to drive or even collect them. 30-50% sell-through rates were the new normal, against around 75% last autumn. Then, on May 10th, Prime Minister Boris Johnson announced that the restrictions on movement in England were to be eased from the following week.
Anyone who lives near a major road in England will tell you the same thing: routes that were almost deserted a couple of weeks ago are now busy again. There's a tangible change in attitude, as if the light at the end of the tunnel has been glimpsed. The weather is fine, the tantalising aroma of freedom is back in the air and, it seems, people are once again buying cars.
How much is your car to insure? Find out in four easy steps.
Get a quote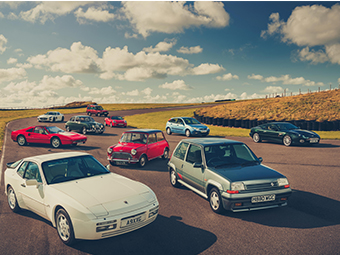 The first major auction to take place this month was Silverstone Auctions May 23rd online sale. To be fair, it had all the hallmarks of a great auction – a few wonderful competition cars, some celebrity provenance and some really unusual gems – but the furious nature of the bidding and the extraordinary results surprised everyone. In fact, so many bids were placed that they briefly overwhelmed both Silverstone's online platforms which had to be reset.
The results were accordingly strong, with 76 of the 87 cars offered finding new owners, an 87.4% sell-through rate. Even more impressively, 32 of those cars did so with bids that were greater than the top estimate, in some cases significantly so.
Top billing has to go to a Porsche 911 2.7RS recreation that achieved £161,700 including costs against a top estimate of £90,000. Based on a 1971 2.2-litre 911E, an Australian collector decided to turn it into a faithful replica of the 2.7RS. Over many years, he apparently sourced original body panels, RS interior and more, had the car converted to right-hand drive and fitted with a 1974 2.7 Carrera engine. Even our Hagerty representative said it was a beautiful job. But that is an extraordinary price: the lowest Hagerty Price Guide figure for a real 2.7RS is just £205,000.
A stunning Mark II Jaguar was another hit with the buyers. It ticked all the boxes: manual/overdrive 3.8-litre engine, in opalescent silver grey with contrasting red interior, a few appropriate driver aids and with just over 20,000 miles on the clock fully supported by the paperwork. It's undoubtedly a lovely car, but the price of £93,500 was well above the £60,000 top estimate and nearly 35% over the Hagerty Price Guide top concours value. Discounting competition cars, the sale price eclipsed any other recent Mk II Jaguar auction result; the closest was Silverstone's unrestored 8,725-mile from new car that sold last May for £69,750.
Another Jaguar also exceeded expectations. What was described as a 'tool room copy' of a D-Type 'short nose', based on 1962 E-Type underpinnings but with hand-built aluminium panels, an original 4-speed gearbox and other correct parts, smashed its £275,000 top estimate, achieving £390,500.
Note must also be made of Jamiroquai frontman Jay Kay's BMW E30 M3, built to fast road 'competition spec' by Classic Heroes and run for him by Dansport in this year's Rally Isla Mallorca. As a driver's car, with excellent petrolhead patronage, this car was bound to attract attention and so it did, finding a new owner who parted with £92,950, not far off our E30 M3 Evo II concours value of £94,600.
So, why was the auction so successful? I spoke to Nick Whale, MD of Silverstone Auctions, who thinks there were a few reasons. "First of all, it's like cooking: you need great ingredients," he told me. "We had two great collections that both offered depth and rarity – when was the last time you saw a Citroën ID19 Safari or a Borgward Isabella?"
"Secondly, we have to accept that many buyers may have fewer commitments than normal: no sport, no trips to the shops and similar. This gave us three times the usual number of registered online bidders."
"The whole team also worked really hard to enable controlled, safe viewing. We hired a barn and allowed five people to view each hour for ten days prior to the auction and we had a special area roped off to inspect documents. We supplied hand sanitiser, gloves and masks, and although there was some understandable hesitancy, it worked really well. Everyone was initially nervous and unsure, but there was a real feeling of mutual respect, and it allowed around 500 people to physically look at the cars."
"Finally, we brought down the buyer's premium from our usual 12.5% to 10% to reflect our reduced costs. We think that's only fair to the client, and it paid off: the owners of the two big collections offered received around double the return that they had expected pre-sale and were delighted."
So, can Silverstone's formula be repeated? By the end of this weekend, we should have a clearer picture: as I write, both H&H and RM's 'Driving into Summer' online-only auctions are live, and this weekend Bonhams offer a full and varied live and online catalogue at Bicester Heritage in Oxfordshire, but I think it's a big call to forecast a result as robust as Silverstone's. I think timing had a lot to do with their success: last month, I wrote that COVID lockdown values weren't really indicative of anything, and that once the restrictions were lifted there could quite possibly be a bounce in prices as people buy cars they've been lusting after for years and now maybe have a more acute sense of their own mortality. This could be that rise. Also, as Nick Whale said, the Silverstone Auctions team managed to put together the ideal recipe and bring it to the table, piping hot, perfectly seasoned, to the delight of the consumers. Even for the top chefs, that's hard to do.