One of just 19 Aston Martin DB4 GT Continuation cars built in 2017 is now for sale again at Aston Martin Works.
The DB4 GT was the first of Aston's classic recreations and was followed by 19 DB4 Zagatos and 25 soon-to-be-delivered Goldfinger 007 replica DB5s. Aston Martin originally made 75 DB4 GTs between 1959 and 1963, of which only eight were lightweights like this faithful recreation. They were created to do battle with Ferrari and Jaguar on the race circuits of Europe.
Essentially, the original GT was a DB4 two-door coupé with five inches out of its wheelbase and its Superleggera Touring of Milan aluminum coachwork adapted to suit. Its 3.7-litre, straight-six engine was uprated with three twin-choke Weber carburetors, wilder cam timing, a 9:1 compression ratio, and twin-plug ignition. Aston claimed it produced 302 horsepower at 6,000 rpm, which was somewhat optimistic.
With the latest model, the Superleggera tubular steel frame is draped in gorgeous, flowing, thin-gauge aluminium panels designed by Touring of Milan but, thanks to modern scanning technology, the fit and finish of these hand-beaten panels is even better than the original cars.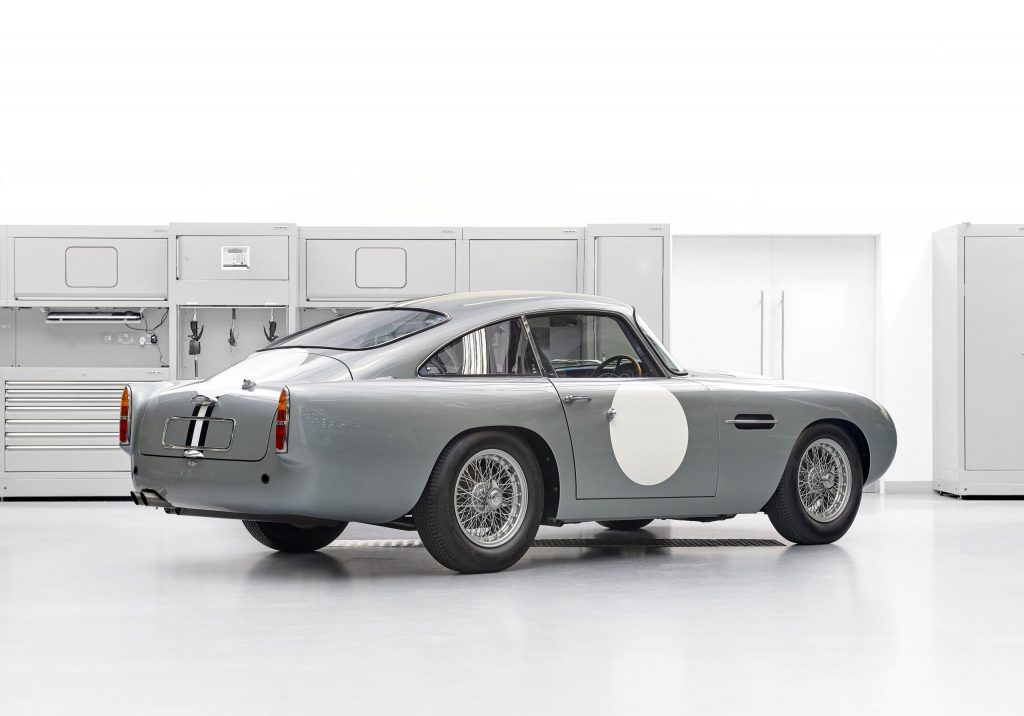 Similarly, the straight-six, twin-spark engine designed by Tadek Marek has been fettled to 4.2 litres and makes 344hp. Mated to a four-speed manual transmission and a limited slip differential it could well be the best-driving DB4 out there.
To help the exclusive circle of owners find out, Aston created a dedicated international track driving programme that was to run for two years and take owners to eight race tracks, including Yas Marina circuit in Abu-Dhabi. Aston Martin Works was to handle all logistics and preparation of cars, and provide a driver training team.
As fantastic as all that sounds, this car's owner doesn't appear to have taken any interest in the driving experience, as the Snow Shadow Grey DB4 GT is for sale with delivery miles only.
That's a shame. When Hagerty drove the DB4 GT continuation, Andrew English reported that 'The new car handles better than a standard original, but then again it should'. You can read the complete review here.
Costing an equivalent of £1.5 million just three years ago, it will be fascinating to see whether the DB4 GT cashes in or crashes out.