If you were asked to name a legendary car, how would you respond? Would you choose a vehicle that shaped popular culture like Issigonis's Mini, or a car that brought motoring to the masses, like the original Volkswagen Beetle? Or would you choose a car that achieved such an outstanding achievement on the track that it is instantly recognisable to motor racing fans?
There are not many cars that fall into the latter category. One is the Porsche 917, specifically the distinctive red and white car, chassis number 917-023 that gained Porsche's first win at Le Mans on a wet weekend in 1970. Now the extraordinary story of that car has been written by Ian Wagstaff, a 320-page history of the car, its races and its drivers.
How much is your car to insure? Find out in four easy steps.
Get a quote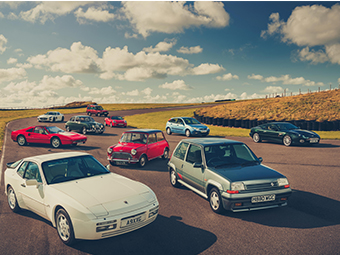 And it is an extraordinary story. The first Porsche 917 variants handled so poorly that the Works drivers refused to race them in the 1969 Nürburgring 1000km, so David Piper and Frank Gardner had to be drafted in to drive, what the latter called, 'that bloody thing'. A few weeks later, three Porsche Works 917s were entered in the 1969 Le Mans 24 Hours but the 917- heralded by Porsche to be their best ever racing car- suffered an even more ignominious fate when chassis 005 crashed at Maison Blanche on the first lap, killing British privateer driver John Woolfe. At the end of the race it was another Porsche, an earlier 908 piloted by Hans Herrmann and Gerard Larrousse, that so nearly took the chequered flag, beaten by a matter of feet by Jacky Ickx in a venerable Ford GT40.
The following year after a great deal of testing and development, a much more poised 917 was unleashed. At the Brands Hatch 1000km in April, 917s took the top three places, with 917-023 achieving second place driven by Vic Elford and Denny Hulme. At Monza 1000km a JW Automotive 917 beat the Factory Ferrari 512s in front of their home crowd, then again at Spa, with Works Porsche 917-023 coming a good third. All was progressing well towards the jewel in the crown: the Le Mans 24 Hours. Porsche made even more advances for that race- a 4.9-litre engine was fitted to three 917s entered, with two of those in the new, aerodynamically-efficient, long-tail version. Chassis 917-023, still fitted with the kurz body and the old 4.5-litre engine- and with one of its drivers (Richard Attwood) suffering from what turned out to be mumps- seemingly had the odds stacked against it.
But the beauty of Le Mans is in her unpredictability. The long-tail 917s were indeed fastest- Vic Elford achieving around 245mph on the Mulsanne straight- but the night brought rain, and a variety of mechanical woes to both the Ferrari and Porsche teams. One by one the cars dropped- Elford lost six laps to a slow puncture, and Ickx crashed his Ferrari 512s heavily at the Ford chicane, but the red-and-white 917-023 driven by Attwood and Hans Hermann just kept going. In the 11th hour leader Jo Siffert missed a gear, wrecked the engine, and had to retire. 917-023 was in the lead.
For the next 13 hours the rain fell, stopped, then fell again. Tyre changes were frequent, and the results of a bad decision almost instant: aquaplaning accounted for a great number of cars. The rain also caused other problems- towards the end of the race 023's ignition was getting damp and Attwood had to blip the throttle in neutral to keep the engine clear. But the car retained its lead and achieved the ultimate goal- a Porsche win at Le Mans. By the end of the race only seven cars were classified as finishers, five of those Porsches (including an unlikely 6th place for a Porsche 914/6). It was the joint lowest number of classified finishers in Le Mans history.
Even after success at Le Mans, 917-023 had an interesting life, continuing to race that season until an accident at the Daytona 24 Hours finished its competitive career. Thereafter it was stored for a time back in Stuttgart before- unbelievably – being sold to a California Porsche dealer. He sold it on, and in a strange case of mistaken identity, the car's chassis tag was switched with another 917 and the car took up residence in the Matsuda Collection in Japan. In 1998 the problem was addressed, and afterwards the car was bought by the Fica Frio Collection.
With such a captivating story, it is no surprise that the Porter Press asked Ian Wagstaff to write a book on 917-023 for its Great Cars series. The result is a very well presented volume, full of photographs, many of which are previously unpublished. All of the car's races are covered in detail, accompanied by first- hand accounts from the drivers and other team members. A history of the 917, both before and after the famous Le Mans victory, is also included as are biographies of all the key players.
The layout of the book is very easy to read, with chapters interspersed with shorter 'highlight' sections. This makes it not only a book that you can read in one sitting- as I did- but also a perfect coffee table piece. Some repetition has crept in- not unexpected in a book of this length- but this doesn't detract from what is a very well-written story of an exceptional car that will appeal to a wide range of motoring enthusiasts.
Great Cars: Porsche 917, The Autobiography of 917-023 is published by Porter Press. www.porterpress.co.uk