This is the winning article in Hagerty's 2019 Young Writer Competition. People aged 18-25 were encouraged to enter an 800-word story based on the topic of classic motoring, with the winner being commissioned to write for Hagerty and invited to join our content team at the 2019 Goodwood Revival. The judges, including Andrew Frankel, Paul Garlick and Hagerty editor John Mayhead chose Mohammed as the winner.
Apparently, according to people with much larger foreheads than mine, it takes only one-fifth of a second to fall in love. In that split second, multiple facets of your brain work in conjunction to produce those chemicals that turn you into the sort of person that's avoided at dinner parties for their irrationally optimistic world view. Naturally, in the blink of an eye it's impossible for your brain to process why you love someone – all it knows is that you do. And as a young(er) boy, watching a grainy video of a Porsche 962C scything through the Circuit de la Sarthe, I didn't quite know why I was smitten – just that I was. It may have been the now fabled Rothmans livery, from an era when tobacco advertising wasn't met with the contempt reserved for a Trump rally. Or it may have been the chuchuchu of wastegate flutter as it downshifted, accompanied by a short burst of flames from the side-exit exhausts that was matched in theatre only by the equally resplendent afternoon sun draping a curtain of light over the track-side foliage. Whatever it was, I knew immediately that this was the race car I loved just a bit more than the others.
How much is your car to insure? Find out in four easy steps.
Get a quote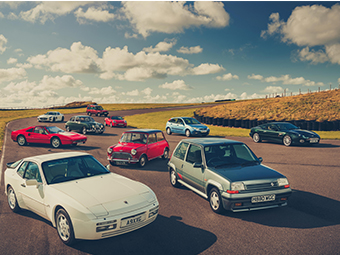 That's not to say that the affection was unjustified. Introduced in 1984 and continuing the run of dominance sparked by its 956 predecessor, the 962 was campaigned to crushing effect by the Porsche factory team and privateers alike in the IMSA prototype and Group C series, culminating in consecutive Le Mans wins for the 962C piloted by Derek Bell, Hans-Joachim Stuck, and Al Holbert in 1986 and 1987.
And yet, for all its countless trophies, there's always been one aspect of the 962 that sticks with me – it starts on the turn of a key. Where a modern prototype requires the equivalent of an surgical ward to run fluids intravenously through its engine and whisper sweet nothings to its electronic systems, the 962 – a bona fide endurance racing legend – requires little more than a twist of a tiny, engraved piece of metal. In fact, the key is as good a metaphor as any for what, to me, makes the 962 such an endearing and effortlessly cool machine. Ask most motorsport fans to name an iconic racing Porsche and they'll likely conjure up an image of a Gulf-liveried 917, and with good reason – its dainty, swooping fibreglass bodywork hid a flat-12 that made all the right exotic noises, eternalised on the silver screen by Steve McQueen. In contrast, the 3.0-litre, twin-turbocharged flat-six of the 962 was industrial in its aural range and the bodywork – born of the revolutionary 'ground effect' aerodynamics pioneered by Norbert Singer and his team – best described as functional. But it was this dedication to almost brutal functionality and the robustness that it fostered that etched the 962's name into the endurance racing history books. So robust is the 962, in fact, that a handful of cars have since been converted for road use – equivalent to Messrs Hamilton and Bottas popping the champagne on a Sunday, climbing back into their weekend offices and taking the scenic route home. The sight of a 962 terrorising cookie-cutter econo-boxes under the cover of street lights must surely be akin to a religious vision. Although I suspect it wouldn't just be city car drivers having the fear of God instilled in them – 650 horsepower may not seem an awful lot in the context of modern 400 horsepower hatchbacks, but propelling just 850 kilograms means the nearly four decade old 962's performance still remains an order of magnitude stronger than even current supercars.
Of course, the 962 is all the more special for winning in a time when grids were filled with everything from V12-engined Jaguars to rotary-engined Mazdas – a far cry from the largely standardised operating gear of present top-flight racing. An era in which motorsport was still infused with a sense of romance, unsullied with notions of efficiency or economy, and peppered with real enigmas. It's difficult not to feel short changed for having missed out on watching the 962 and its contemporaries racing in period, and yet, even stood next to a static example at Porsche's Stuttgart museum, there's a palpable sense that you're in the presence of true greatness. Pulse quickening, palms sweating, knees caving in, as you imagine what it must have felt like to have your feet propped between the 962's front wheels as it plunged its way to 240 mph down the Mulsanne straight. Must be love.