If you need one good reason to become a Member or Fellow of the Goodwood Road and Racing Club, or GRRC, then it's the Members' Meeting.
The first of Goodwood's three big motorsport events each year, the Members' Meeting is a little more exclusive than the Festival of Speed or the Revival, but it's every bit as exciting, and Goodwood has revealed the race schedule for this year's 80th running of the event.
How much is your car to insure? Find out in four easy steps.
Get a quote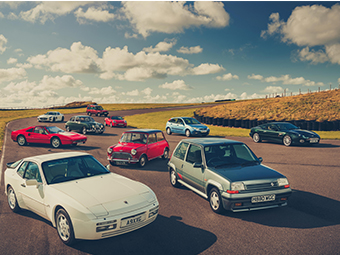 This includes a couple of returning favourites, one renamed event, and a whole new race – the Jim Clark Trophy, celebrating sixty years since the Lotus Cortina was launched, with a grid full of 30 of the things piloted by the usual hot-shoe lineup of owner-drivers and professional racing stars.
The renamed race is the Gordon Spice Trophy. Previously the Gerry Marshall Trophy, the event now takes its name from the British sports and touring car driver who died last year, aged 81.
Spice started his career in Mini Cooper Ss but was probably best known for a string of British Saloon Car victories at the wheel of a Ford Capri, resulting in six class titles on the trot (from 1975 to 1980, and a third overall in 1980.
Appropriately, the Trophy will see Group 1 saloon cars from 1970 to 1982 do battle, neatly spanning one of Spice's most successful racing periods. Sixty cars will compete across two heats and a final over the weekend's racing.
Returning events include the Threlfall Cup (front-engined Formula Juniors on the Sunday), Trofeo Nuvolari (pre-1939 sports cars, also on Sunday), the Moss Trophy (closed-cockpit GTs and prototypes from 1958-1962), and the Tony Gaze Trophy (another Sunday race, this time for 1948-1954 GTs).
The Edwardian cars of the S.F. Edge Trophy also make a return, having been absent from the 79th Members' Meeting, while the Hailwood Trophy (featuring the Sheene Trophy, for four-strokes) is back for its third year at the event.
The Gurney Cup, for GT-style sports cars adjacent to the Ford GT40 era, and the Salvadori Cup for the likes of D-Types and Maseratis, will once again take place at this year's meeting.
Tickets are already on sale from £82 per person for early birds – provided, once again, you're a Fellow or a Member of the GRRC – with the event taking place this year from 15-16 April. Fellowship is the most affordable way to gain access, at £79 per year, though tickets for the event itself are on top of this.
Read more
Goodwood announces key dates for 2023
I worked on Mr. Bean's Plymouth Barracuda brakes at the Goodwood Revival (and he didn't die)
Larging it: Big thrills in tiny cars at the 2022 Goodwood Members' Meeting