You can be assured that it has not had one careful owner, and even if it was never raced or rallied there will have been plenty of scrubbed tyres and hot clutches: a rare Maserati 228 that was reportedly pressed into service as the original press test car has come up for sale.
The first of 12 right-hand drive Maserati 228s to be imported into the UK, it was first owned by Maranello Concessionaires, and was one of 469 228 sports coupé built. As if it weren't a rare enough sight to attract attention on UK roads in 1989, Maranello Concessionaires registered the Maserati with the registration F40 CUM, possibly to taunt F40 owners, or hold the plate for a prospective buyer of the Ferrari supercar. It's since reverted to another mark, F261 VJS.
How much is your car to insure? Find out in four easy steps.
Get a quote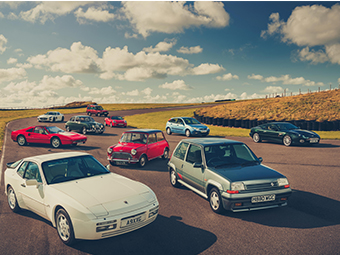 The pre-catalytic convertor, Tipo AM334 2.8-litre V6 used a pair of turbos and three valves per cylinder to make a quoted 250bhp and was meant to attract customers who bought the 3500GT 2+2 coupé or Mexico 4-seat GT in the past.
For sale with North Yorkshire Classics', in Middlesborough, the five-speed manual example is priced at £13,995. The 228 listed here last appeared at Historics' Ascot Racecourse sale; before that, it lived at a Maserati main agent which was said to have spent nearly £10,000 keeping on top of maintenance. Last year, it received a new timing belt as well as a full service and alignment.
Earlier in its life, the car stayed with a Leeds, West Yorkshire-based owner for 17 years after its stint with Maserati UK ended – this owner had the 228 resprayed, from silver to red, and sourced the period Compomotive TS501 alloys it currently sits on.
Fans fiercely defend the model, which kept Maserati afloat following a stormy previous decade under De Tomaso – the Kyalami and Quatroporte III proved to be slow sellers, while the Biturbo was beset with reliability and quality control issues.
Pierangelo Andreani, its designer, penned the 228 on the larger four-door Biturbo floor pan; despite appearances, every panel was different to that of the Biturbo, and allowed the firm to sell a five-seat GT derivative of the model. It made the best of what it could with the raw ingredients available – but by 1987, considerable refinements had been made to the Biturbo drivetrain and chassis, making the 228 an attractive prospect to buyers as it offered the most powerful 18 valve V6 with the longest Biturbo wheelbase (yet with a better looking two-door body).
Hagerty UK's Maserati valuation tool doesn't list a 228, but 1989 and 1990 examples sold for £4028 and £7920 at Anglia Car Auctions' and Classic Car Auctions' respective sales in 2018. Last November, this same former press test car sold for £7,616 at a Manor Park Classics auction.
Read more
Cars That Time Forgot: Maserati Quattroporte II
Maserati's barking Barchetta
2022 Bull Market List: 10 of Britain's hottest collectable cars