We've been waiting all too long for a manufacturer to give us an electric hot hatchback that really lights our fire, but purveyors of rowdy, brightly-coloured cars Abarth are first to give it a proper try with the new Abarth 500e.
Based on the existing Fiat 500e, just as current Abarths are closely related to regular 500s, the Abarth develops 153bhp from its front-mounted electric motor, and is fed by a 42kWh battery pack, good for a claimed 199 miles in the Fiat version.
How much is your car to insure? Find out in four easy steps.
Get a quote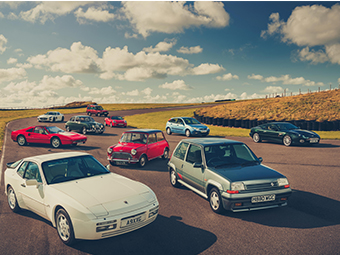 All the key components appear to be present and correct: Cheeky looks, a colour scheme you need sunglasses to observe for any longer than a few moments (this launch colour is known as Acid Green), and even Abarth's signature noise.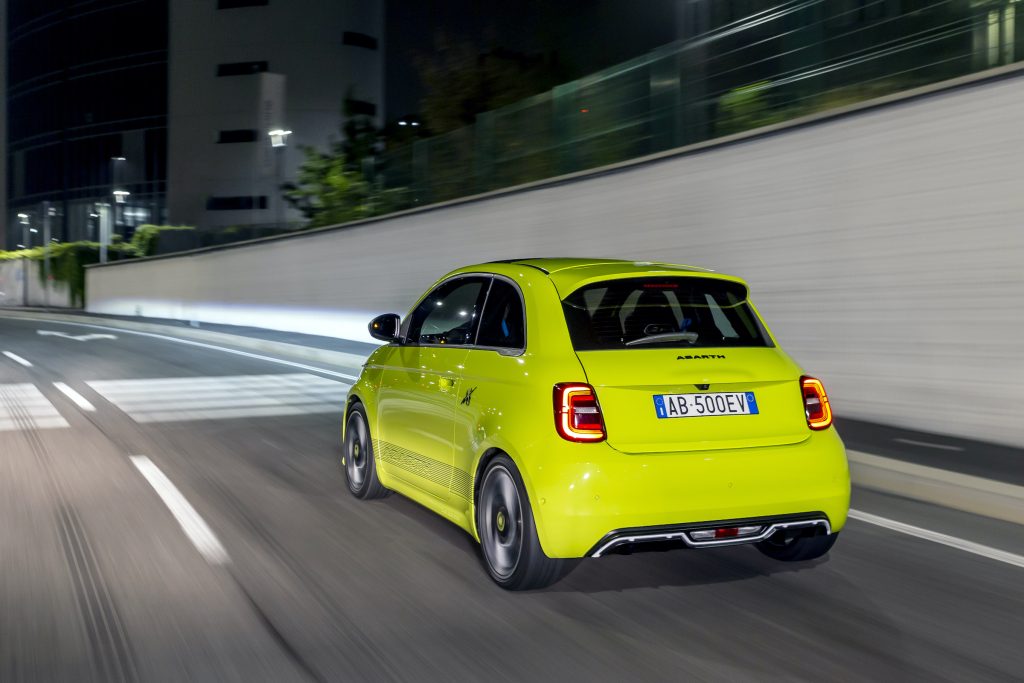 Naturally, the latter is the work of a sound generator rather than a straight-through exhaust, but the Italian brand knows this stuff is important to its customers, so has digitally replicated that distinctive four-pot turbo sound. How much it adds to the experience we'll have to wait and see, though we're less sure about the guitar strumming sounds that apparently play when you switch the car on or off…
While the 500e's output doesn't quite match the spiciest petrol Abarths, the company is keen to point out that it's still quicker than the existing 695 over everyday metrics. It'll undercut the 695 by a second from 12-25mph for instance, and it'll cover the 25-37mph increment quicker too, which Abarth says is your typical hairpin-exiting run.
Around Balocco, the test circuit used by the likes of Fiat and Alfa Romeo, it's apparently a second quicker than the 695. The regular-old 0-60mph measurement used by all and sundry is covered in seven seconds flat – behind a Ford Fiesta ST's 6.3sec, but not slow for a relative tiddler.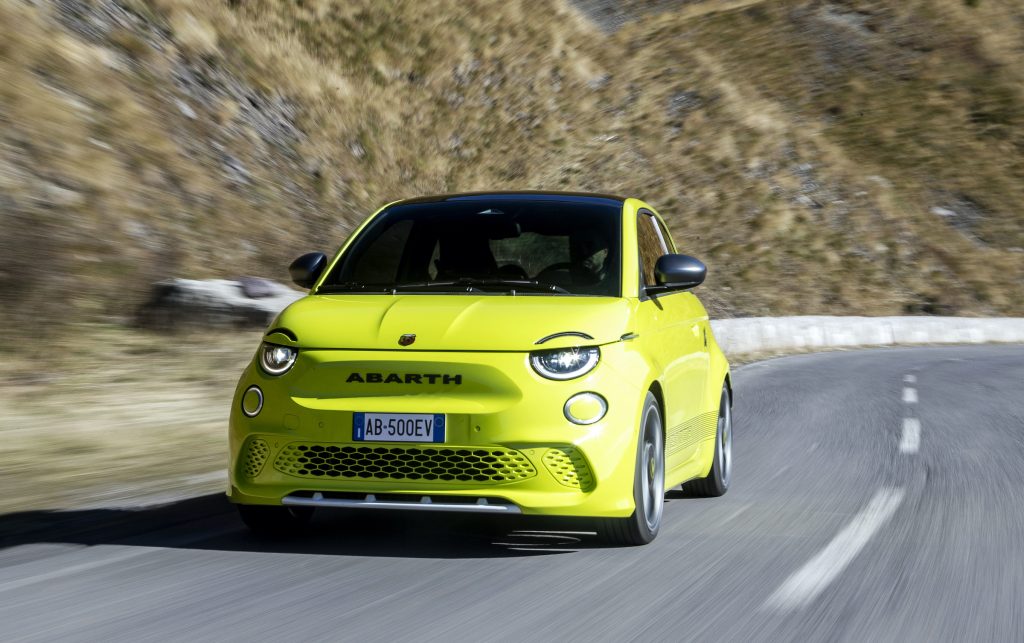 Abarth speaks of improved weight distribution but not of weight itself, though the conventional Fiat 500e comes in at around 1300kg – heavy for a supermini, but light for an EV, given a Honda e weighs another couple of hundred kilos. The Abarth should have a similar kerbweight, while Turismo, Scorpion Street, and Scorpion Track driving modes (basically for efficiency, good road-going performance, and maximum performance respectively) will give drivers something to adjust during a drive.
It's fair to say the Abarth 500e nails the styling brief laid down by previous generations, with a deeper front airdam, blistered sills and something approximating a diffuser at the rear, though you'll not find any exhausts on this one. Inside there's a set of Scorpion-stamped metal pedals, Alcantara trim for the wheel, and a set of racy seats.
The photographs depict the launch edition, dubbed Scorpionissima, which probably sounds better with an Italian accent. 1949 will be built (a nod to Abarth's birth year), with hatchback and cabrio body styles, Acid Green or Poison Blue paint, 18-inch diamond cut wheels, and a few infotainment boxes ticked from the regular 500e range.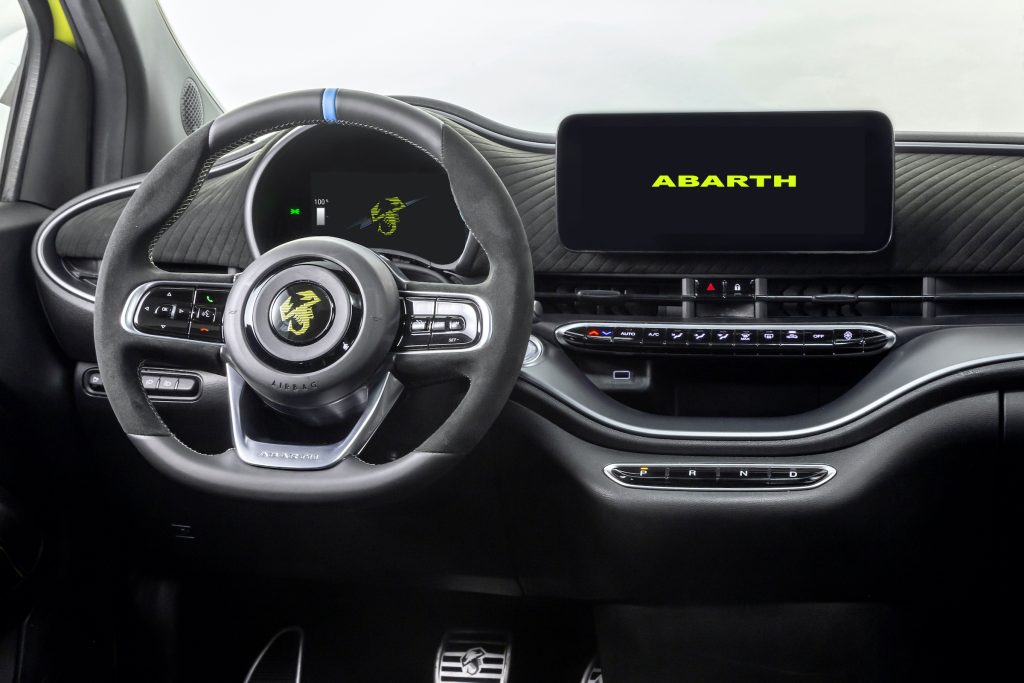 Interested parties will be able to start their "online buying experience" from November 22, with a one-month pre-booking phase for Abarth community members, some of whom helped guide Abarth in creation of this new model.
Nothing will quite top the classic 500 Abarth for us when it comes to tiny Italian sportsters, and the existing petrol-powered Abarths are bundles of fun in their own way. If Abarth can capture some of that in the new EV, they'll be onto a good thing indeed.
Read more
Concept Cars That Never Made The Cut: Fiat 850 City Taxi
2023 Honda Civic Type R review: Just keeps getting better
10 road racers to give you that CSL feel for less