Competing in motorsport is an expensive affair. Getting your licence, keeping it renewed and logging hours in championships requires deep pockets, even at the quieter end of the semi-professional and professional ranks.
Governing body, Motorsport UK, seeks to change that with its StreetCar series aimed at drivers, new and currently competing, whose ambition exceeds their bank balance.
How much is your car to insure? Find out in four easy steps.
Get a quote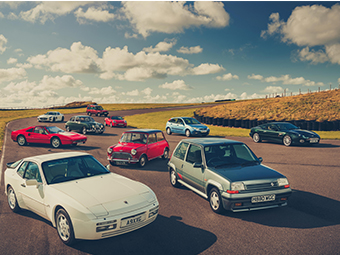 StreetCar comprises 12 grassroots series organised across three categories. It aims to have 50 racing clubs offering StreetCar events by the end of the year, with the goal of getting more people racing – and, it's hoped, progressing up the ranks of motorsport.
To compete, you'll need a free Motorsport UK RS Clubman licence and your own, unmodified road car; you won't need a roll cage, but you might need a helmet for certain events.
Then, your category needs to be selected, across Autotest, Trials and Cross Country, and Rally. The latter has the most activities at the outset, though each category offers several ways of testing both yourself and your car.
Many should be pretty low-stakes too, with little risk of damaging your car either physically or mechanically, while a mix of sealed-surface and loose surface events mean you can choose how much mud you wish to hose out of your wheelarches afterwards…
So far, eight English racing clubs are involved: Anglia Motor Sport Club, Basingstoke Motor Club, Devizes and District Motor Club, Farnborough District Motor Club, Isle of Wight Car Club, Loughborough Car Club, Middlesex County Automobile Club, and The Sporting Car Club of Norfolk. Northern Irish, Scottish and Welsh clubs have yet to be announced.
Hugh Chambers, Chief Executive Officer at Motorsport UK, said: "StreetCar is motorsport's best kept secret. The 12 disciplines are affordable, can be enjoyed in any legal road going car, and there are events held across the UK throughout the year.
"We strongly encourage anyone who's been wanting to get involved in motorsport to get in touch and start their journey today."
Read more
Running up that hill: I've just found my favourite kind of motorsport
Trial by mud: A beginner tackles the VSCC Herefordshire Trial
To bond with your classic and have the drive of your life, take it racing