It's tough being a Brit right now. Lockdowns, trade problems, divided nation, all that stuff. Just as well we've got cars really, even if we can't drive them anywhere. But if you're already clamouring for places to visit after we've all been jabbed then a new automotive attraction in Derbyshire might be just the thing.
Great British Car Journey is a new visitor attraction created by Richard Usher, the man behind Auto Windscreens and Blyton circuit. You'll note we've not used the term "museum" as it's really designed to be a bit less stuffy and a bit more interactive than that, capped off by the chance to actually drive some of the vehicles on site.
How much is your car to insure? Find out in four easy steps.
Get a quote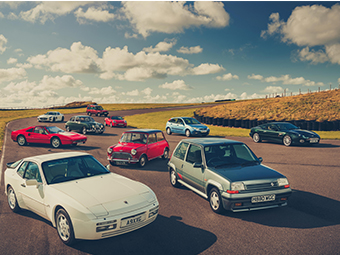 Due to open in the summer, the site will house more than 150 classic British cars spanning the 1930s to the 1990s, along with an audio-visual interactive element which should help bring not just the exhibits to life but also the country's history of design and manufacturing.
Most exciting though will be a collection of around 30 vehicles set aside as part of a "Drive Dad's Car" experience. As you might infer this will be the bit you can get behind the wheel, accompanied by an instructor. Different price tiers will cover different vehicles, with cars like a Mini 850, Reliant Robin or mid-80s Escort coming in at £49, extending to £70 for a Jaguar, Rolls-Royce or Bentley.
Located within the Derwent Mills World Heritage Site (so there's plenty of history to enjoy in the vicinity already) the four-acre Great British Car Journey site will include a small course for the driving experience, plus a gift shop and café.
It all sounds like an excellent day out to us, not just for learning more about British motoring heritage but also a great environment to introduce younger generations to the world of classic cars. The Great British Car Journey is primed to open when national and local restrictions permit – and we'll be sure to take you behind the scenes of the attraction.