Caterham, the tiny British sports car maker, is no longer quite as British. The company has been sold to VT Holdings, the Japanese company that imports Caterhams as well as Lotus cars to Japan.
Much loved by Hagerty's own Sam Smith and, er, me, Caterham's Seven is the ultimate continuation car. Back in 1973 Graham Nearn bought the rights to the Lotus Seven from Colin Chapman and founded Caterham Cars. In the decades since, the company has taken Chapman's very simple recipe and kept it much the same, only making it progressively spicier.
How much is your car to insure? Find out in four easy steps.
Get a quote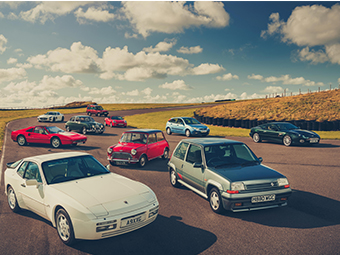 Today's Sevens come with a choice of two Ford engines, a 1.6-litre Sigma or a two-litre Duratec in a wide range of tune. The entry level Seven 270 offers 137bhp and is a lovely way to enjoy catching flies in your teeth, while the 620 is an insane 314bhp track rocket that will tear your face off unless you wear a helmet as its supercharged engine fries tyres, and accelerates from 0-60 mph in 2.79 seconds.
No matter what model you choose the basics are the same – and they are very basic indeed. You get a steel tubular chassis with rudimentary body panels riveted around it, four wheels, two seats, an engine, and an all-up weight of little more than 540kg. Caterhams are available fully built from the factory in 20 countries, but can also be bought in kit form.
Caterham's new owners VT Holdings have imported Sevens to Japan since 2009, selling over 120 cars there each year. Chief Executive Kazuho Takahashi has pledged to "protect and develop the Seven to meet the legislative challenges that lie ahead."
Read more
How will Britain's boutique car makers survive the EV revolution?
Sweet 1600: Caterham Super Seven review
Driving seven of Britain's best roads in a Caterham 7 is the ultimate father-son roadtrip