It looks shot to pieces after spending more than two decades abandoned to the elements. But now a long-lost 1972 De Tomaso Pantera is set to become a social media star – after being discovered in its resting place in Georgia, America.

Won for $33,333 (£25,644) on auction site, Bring a Trailer (BaT), the car is to be restored by a father-and-son team who intend to restore the underside and mechanicals but keep the exterior looking 'as found'. The restoration of the appropriately renamed 'Patina Pantera' will be captured on Instagram and Facebook.
The car itself, bought from what is now Richmond Ford Lincoln in Virginia, ended up in Georgia with where it was stored for more than 20 years with an indicated 42,000 miles on the clock. Panteras were sold through Lincoln-Ford dealers between 1971-1975.  A 'Base', it features (and retains) its revised-for-1972 351-cubic-inch Ford Cleveland V8 and five-speed ZF transaxle; video footage shows the car's V8 turning over, but not starting.
Over the years, the car's Ghia-built body rusted out: "Multiple areas of corrosion, rust-through, and paint loss can be seen throughout the body, along with faded and pitted brightwork", according to the listing. Extra decal-graphics were added over the years, alongside a (later model) GT5 replica spoiler, which the seller photographed fixed to, and then taken off, the rear deck.
The win prompted 272 comments from Pantera fans and onlookers; support poured in with the only slight disappointment noted that the final bid didn't reach $33,351 to match the Pantera's displacement.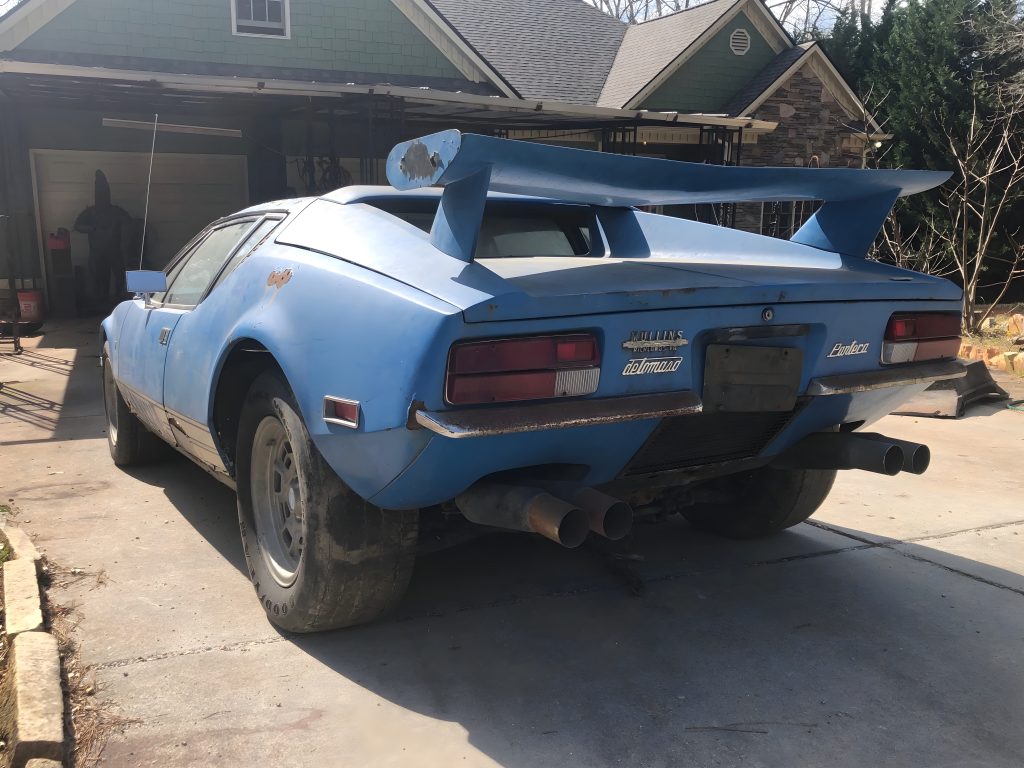 The Pantera is something of a delightful curiosity in the sports car space. On the whole, it doesn't enjoy the same love as the Ferraris, Lamborghinis and other Italian supercars of the early 1970s. Yet the Pantera is far more affordable than anything else that rolled out of Maranello or Sant'Agata Bolognese, and its body – the work of Tom Tjaarda, working for Ghia at the time – is sure to turn heads wherever it goes.
It also none too shabby to drive. In 1972, Autocar wrote that, "Everything connected with the Pantera is suggestive of power, and on the road it lives up to its promise. Top speed proved to be a resounding 159 mph at an engine speed of just 6050 rpm."
Interest from collectors in the Pantera has been growing in the past few years; in 2017, arch barn-find aficionado, Tom Cotter, rescued a modified '72 car stashed away for 35 years. It had previously taken part in the 1980 US Express, a Cannonball Run-aping cross-country race.

The Hagerty US valuation tool lists a Condition 4 1972 Pantera Base, in fair condition, at $53,000 (£40,774). Cars in this category are described as possessing 'visible flaws to the naked eye. Runs fine, but could use cosmetic or mechanical attention.' For a project to make 63 per cent of this value indicates the appreciation in the market for surviving Panteras, up 8.8 per cent year on year even in their lowest roadworthy state. In the UK, Pantera prices range from around £40,000 up to almost £200,000, depending on the year, model and condition.
Read more
What you need to know about buying a 1970–74 De Tomaso Pantera
1972 birthed a new angle for Italian sports cars
The Weekenders: Putting on a show comes naturally to these drivers