If BMW's M8 Gran Coupé somehow fell short of your expectations, fear not – the Alpina B8 has arrived to raise the stakes. And it rekindles memories of one of Alpina's mightiest – and rarest – autobahn stormers, the ALPINA B12 5.7 Coupé, from 1992.
The B12 was the last flagship to be based on BMW's ultimate sporting model, a car for those who wished BMW had built an M8 at the time, and exclusivity was assured – just 57 of the 5.7-litre, V12-powered status symbols were built. Today, the new B8 stands as the flagship of the Alpina range, but in this instance it's an alternative to BMW's own M8.
How much is your car to insure? Find out in four easy steps.
Get a quote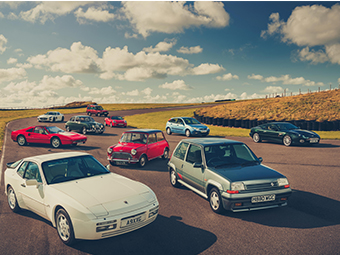 Enhancements to the new model's 4.4-litre twin-turbo V8 engine include an output of 613bhp (down 4bhp on the UK's M8 Competition) and torque hiked to 590lb ft from just 2000rpm. Additional improvements include modified twin-scroll turbochargers, an upgraded cooling system – including a larger oil cooler and intercoolers – and a sports exhaust system to free up the extra oomph.
The eight-speed automatic transmission has been tweaked to offer quicker shifts without compromising smoothness, and there some ratio alterations that nudge the B8 beyond 200mph, which is 11mph faster than a de-restricted M8. The M8 will be ahead briefly at a traffic light grand prix as it reaches 62mph in 3.2 seconds, 0.2 secs quicker than the B8, but the Alpina has that all-important Autobahn edge.
The Alpina may well have the edge on a B-road too as the suspension has been upgraded with hydro mounts for the front axles, stiffer strut support mounts and Eibach springs. Like the M8, the Alpina has rear-axle steering and a limited-slip differential. Tailored Pirelli tyres are fitted to unique 20-spoke, 21-inch alloy wheels, and four-piston Brembo brakes are fitted.
Alpina's aesthetic treatment extends to larger air intakes in the front bumper to aid that new cooling system, a new rear bumper with Alpine's own diffuser, and there's a small rear lip spoiler and discreet badging to finish off the look. As well as the wide range of standard BMW colours, the B8 is available in blue and green metallic, exclusive to Alpina.
The interior is essentially ultimate-spec 8-Series, with Merino leather and Alcantara, and a selection of Alpina details from the illuminated door sills to a crystal glass i-Drive controller, and a hand-finished steering wheel in Lavalina leather.
The Alpina B8 Gran Coupé will hit the roads later this spring at a price of £134,950. A standard M8 Competition Gran Coupé starts at £123,880 but when you start adding options it's easy to see the price get close to £150,000, making the Alpina suddenly look like a bit of a deal – and it's likely to be a touch more exclusive too.
Recent sales suggest the rarity of the B12 5.7 suggest has helped values. In early 2019, RM Sotheby's sold a 1994 example for €207,000 (£176,000), and in early 2020 a 1993 model was also sold by RM Sotheby's for €265,000 (£226,000). Could the new Alpina B8 become similarly sought-after in another quarter of a century?
Read more
2021 BMW M4 review: Fast but never furious
Our classics: 2003 BMW M3
7 daring BMW '90s concepts that could have started something new