Less than a month ago, Hagerty US predicted that a Japanese car would sell for $2 million in 2022 (£1.46 million). It was a bold prediction, because few Japanese cars have been offered publicly with a seven-figure price tag, and even fewer confirmed sales have occurred in that range. We expected that if that $2m ceiling were to break, it would likely take the better part of 2022 to happen.
Well, that prediction could come true much sooner than anyone expected – ourselves included. The contender? A Nissan Skyline GT-R NISMO 400R offered by Harlow-Jap-Autos (HJA Group) in the UK, which is currently for sale with an asking price of £1.6 million ($2.2 million).
How much is your car to insure? Find out in four easy steps.
Get a quote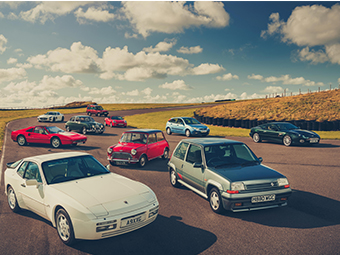 Without question, the NISMO 400R is one of the most sought-after Japanese collector cars out there, its global popularity boosted further as it becomes eligible for import into the enormous US market.
If you're still scratching your head as to how an old Nissan can be worth so much, here's a quick synopsis. The GT-R–based 400R benefits directly from technology used in Nissan Motorsports International's (NISMO) Le Mans racing program. A standard GT-R makes a respectable 276 horsepower from a 2.6-litre, twin-turbo RB26DETT straight-six; however, NISMO squeezed substantially more out of its 2.8-litre RB-X GT2 engine – endowing it with 400 horsepower. To put that figure in perspective, few supercar offered that level of power in the mid-1990s unless they had a Ferrari or Lamborghini badge on the bonnet.
The engine is an easy focal point, but stopping there would be an affront to the other details that make this car so fascinating. One being the extensive use of carbon fibre at a time when only race cars and eye-wateringly exotic supercars were using the stuff. The hood and rear wing are made of carbon fibre, as you might expect, but the impressive part is that NISMO even made the driveshafts from carbon weave.
Equally exotic was the extensive use of titanium: The high-flow exhaust system is made of the corrosion-resistant element, as well as the strut tower braces. The brakes and suspension were all heavily upgraded to perfect handling, increase stopping power, and refine overall feel. Finally, the exterior received a bespoke body kit which not only increased downforce but helped to cool the engine and brakes.
This brings us back to our feature car. Better known to its followers as "Sully," it's appeared in magazine articles and at the Goodwood Festival of Speed, and even has its own social media profile. Out of 44 cars that Nissan claims to have produced, only 40 are known to exist according to GTR-Registry, of which Sully is number 40.
The striking shade of BN6 Deep Marine Blue fits it well, making the 400R graphics and white LMGT1 wheels pop in contrast. Despite the model's exclusivity which would relegate most cars like it to a role of garage art, Sully has racked up 61,000 kilometres (39,000 miles) – but don't fret, it remains in excellent condition inside and out.
So, what about the price tag? £1.6 million is not an insignificant amount of money, but if any model is worth it, a NISMO 400R stands among the precious few. We even estimate in the US Hagerty Price Guide that a #1 (Concours) grade example could reach that figure (the UK price guide doesn't yet list the model). While rumours exist that one may have already sold for $2 million, this car's appearance is the first evidence that the market has reached this new height.
But will Sully sell for its asking price? It very well could. The JDM market is a seller's one right now, especially for exceptional vehicles. Aside from models like the R34 GT-R–based NISMO Z-Tune or the Honda NSX-R, few other JDM cars come close to the 400R's level of desirability, and certainly not on a global scale. Lower down the food chain, we have seen an as-new, R34 Skyline GT-R sell for a record £400,000.
Don't expect this car to be available for long. Opportunities to buy a NISMO 400R are exceedingly rare, and finding one that's publicly listed is even more remarkable. One thing is for sure: This further proves that exceptional JDM models have finally made it big. We hope that Sully finds a new home and that its owner appreciates it as much as the last caretaker did.
Via Hagerty US
Read more
The Mazda RX-7 is everything you want in a sports car | Revelations with Jason Cammisa
Freeze Frame: Gran Turismo spawns a generation of car enthusiasts
Your Classics: Winter runs in a Subaru Impreza 22B leave Chris Thorogood with a warm glow