The latest update to the Hagerty Price Guide was published on 20th April. The Guide now covers 1,987 models, and we've recently expanded our coverage of various ranges including the Citroen DS/ID, BMW Z3, Lancia Montecarlo, Lamborghini Diablo and others.
Overall, the market seems to be returning to a state of growth: the Hagerty Classic Index (which tracks 50 popular classics) showed an average rise of 3.38%, up from 1.78% in late 2017. News from the trade seems to support this: despite the awful weather, dealers are reporting that spring 2018 has been a good time after a period of uncertainty from the end of summer 2017.
How much is your car to insure? Find out in four easy steps.
Get a quote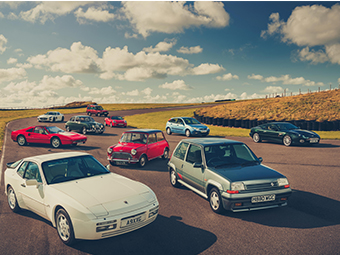 Just two cars on the Index fell this quarter: the Austin-Healey 100-4 BN1 (down 0.63% to an average of £47,625) and the Ferrari Testarossa (down 2.76% to an average of £113,675). Whilst the Austin-Healey fall is negligible, the Testarossa's dip continues a trend that has seen the model lose value steadily over the last four HPG updates. Hagerty feels this says more about the massive rise in advertised Testarossa prices that took place over the period to late 2016 that just weren't sustainable for all but the very best. As an example, one low mileage, RHD car in very good condition that was expected to sell for £110,000 to £130,000 at H&H Duxford in March sold for just £106,875 inclusive of costs.
Other car values were flat. The Ford Capri Mk III 2.8i remained at an average of £14,550, flat after a period of quick increase. Even a cosseted, low-mileage Capri 280 once owned by Mark Blundell failed to sell at Silverstone Race Retro sale; maybe big-engined Capri fever has abated for the moment. The Lotus Esprit Turbo SE was also a non-mover at £19,850 average.
Many cars maintained a healthy, albeit quite small increase in value. The Triumph Stag rose 2.65% to an average of £17,425, helped by a big increase in the very top values of these once inexpensive roadsters. The Volkswagen Golf Mk I 1.6 rose 5.41% to an average of £14,625, again with a significant rise in top values, and continuing this car's upward trend. Finally, the Jensen Interceptor Mk III rose 3.01%, with the car's average being a shade under £60,000.
A few cars made double-digit rises. The Citroen DS21 EFI Pallas made a jump of 21.75% to an average of £22,750, although this could be affected by our expansion of that model range during this update which created an anomaly. A rise of 16.53% for the Lancia Fulvia Sport Zagato to an average of £29,075 is more indicative. This car was undervalued for a long time, and even less-than-perfect examples are doing well: an older restoration with a top estimate of £8,000 made double that at the Bonhams Members' Meeting sale.
Overall, we believe we're seeing the market continue to stabilise, with values of popular classics continuing to rise steadily and those that were overpriced (like the Capri and Testarossa mentioned above) falling to realistic levels. The latter takes time: it's hard for dealers and private sellers to admit they've caught a cold, but we're not expecting too many more corrections. True 'bargain' risers like the Fulvia Sport Zagato are exceptionally rare now: most of the good cars from good marques have already been identified and snapped up. It's no coincidence that we're tracking newer and newer models; bargain hunters are having to look to more modern cars to find their quarry. We expect that trend to continue, and for the big percentage risers of summer 2018 to be post-1990 cars.