The UK Hagerty Price Guide (HPG) update has just been published. Now containing 2,049 classic car models and over 40,000 individual values, the Guide tracks prices using auction data, insured values and dealer prices.
The headline figures make for very interesting reading. The HPG Classic Index, which tracks fifty of the most popular UK classics and provides an accurate indicator of the overall market, rose by just 1.07% since the last update in April 2018, the smallest increase since the UK HPG started in 2012. 26% of cars in the index fell, 52% rose, and the rest remained static, but some of the risers did so by a very small (under 1%) amount. However, a simple percentage figure is not indicative of this complex market.
How much is your car to insure? Find out in four easy steps.
Get a quote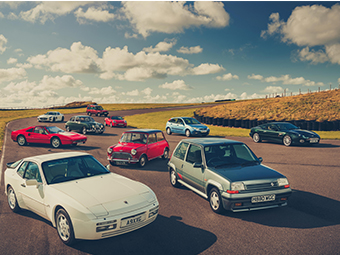 It's Complicated
Lancias are a good example of how the market is mixed. While the Lancia Fulvia Zagato 1.6 coupe has increased by around 5% and the Lancia Delta Integrale by 4.17%, earlier models, even the previously popular Aurelia B20s, have slipped back by a similar amount.
The traditional Lancia market star – the Aurelia B24 Spider America– has the strange situation of seeing its lower values drop but its higher values continue to rise. What the market – especially American buyers- want in this model is sinistra (left-hand drive) specification and superb history and condition. One matching this description sold over estimate for an equivalent of £1.45m at Monterey in August. However, less-than-perfect examples are struggling: auctions in Monaco, London, Paris and Monterey all saw no-sales of cars, with bids peaking at around the £650,000-level.
The Fulvia is doing well because the enthusiast market is seeking cars that tick a number of boxes: practical, stylish classics, relatively simple to maintain and available at sensible prices. The Integrale is another rising classic; most good Evo I examples are selling for around the £35k-mark at auction, and Evo IIs higher. The recent unveiling of Automobili Amos's Integrale restomod coupe has set social media buzzing, and this is bound to have an effect on values of this model.
Rising Stars
Like the Fulvia, affordable, usable classics are all the rage: cars that balance the look, feel and simplicity of classic motoring but are drive, turn and stop in a similar way to a modern car. A dealer recently sold a high quality RHD Alfa Romeo Sprint GT for close to its £60,000 asking price – nearly double our top guide price – and a very low mileage, pristine Porsche 924 sold for an astonishing £42,000 at the RM Sotheby's Porsche Anniversary Sale in the US. While this remains well outside of the Hagerty Guide Price (924 Lux values rose 5.6% to an average of £7,975) we've seen plenty of more run-of-the-mill examples achieving strong sales.
Mercedes-Benz R107 models are another usable classic bet. With great build quality, some later 500SL models are now being advertised at over £50,000 but you can still buy good 1970s examples for well under £20,000 and the cheapest for under £10,000.
Falling Idols
Models that rose quickly and suddenly during the boom of the last few years have mainly all cooled off rapidly. These range from Aston Martin DB4 (down 3.5%) and Lagonda S1 (down 11.9%) to 1980s Ferraris such as the Testarossa (down 7.6%) and the 308 (down 10.7%). For example, a Ferrari 308 GTSi sold at Silverstone Ferrari Sale for £27,000; even though it was a no-reserve, USA import it is still a while since we've seen a 308 sell for under £30,000.
Willy's and Ford Jeeps are another good example. These rose very quickly in a short space of time, but values are now cooling, with HPG 17 showing an 8.7% drop in values of the Willys MB; a pristine 1943 Ford GPW sold for just over half of estimate at H&H in October for £23,300.
It's a similar story with Jaguar E-Types. Early flat floor examples, especially ultra-rare outside bonnet lock (OBL) cars, were THE model to have just a couple of years ago. Now though, sellers are finding it harder to gain the prices they want; we've seen six auction no-sales of flat floor E-Types, including two OBL cars, in the last five months.
2019 Predictions
With the uncertainty of Brexit still looming over the country, predicting where classic car values will go in 2019 is a difficult job. Overall, Hagerty has a relatively positive outlook assuming that values will, in the main, remain steady or even grow slightly. Economic turbulence there may be, but Hagerty believes that if this were to have a major effect, it would have already happened. There's still a demand for good cars, and that remains, especially those which are usable (either as a family classic or for rallying/racing).
That said, there are still a lot of overpriced cars on the market, and these have to correct. Earlier we mentioned the Ferrari Testarossa; we recently analysed the average price of this model sold at UK/European auction in 2018 (£87,800) with the average advertised price (£116,000). This disparity is just one example of many.
The delta between the values of low-quality examples of expensive cars, and the best of those models, will continue to increase. The market is a canny one now, and buyers want value for money. As ever, we urge you to buy a car you love, and then any change in value will be secondary to your enjoyment of that machine.
Check the value of your classic car using the Hagerty Price Guide.