There are plenty of licenced Lego Technic models one can buy. Perhaps you would like a letter-era Porsche 911, like a G series, or a nice kit of Land Rover's new Defender; more or less every motoring niche is catered for.
However, Peugeot fans have so far been overlooked by the Danish brickmakers. That's a surprise, given the French firm's 205 GTi is something of an icon, with real, low mileage examples fetching the equivalent of £69,000 in France. So the Lego design community, BuildaMOC, has released a Technic-style Peugeot 205 1.9 GTi for fans to build at home.
How much is your car to insure? Find out in four easy steps.
Get a quote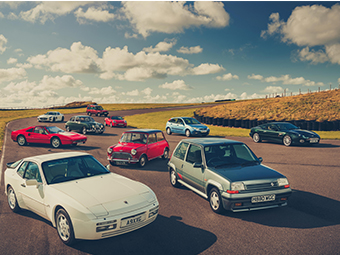 Build a MOC (the 'MOC' stands for 'My Own Creation') creates Lego kits on commission from unused Lego parts. Independent Technic designers can then submit their own instructions for Lego fans to follow. This is how the Lego 205 GTi came to be, devised by French creator Nico71, who released a video of the finished product on his channel.
The 985-piece kit will set you back 135 Euros (£115.60), plus shipping. Available in red, white or black, you get steerable front wheels, a full interior, and a bonnet, boot and doors that can be opened. It makes for an interesting comparison with other, smaller, 1:18 scale models from the likes of Solido or Norev – but what you gain in detail, you lose in the satisfaction of not building the model yourself. And that explains the growing popularity of Lego's vehicle kits.
Unsurprisingly, reception to the Lego 205 GTi has been favourable, with users calling on Nico71 to make a 205 Turbo 16, the fearsome, enormously successful mid-engined Group B rally car that won 16 of the 26 rallies it entered.
For the time being, Nico71 has other French car kits available through BuildaMOC, including the Citroën 2CV and Mehari. Perhaps Lego will take the hint and put out an officially licenced French car kit soon?
Read more
Legendary Ferrari 512 M leads 2022 Lego Speed Champions series
Lego's most expensive car set is a… Lamborghini
The Lego Technic Panigale V4 R is the Ducati superbike we can all afford