Dash cam sales are booming as more of us like the idea of solid, indisputable evidence of an accident, crime or parking knocks. Drivers – and their insurance companies – soon change their tune once you show them footage of an incident and it can save you weeks of stress – and your insurance excess.
Once you have a camera, you feel a little exposed without one – especially if you are driving a precious classic rather than your everyday car. With dash cams now more affordable than ever, it's hardly an extravagance to have one in each. For this test, we concentrated on products which were under £150, including a memory card.
How much is your car to insure? Find out in four easy steps.
Get a quote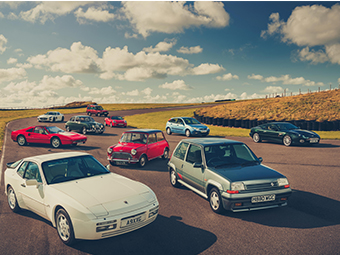 While these high-tech devices are never going to blend in totally with a classic, we selected cameras which are small and discreet enough not to be noticed at a glance. This also means they won't take up valuable space on the windscreens of roadsters and smaller cars.
While all the cameras will come as standard with a 12v plug to take power from a socket, we'd recommend using a hardwire kit. It looks a lot prettier, allows you to use camera in an old car which has no socket, and also means it will be watching out for parking knocks or other mishaps even when you're not around. We've included the price of the kit in the scores.
To test the cameras, we attached them to the windscreen of our test car and drove on a selection of roads in a variety of conditions. The best cameras should be able to capture detail such as numberplates in bright sunlight and at night.
We also awarded points for features such as GPS location and speed data stamps, which give more accurate evidence after an incident.
DDPAI Mola N3 Dash Cam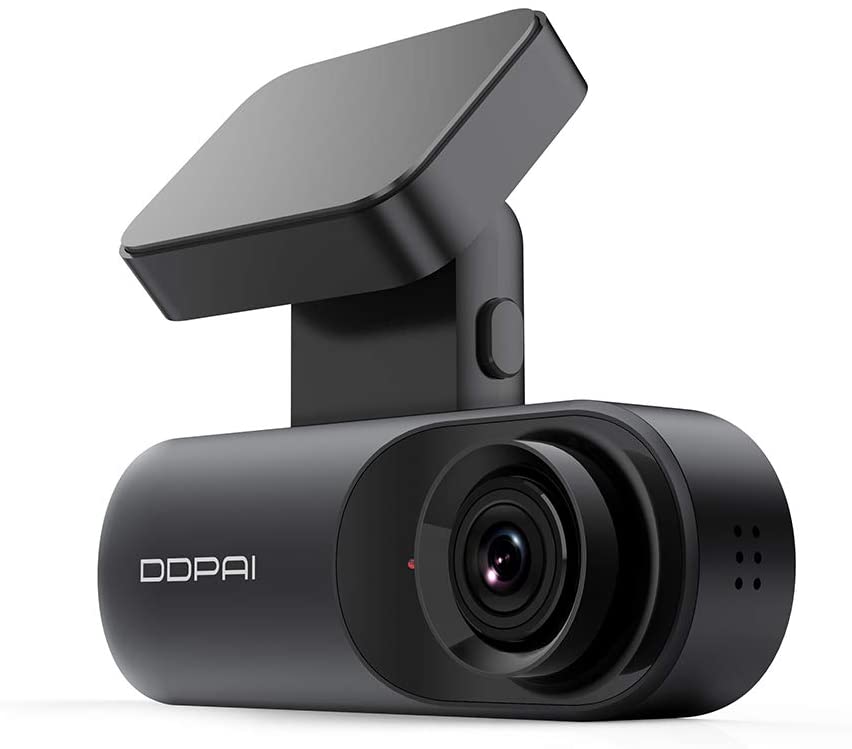 Price: £90 (with 128GB SD card)
Hardwire kit: Included
Score: 10
Resolution: 1600P
Available from: DDPAI
It might not be a name you've ever heard of, but DDPAI are big in the dash cam market globally and it's easy to see why. The Mola is about half the size of an ice lolly and has a reasonably compact mount which makes it easy to hide on a shallow windscreen.
There are cheaper versions of the Mola N3 which make do without GPS, but an extra £40 buys you the extra security of a GPS sensor, giving speed and location data stamps on your footage, plus a massive 128GB SD memory card and a hardwire kit too.
That's amazing value, especially as the camera has the best resolution footage here at 1600P (that's an image 1600 pixels deep – more than the 1080P commonly dubbed "HD"). The images are noticeably better than the other cameras here in the day, although the software doesn't seem to cope quite as well at night compared to the Kenwood, Garmin and Ring.
The Mola is has to make do without a display screen too, but it can be set up using a WiFi connection to a smartphone app. The poor translations to English make some tasks difficult, but hopefully it's not something you'll have to use often. Just make sure you turn off the embarrassing bleeps and welcome message before you take any passengers.
Ring RSDC3000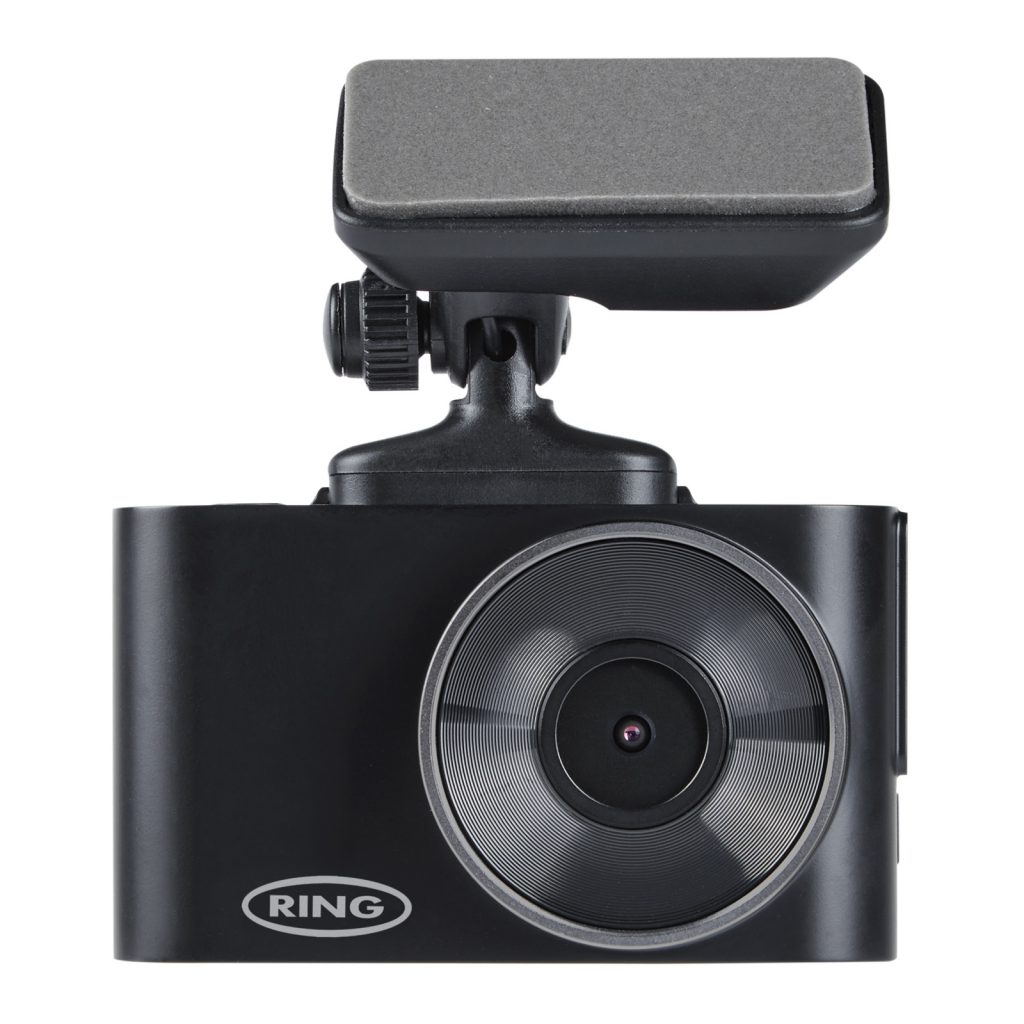 Price: £84.95 (plus SD card)
Hardwire kit: £10
Score: 9
Resolution: 1296P
Available from: Ring
The RSDC3000 isn't the smallest, cheapest or most sophisticated camera we tested, but it is a great all-rounder. It has all the features we'd want from a dash cam in a package which costs less than £100, even once you've bought an SD card.
Looking head on, it's no bigger than the average business card and the mount is compact too, meaning it will fit discreetly behind most rear-view mirrors. Despite the size, it has a screen which makes navigating menus and aiming the lens easy.
It also has a magnetic attachment, making it simple to remove if you want to keep it safe while your roof is off, or the car is in long-term storage.
The RSDC3000 captures footage in 1296P resolution, which can't match top-of-the range cameras or the DDPAI, but is noticeably clearer than the 1080P from most other sub-£100 devices. It also features built-in GPS to log speed and location data, and a WiFi link to Ring's smartphone app.
Our only complaint is the clunky hardwire kit, which consists of a crude 12v socket rather than a slim, easy-to-hide wire.
Kenwood DRV-A301W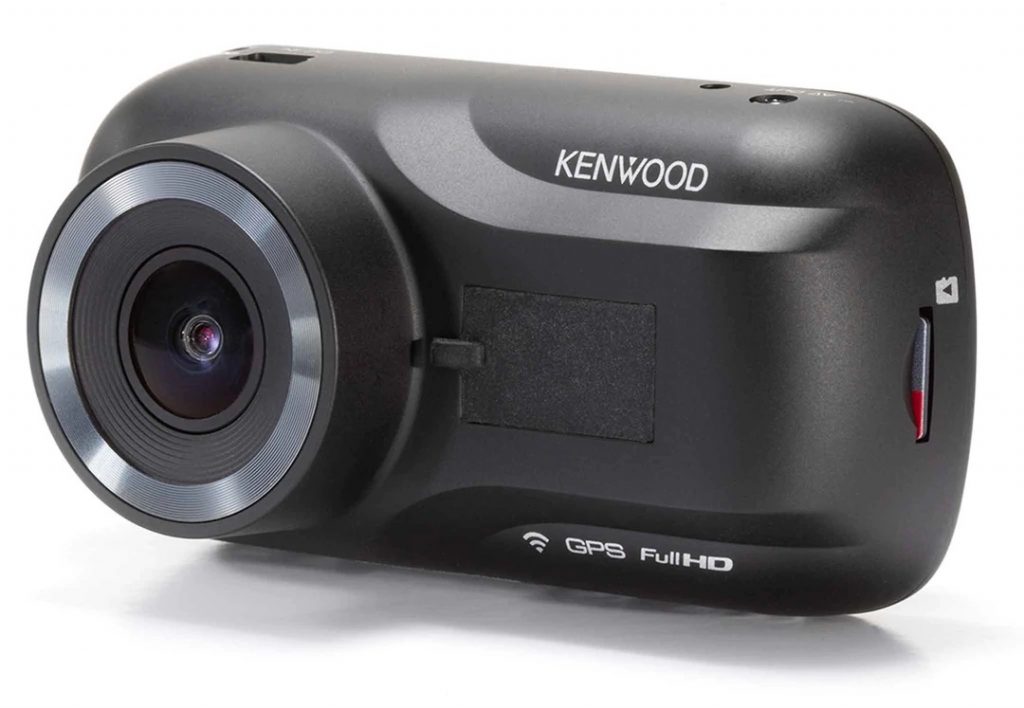 Price: £129.95 (including 32GB SD card)
Hardwire kit: Included
Score: 8
Resolution: 1080P
Available from: Kenwood
Kenwood produces a wide range of dash cams, but for this test we've chosen one of its smallest. The DRV-A301W isn't quite as compact as the some of the other cameras here but the trade-off is a bigger 2.7″ wide screen and footage quality which is better than the 1080P resolution would suggest. The Kenwood coped well with dark and changeable light conditions in particular.
The 301 also features a GPS sensor, WiFi link and a choice of two mounts – an adhesive pad for semi-permanent fixing, or a suction pad if you want to swap between cars. Like the Ring, it also has a magnetic connection so the camera can be removed quickly without having to worry about wires.
Although the DRV-A301W is available on its own for less than £100, we'd recommend plumping for one of Kenwood's bundles which adds a neat hardwire kit and 32GB memory card for £129.95. That's more than some of the rivals here, but it has a quality look and feel which we'd not be ashamed to have in our classic.
Garmin Mini 2
Price: £89.95 (plus SD card)
Hardwire kit: £20
Score: 7
Resolution: 1080P
Available from: Garmin
The Garmin Mini 2 is missing a feature which we consider almost essential on a dash cam – the GPS sensor which stamps speed and location info on your footage. But it has still made it to our top tier because it is absolutely tiny. Even with the mount, it is small enough to be hidden in your hand, which means it will not be visible to anyone but the nosiest passer-by or concours judge. That might be important if you are trying to maintain the original look of your classic.
The size means you have to do without a screen too, but there's a WiFi link to Garmin's app which allows you to view footage and take a live feed so the camera can be set up. If you want to access menus while on the move, the Garmin will respond to voice commands if you need to save clips or turn off the audio recording. This works well in a closed car, but we suspect it may struggle on a roadster with the roof down on a motorway.
Like the Kenwood, it has to make do with 1080p video capture, but some clever Garmin tech means it is better than average quality.
Pioneer VREC-DH200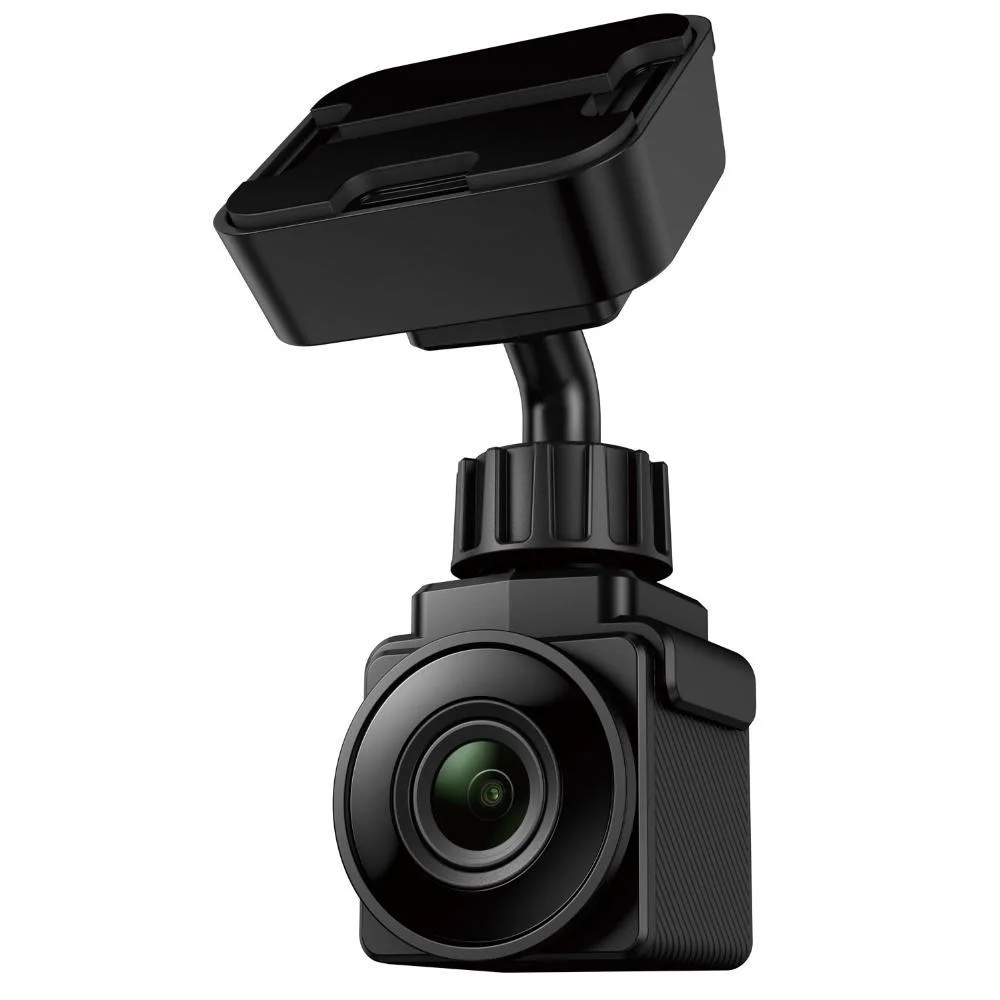 Price: £135 (including 16GB MicroSD card)
Hardwire kit: £30
Score: 6
Resolution: 1080P
Available from: Pioneer
Pioneer's VREC-DH200 is remarkable as it seems to fit so much technology into a tiny camera. The actual device itself is no larger than the average ice cube, but packed inside is a GPS sensor and Wi-Fi connection, to allow you to sort out the settings on the Pioneer app and download footage easily.
There are some downsides though. While the camera itself is small, the mount is twice as long as the camera. In fact it's so chunky we suspect some of the electronics have been hidden inside, especially as it can't be separated from the camera.
This means the Pioneer will dangle down on a smaller windscreen and looks ungainly. We were also unimpressed with the quality of the footage and noted that the files are recorded in a format which needs converting to view with some computers. Add in the hefty price of the camera and hard wiring and the Pioneer can only manage a mid-range score.
Scosche Nexar Smart Dash Cam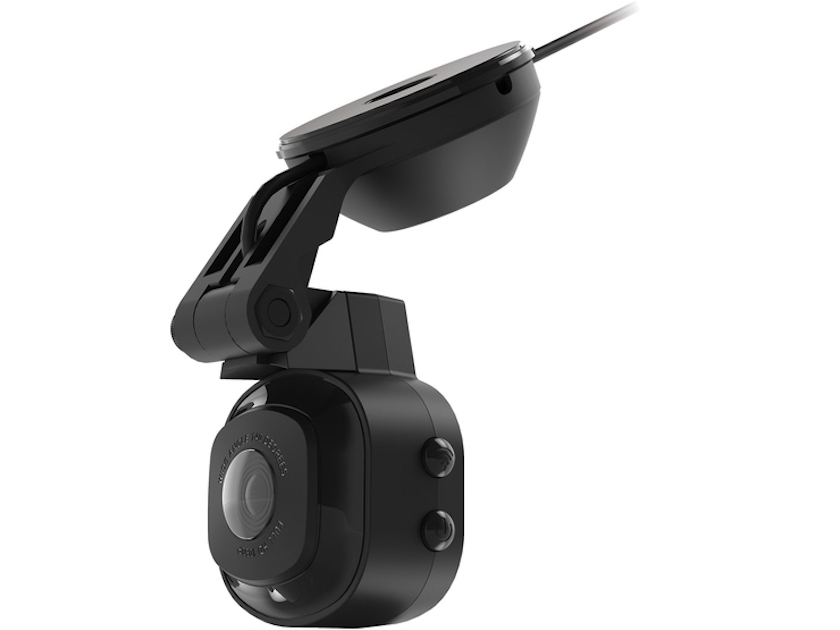 Price: £99.99 (including 16GB SD card)
Hardwire kit: £22.95
Score: 6
Resolution: 1080P
Available from: Scosche
At first, we were really impressed with the technology used in this unusual-looking camera. Like most of the devices here there is a smartphone app which helps you set up the options and view footage, but the Scosche Nexar goes a stage further by automatically connecting your phone to the camera as soon as you start driving. It then sends the footage to a remote cloud-based storage, as well as the built-in 16GB memory card.
This is occasionally useful, as it allows you to view your videos even if you are not near the car. You might want to do this if you want to show someone footage or share it with your insurer or the police.
But the constant nagging of the app, as well as the heavy data and power usage demands on your phone, soon become an annoyance if you just expect your camera to be quietly watching over you and the car. On the plus side, the footage quality is good for a 1080P camera.
Mio C312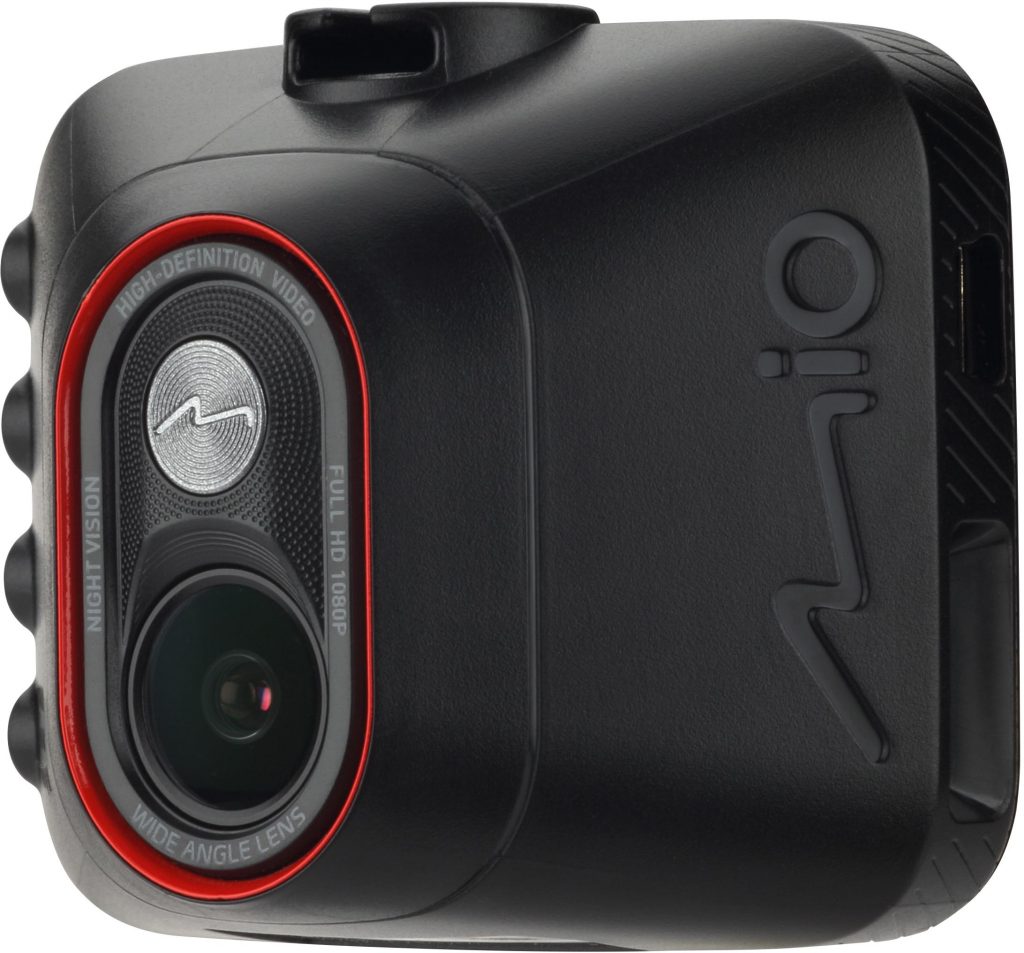 Price: £59 (plus SD card)
Hardwire kit: £34.99
Score: 5
Footage quality: 1080P
Available from: Mio
The Mio is one of Halfords' best-selling cameras, and it is certainly well priced and compact too. The suction mount is small and neat, while the device itself is the size and shape of two Toblerone chunks.
Your £59 buys you little in the way of features though. There's no GPS sensor to log your speed or location or WiFi to download footage to a smartphone app. If you want to watch what's happened, you'll need to remove either the camera or the SD card from the car and take it to your computer.
There is a tiny 2-inch screen to help you scroll through the menus and position the camera, although it is permanently switched on – unlike most rivals which have the option to switch off after a short period of time. This screen can prove distracting, especially at night in an otherwise dark car.
The footage quality is acceptable, but the steep cost of the hardwire kit – plus an SD card – means the Mio doesn't seem like a bargain compared to the far superior DDPAI and Ring rivals.
Verdict
The DDPAI is compact and has almost all the features we like in a camera, has good quality footage yet it costs just £90 including all the essentials you'll need to get your classic covered by a camera. It's our favourite here.
The Ring comes in a close second, and would be our first choice if you prefer to have a screen to play with the menus. The Kenwood feels like a quality product and delivers consistently good quality footage too.
Read more
Reviewed & Rated: e-scooters and e-bikes
Preparing for your next big road trip
Socket Set: Get to know your car and it won't let you down