Look back though brochure or press publicity pictures for cars from decades gone past and you'll see a typical British scene which has seemingly become extinct – the picnic. While a family buying an Austin Seven or Hillman Imp as their first car may have embraced the opportunity to escape to a pretty country spot for a sandwich and strawberries, the modern family is more likely to grab a drive-through burger on the way to a soft play centre.
But for classic car owners this is unlikely to be the case. We love any excuse to go for a drive, and a trip to a beauty spot for a bit of al fresco lunch is as good a reason as any.
How much is your car to insure? Find out in four easy steps.
Get a quote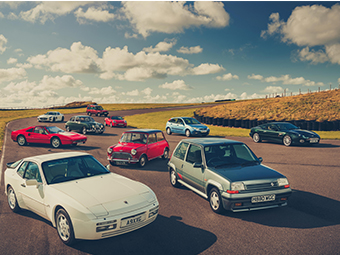 Packing a picnic when going to a show or car event could also mean you save money and don't have to queue too.
It can be made even more pleasurable if you pack a proper picnic set rather than use a carrier bag and old takeaway cartons. Such a kit will protect your food, provide all the utensils and crockery you need to eat in a more civilised fashion and make it easier to carry.
For this test we ignored the wicker hampers and designer names which cost four-figure sums and concentrated on the sets which cost £60 or less – which is about the cost of a meal for two and a couple of drinks at some events.
We scored them on the value, the number and usefulness of the contents plus features such as insulated areas for food and bottles.
Greenfield Super Deluxe Backpack Hamper – Winner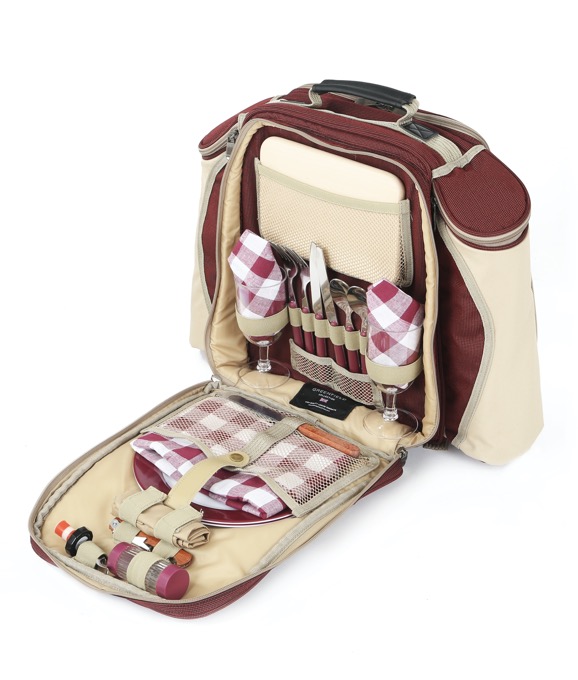 Price: £49.99
Place settings: 2
Score: 10
Contact: greenfieldcollection.co.uk
The Greenfield isn't the cheapest here but it's actually decent value once you start looking at the contents, and the quality is a level above the rivals too. The sturdy backpack includes items such as a flask, stainless steel mugs, a bottle opener/corkscrew, table cloth and even a wooden chopping board. If you don't need it all, there are cheaper (and more expensive) options available to suit your needs.
The bag itself isn't something you'd be embarrassed to be seen with and has a large storage section which is insulated (and wipe clean) to keep your chicken legs chilly. One of the two bottle holders on the side is quilted too, so your drink keeps its cool too.
Unzip the rear section and you'll find a selection of cutlery, two plates and plastic stemmed glasses which feel substantial. There's even a salt and pepper shaker and fabric bin bag. It all has its own place in the rucksack and remains rattle free in when packed away.
Mountain Warehouse 4 Person Picnic Set XL – Runner Up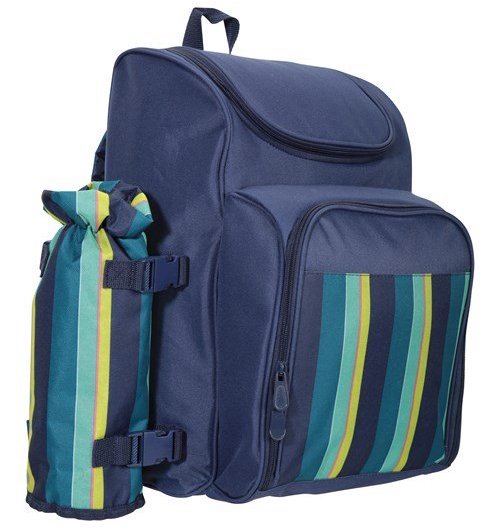 Price: £29.99
Place settings: 4
Score: 8
Contact: mountainwarehouse.com
If you don't eat al fresco enough to justify the Greenfield, we were pleasantly surprised by the value and features of this cheaper alternative – and it has four place settings too.
The looks might not be to everyone's taste, but the stripes would go perfectly with some classics from the 1970s.
There's a removable, insulated pocket to hold a bottle on the side of the bag, and then two compartments. The rear is a large insulated section for food while the front holds a plastic chopping board and cutting knife, condiment shakers and four place settings. The tumbler-style (plastic) glasses aren't quite as posh as the stemmed items used in other sets, but are actually more practical on uneven surfaces.
The overall quality generally isn't a match for the Greenfield, but there's no arguing with the value.
Homeallure Luxury 4 Person Picnic Backpack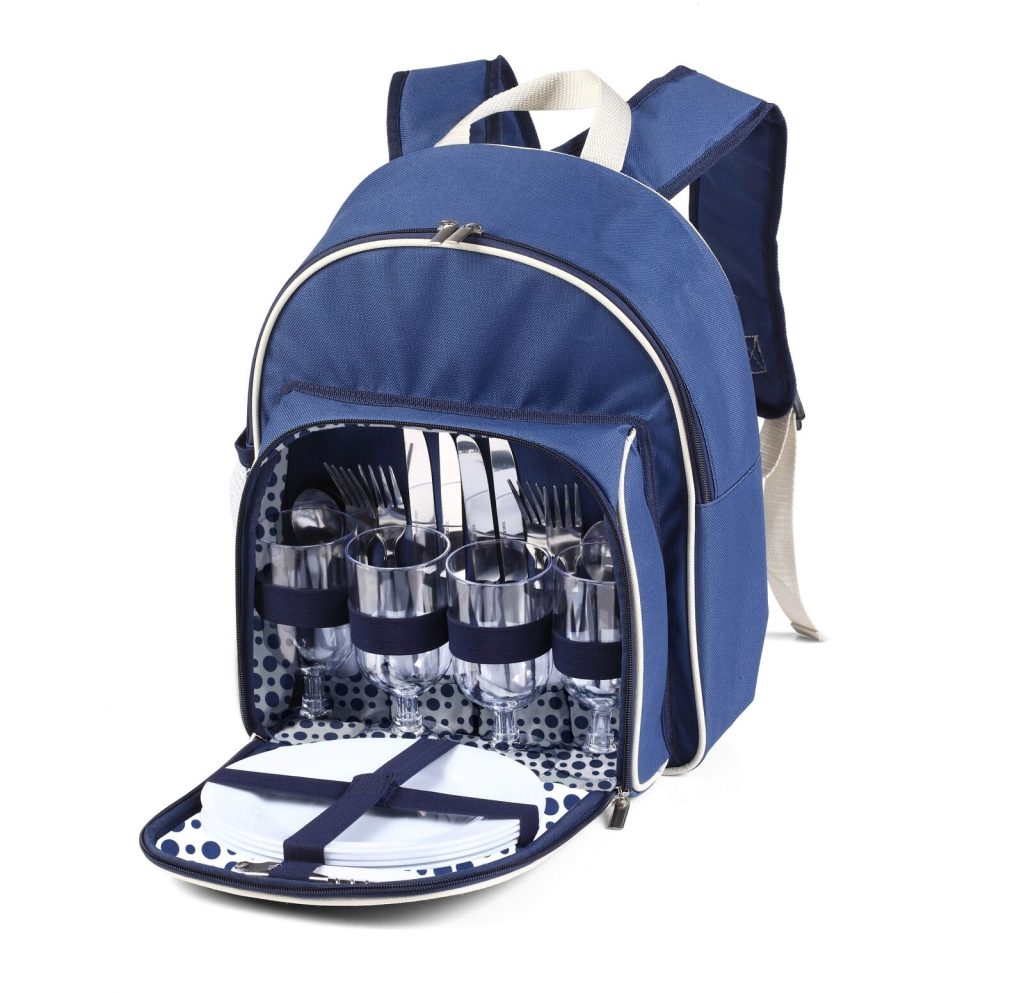 Price: £24.99
Place settings: 4
Score: 7
Contact: ebay.co.uk
Like many 'eBay special' products this set is unbranded and seems to pop up under the name of various sellers, but the base product seems to be the same.
Firstly, we liked that the plain-looking bag itself isn't going to be and embarrassment and is comfortable to carry using either the hand loop or the arm straps.
There's a large insulated rear section which has just about enough space for the essentials, but you might need to carry an extra bag if you are going to feed a famished family of four. A mesh side pocket is big enough for a bottle or baguette, but isn't insulated.
Unzip the front compartment and there are four plastic plates, cutlery, wine glasses and a 'waiter's friend' style bottle opener. It's good value but the Mountain Warehouse is worth the extra fiver.
Mountain Warehouse 2 Person Picnic Set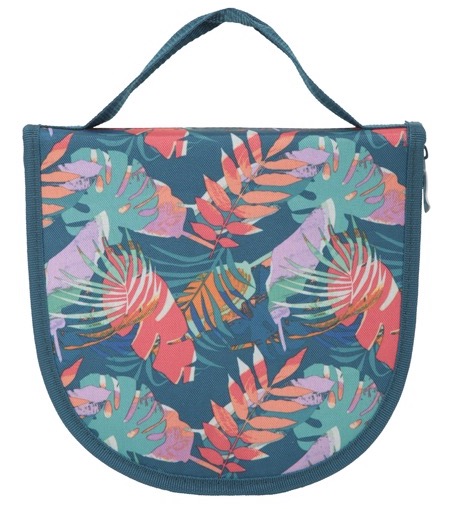 Price: £9.99
Place settings: 2
Score: 6
Contact: mountainwarehouse.com
At less than a tenner, this set costs less than a bacon butty and a flat white served from a Citroën H-van at an event. It's not quite as tasteful though and there's not much content either.
The zip-up bag is like an overgrown CD storage folder, and is upholstered in a pattern which would match the upholstery in a 1990s Renault Clio special edition. Inside it holds two plastic plates and a cutlery. It is all held securely in place to prevent rattles when on the move.
It might be a bit short on features, but it might make sense if you already have a cool box for your food and just want a way to make eating it a little more classy. At this price its cheaper and better for the environment than using disposable plates and throw-away cutlery.
Summerhouse Coast 4 Person Picnic Backpack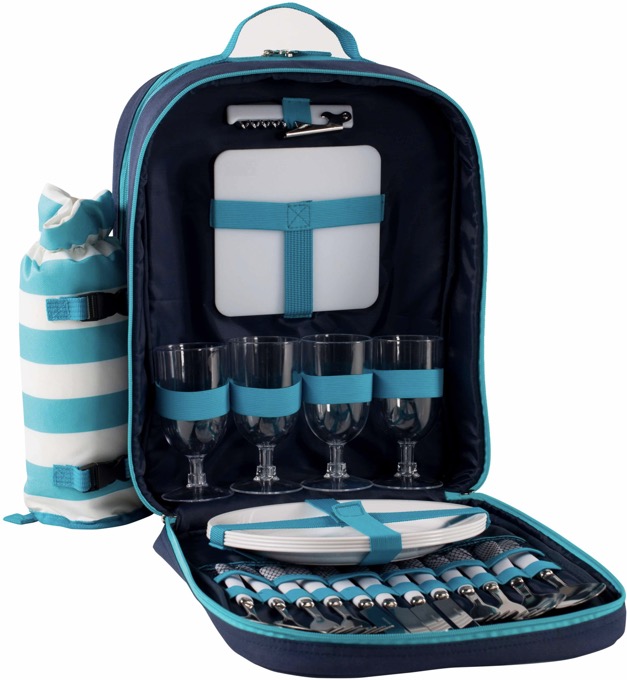 Price: £59.99
Place settings: 4
Score: 5
Contact: robertdyas.co.uk
There's no doubt that this set is a nice collection with all the things we like from a picnic set. It has a removable (and insulated) bottle holder attached to the side of the backpack. The rear section is a well-insulated area for food, while the front part has a comprehensive kit list. It includes a four plates, plastic stemmed glasses, a chopping board and bottle opener.
But it doesn't feel nearly as special as the Greenfield and the items feel almost identical to those used in the rivals which are half the price. The bag itself is jaunty and inoffensive, but can't match our winner for quality either. At half the price, it might seem a more reasonable buy.
Apollowalker Picnic Backpack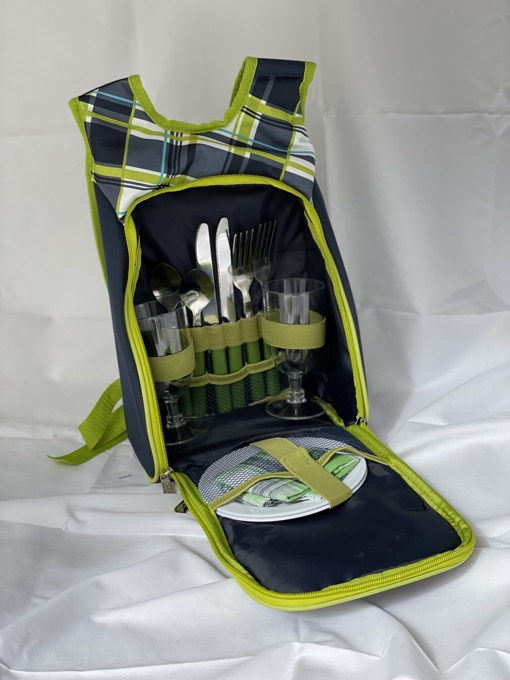 Price: £24.99
Place settings: 2
Score: 3
Contact: amazon.co.uk
We actually laughed when this backpack was abandoned on the doorstep by the inevitably Vivaro-driving Amazon delivery man. It proved why you should not rely on pictures when ordering something online and look at the dimensions before hitting the buy button.
The backpack is tiny, and the lairy pattern would be perfect for the fans of Radwood or other 1980s/90s events. It just looks more like a child's toy than something an adult which proudly plonk onto the picnic blanket in front of friends.
There is just one compartment which is insulated, but since it also contains the crockery and cutlery there is very little space for food. The plates are tiny too and the spoons are only good for stirring tea rather than munching a dessert.
This might all be forgivable if it was cheap, but at £25 this is not a bargain.
Verdict
We really loved the Greenfield hamper and think the quality means it is worth every penny of the price. We also liked that you can choose lots of different versions of this pack on the company's website so you are not buying things you won't use or don't need.
If you can't justify the cost, then the always-discounted Mountain Warehouse XL offers decent value and four place settings. The Homeallure takes third place.
Read more
Reviewed & Rated: The best emergency kit to keep you visible
Preparing for your next big road trip
Five reasons to avoid the autoroute on your next French road trip