The year 2035 is looking quite bleak for those who like driving, when the proposed ban of petrol and diesel-powered machines comes into force in the UK. For some types of car, the move to electric power has the potential to do wonders: city cars and luxury cars will not miss the noise, vibration and complexity that the internal combustion engine brings with it.
For the average motorist, keen to move from A-to-B in comfort and safety with as little hassle as possible, electric motors could offer many benefits, especially when twinned with automation. Maybe by then we will have reached the famed fifth-level of autonomous vehicles, swapping power-slide for power-nap on our favourite bits of road.
How much is your car to insure? Find out in four easy steps.
Get a quote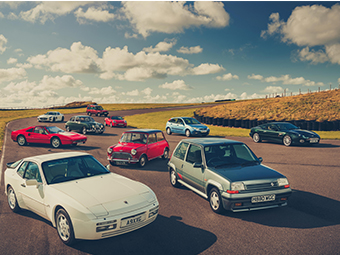 But what if you aren't the average motorist? Instead, you might be the kind of driver that heel-and-toes on the way to Tesco, or one that concentrates on the chatter from your steering wheel rather than that of your front seat passenger. The year 2035 sounds a very glum place indeed if you are such an individual – the joys of a manual gear shift and a shouty engine are sadly coming to a close, and evidence from the first wave of premium EVs serves as little consolation. Teslas have little depth beyond antisocial straight-line performance, and not even Porsche's Taycan quite hits the spot. While no doubt a very impressive, well-honed device, the thing weighs 2.3 tonnes with levels of speed and grip that are far beyond what can be enjoyed on the public road. Sub-three second sprints to 62mph and record Nürburgring lap times make great headlines but fall short of evoking what we love about driving, so to satisfy the enthusiast dipping their toes into EVs, the talents of an electric driver's car must go beyond these binary measures.
Contrary to the glum outlook of most, I think they have a good chance of doing so. Of course, there are certain genres of car where the piston engine is instrumental in their appeal – big, hearty GTs and hard-edged supercars, for instance – but what about the ordinary, small, two-seater sports car? This is where things get interesting, and where I think EVs can rekindle proper old school driving thrills. A sports car with narrow tyres, stacks of torque and an appetite for oversteer may conjure images of a Lister Costin sliding around Goodwood, but if manufacturers are brave enough to abandon the numbers chase, such a car might just be available to buy in 2035.
Imagine an electric two-seater with a power output of around 250bhp, put down through a pair of skinny rear tyres. That's just about the right amount of power to exploit and enjoy on the road, and the instant response and torque of the electric motor could bring the rear end into play at the driver's discretion – just like in a Shelby Cobra, albeit without the fabulous noise. Of course, I'd not condone drifting on the public road, but one of the joys of classics in particular is feeling them move around beneath you at safe, moderate speeds. Their limits are made accessible by the tiny contact patch of the tyres, whereby the attitude of the car is malleable and slides are manageable rather than snappy. By coupling all that torque with modest amounts of rubber, an EV sports car could be a prime candidate for providing similar thrills.
Pulling out of the power-race would also bring simplicity and weight savings elsewhere – smaller brakes, lighter batteries, less substantial suspension components and so on – so perhaps such a car could get somewhere near 1200kg. In other words, just over half the weight of a Taycan. And as demonstrated by featherweight icons like the Lotus Elan and more recently the Alpine A110, low mass is king when it comes to an absorbing driving experience – agility and immediacy are invariably ramped up. One advantage particular to EVs, however, is the very low centre of gravity afforded by floor-mounted batteries, which also does wonders for dynamics.
You see, many of the defining qualities from our best-loved driver's cars are those able to live on in the EV sports car. The talkative steering of an Elise or superbly adjustable handling of a 205 GTi, for instance, are joys which can come in the absence of a combustion engine. And then there are exciting new tools like regenerative braking, which may indeed see cars invoking the spirit of old French hatchbacks with copious amounts of lift-off oversteer and throttle adjustability.
Things sound promising, but I'm not going to pretend that all is well with the ban of the piston engine; many cars will be left totally diluted and fighting for an identity in its demise. What can be said, however, is that electric power will open up some exciting possibilities for ordinary sports cars, like the Toyota GT86 or Mazda MX-5, where the switch from relatively dull engines to electricity isn't quite as painful. Of course, some of the noise and the manual gear change will be sorely missed, but if the MX-5 of 2035 in any way resembles a Lister Costin in the way that it drives, then we're in safe hands.
Photo courtesy of Goodwood GRR.
What's your vision of the driver's car of 2035? Will there be such a thing?