It takes a certain je ne sais quoi to dress exclusively in lace but Phillis Gene wears the look outrageously well. Revealing more than just a whisper of what lies beneath, her elegant, gauzy, nose to derrière ensemble has been tailored using a tool that reaches temperatures hotter than the surface of the sun. It is an outfit made by a visionary modiste, because Phillis is a four-door Chevrolet Deluxe, and her lacework has been fashioned out of her original forties bodywork using a plasma cutter.
"I wanted the lacing to flow across the lines of Phillis Gene's body in the same way lace would lay over a real woman's body," explains Texas-based welder fabricator Rae Ripple. "Like cars, women come in all sizes and shapes; there's something very beautiful about that."
For most people, the prospect, let alone the act, of cutting up a vintage car with a jet of ionised gas would put them on edge, but for Rae, the best and most effective way to do it is to turn up the stereo in her atelier for the alternative, crank up the power on her Hypertherm Powermax65 SYNC plasma cutter and let the creative vibes roll. "I just started at one end and worked my way round," explains the mother-of-two, who confides it's taken eight years for her to trust that her unorthodox "see what happens" approach always delivers the best results. "These are vintage cars and there's no coming back if you mess up, you can't just go get another one."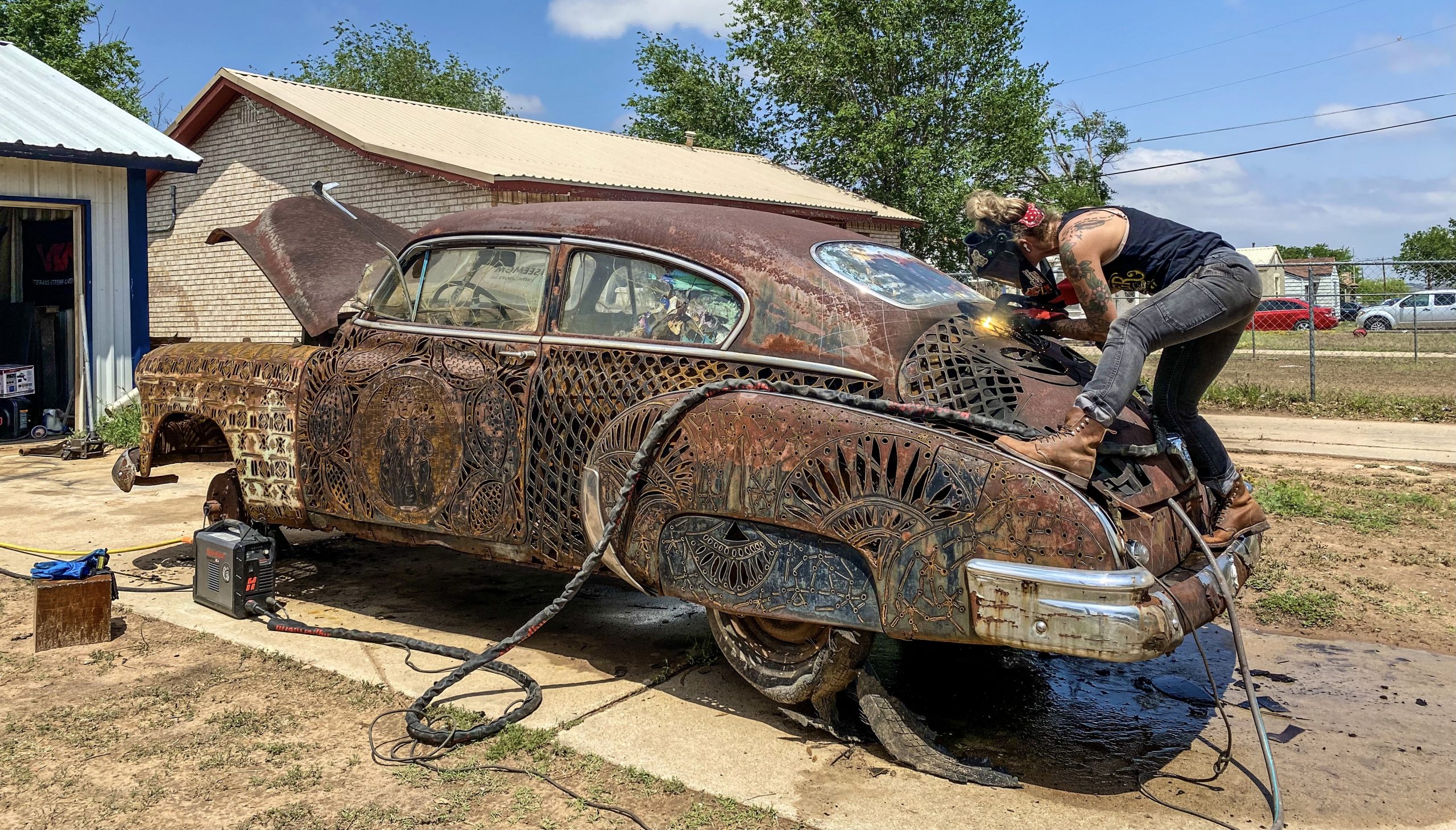 Phillis Gene, "a future rat rod that's gonna run, drive, and dominate every car show she goes to", had to be perfect, and she had to be laced quickly. "The client's mother, who the car is named after, was dying of cancer so he was trying to get it done before she passed away. I tried to change the way I do things; I sketched a design on paper, but hated it, so went back to trusting my hands, my process and my skill. No plans, no tape measures, no mapping, what's in my head comes out of my hands, but ultimately there are no mistakes in art."
Including metal prep and two hours and thirty-two minutes of intensive arc time, it took Rae, who struggles with imposter syndrome, a week to accomplish Phillis's lacework; which her namesake was able to admire before she died. "There are very few occasions when I step back and go damn, I'm proud of myself for doing that, but Phillis Gene was one of those moments. As long as the client is happy I'm happy, but there's always that initial fear of showing them – what if it's not good or they don't like it? I find it hard to celebrate my creations and I'm not very good at taking compliments."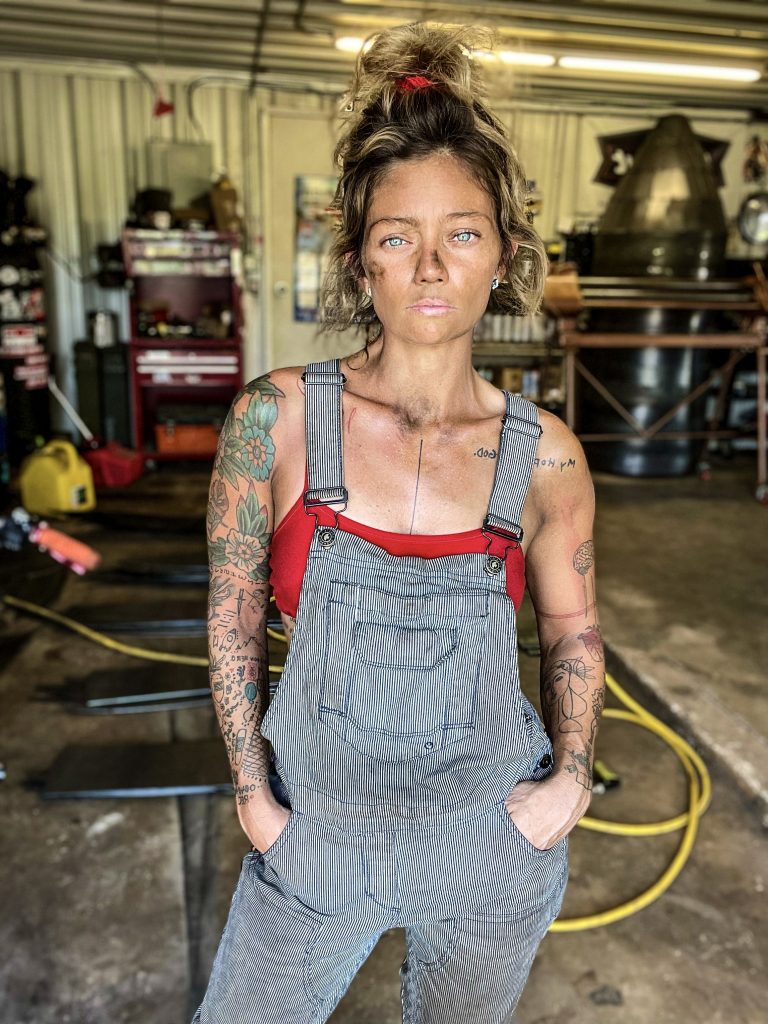 It was when Rae traded a ticket to Mexico for a rusted-out '58 Apache truck that she was first inspired to turn the faded patina of a vintage vehicle into lace – a decision which made her the "most hated person on the internet", but a decision she doesn't regret. "It's a rare truck, but it's my truck," Rae asserts in response to criticism she received in forums. Less chintz, more industrial hippy, the Apache looks resplendent in its slip of roses – especially during the festive season when she fills it with fairy lights so that it glows from the inside out.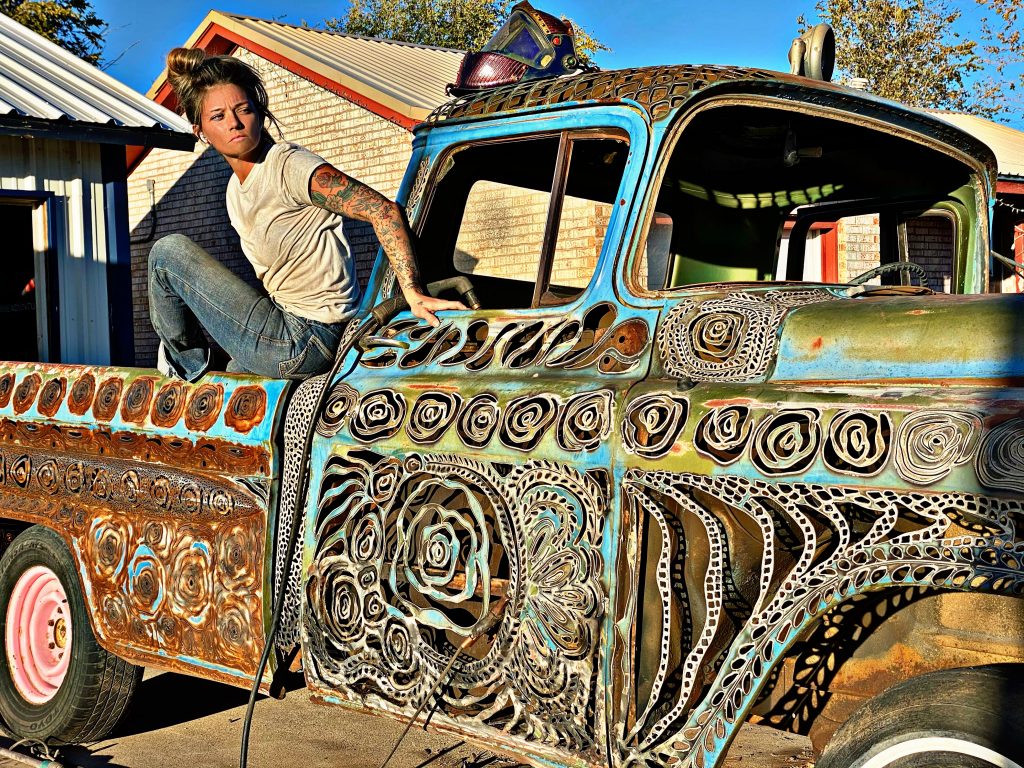 "I think the shock factor of cutting classic cars up is wearing off because the demand for them isn't slowing down," says Rae, but for all the freehand, free-spirited freestyling, she does think carefully about the type of cars she details with lacework. "I would never be able to do this with a new vehicle because of all the plastic and carbon fibre, but back in the day they made cars differently. Most of them were built pretty solidly as a body on a frame so when I cut into it the structural integrity is still there – if you did it on a unibody car it would be totally different. Some of the more delicate features cave in if you push on them, but I re-brace that stuff."
Entirely self-taught, Rae refers to herself as a graduate of the "YouTube academy". A dyslexic who says the prescriptive, exam-orientated nature of the American school system prohibited her from exploring her potential beyond textbooks, she's fought hard to do it her way. "We're told if you don't pass certain tests, do things a certain way or read certain books then you're not going to make it in life, but you don't have to have it figured out, you don't have to go to college. I signed up for a welding course, was handed a book and dropped out because I didn't want to read it." Failures aren't failures, Rae imparts, they're simply redirections.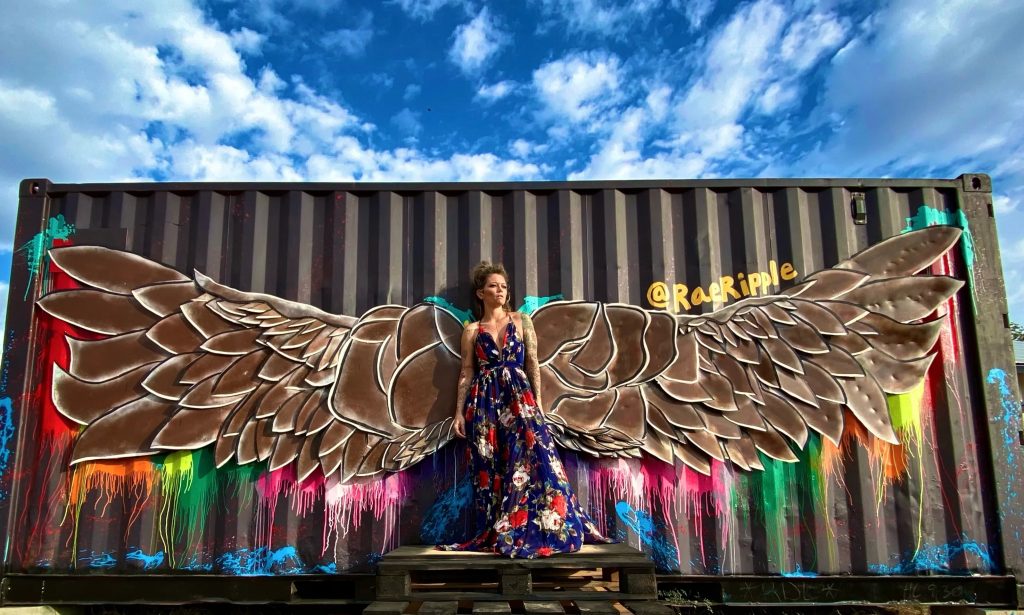 "There's no scientific evidence to back this up, but I feel the only skill anyone can ever be born with is creativity. That urge to create, that's the one thing you cannot teach a person – no matter what school you go to, no matter how hard you try, you can only teach someone how to perfect their craft. Artists spend our whole lives trying to figure out a way to tap into that creativity – whether it's through metal art, knitting sweaters or decorating cakes – and sometimes it takes something to happen to allow them to do it; for me, it was childhood trauma."
Describing her formative years as a world of darkness, Rae ran away from her parents – who were both addicts – at the age of fourteen. At seventeen, she became pregnant with her daughter, Chloe, at which stage she was living on the streets. To put a roof over their heads, she worked as a stripper, and a job making cakes in Walmart came next. It was only when Rae escaped an abusive relationship with the father of her son, Kash, that she finally discovered her craft.
"Every single day I would wake up and want something better for me and my kids," she reflects, "a friend of mine was fabricating this race truck and I was like, are you going to let me try that? I'd never done it before, but I had a willingness to learn, and I fell in love with it."
Defiantly experimental and expressive from day one, "heat, beat, weld, and repeat", Rae's output has been on a continual journey of organic evolution. Since her early abstract 2D sheet metal pieces, she has torched out 3D sculptures that include a gigantic bunny mascot that stands guard outside the largest liquor shop in Texas and "Dino the Dimetrodon", a dinosaur who lives off the 135 in Mulhall, Oklahoma. Her lacework has given oil barrels, motorcycle bodies and a '78 Camaro radical new appearances, and she's responsible for the conception and execution of the world's first fully-functional laced metal Harley Davidson petrol tank.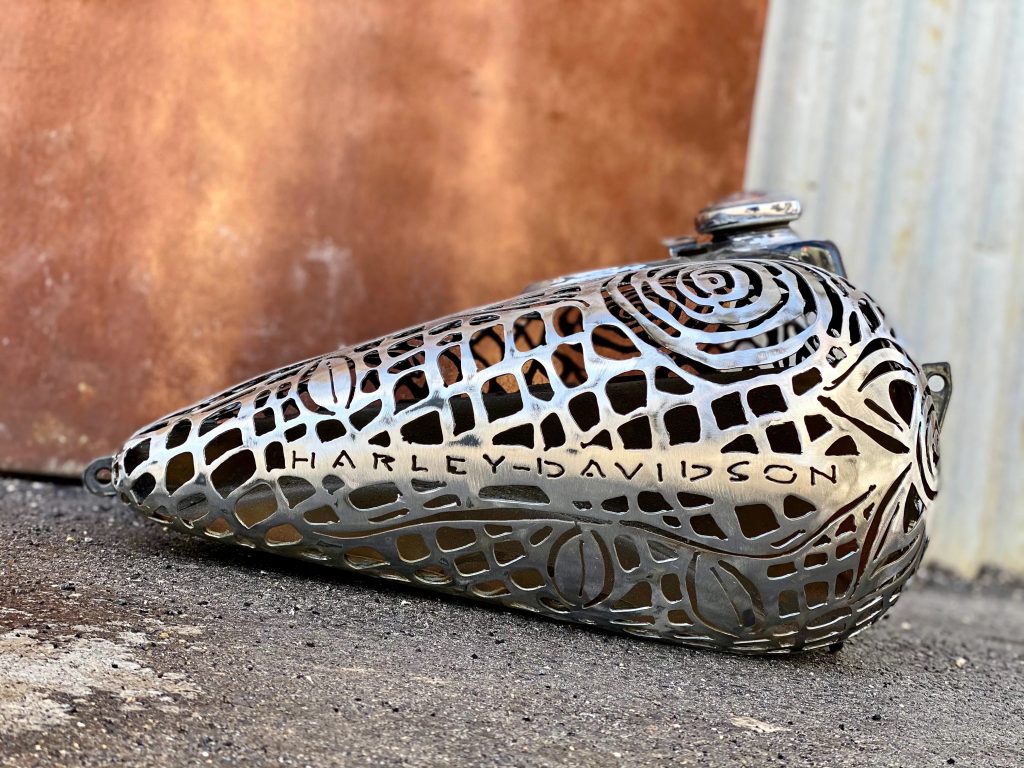 With each piece that Rae has burned through, her reputation has burned brighter, and in 2021 she showed the world what she was capable of when she took part in the Netflix series, Metal Shop Masters. Competing against other skilled metalworkers, she survived five episodes, each of which required her to realise a themed-brief within a punishingly limited timeframe. Her avatar, a mannequin dress with removable wings "Cinderella had a dream, but hers started with a needle, thread, and some fabric. Mine started with bailing wire, tinsnips, and some metal", was a triumph with the judges. "I made it to the very end but the one I got eliminated on, was probably the most brilliant sculpture I've ever done. It looked a mess, like how every day of my life feels, but when you shone a light through it, it cast the shadow of Adam touching the hand of god like in Michelangelo's painting".
Rae credits the "universe" for enabling her to become a full-time metalwork artist three years ago, but building an empire as a broke single mother who has suffered neglect, fled domestic violence, worked multiple jobs and shifted between temporary accommodation, shows a strength to survive that can only come from within. "When things were happening in my life that weren't going well I would find myself in the shop after the kids had gone to bed. Instead of turning to men, or going to the bar for comfort, I would create. Listening to songs on repeat, I'd build whatever my heart wanted; a lot of my pieces are made from me falling apart or falling in love. It's a coping mechanism that turned itself into a career."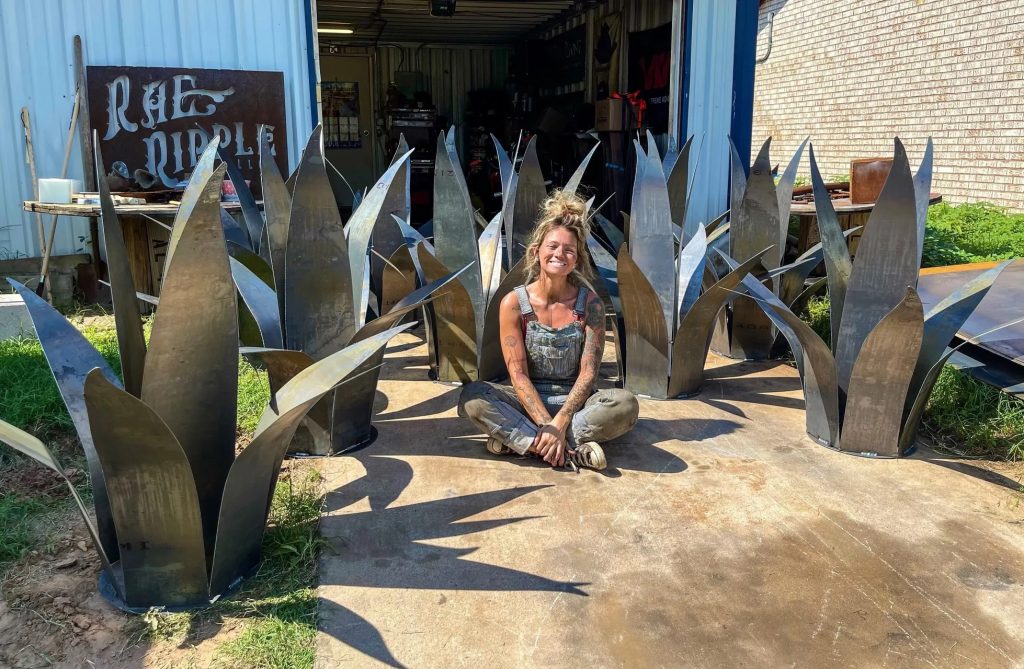 There's no metalwork artists' starter pack, explains Rae, it's just a case of "getting your ass up and doing it", but in practical terms, a plasma cutter, welder, grinder and CNC machine (useful for jobs that demand a precise finish) are the must-have tools for a professional. Preferring not to get suited and booted in full-on PPE when she's working metal, Rae is comfortable in, and confident with, her choice to wear overalls, a hoodie and a pair of lace-up worn out shoes. "I wear gloves and protective eye wear but I'm at my home shop, and I run my own s**t. At one point in my life the only shoes I had were stolen, which taught me the true value of holding on to what you have. I know I can afford to buy new ones, but these worn out shoes are helping me build a life my kids deserve. And no, my feet never get burned."
When she's not shaping the future of sculpture with her welding torch, Rae recharges her batteries in her sun room. Silently photosynthesising, living, breathing plants share the space with flowers that girls from across America have welded for her, and it's these handcrafted tokens that planted a seed, which grew into Rae's first, semi-autobiographical, children's book. "It's called When I Grow Up and it's about a little girl who wants to be a welder."
Every person is born into this world with a purpose, says Rae. "Whether it's to be a mother, a firefighter, a tow truck driver, an artist, a writer, a daughter, a dog mom or a plant mom. The journey to finding your purpose is what life is all about. I've survived a lot of things I shouldn't have survived for a reason, and I hope I can show people that it's OK for anybody to be whatever they want to be."
Read more
Hard Craft: A.C.F. Howell metal finishers is a shrine to shine
Polished to perfection: Behind the scenes of GDK Veneering
A sixth sense, a shaky hand and finding the sweet spot: Terry Smith reveals the secrets of signwriting