Richard Tipper has been valeting cars of all shapes and sizes since 1989, and can spend up to a week detailing every inch of a car. He has gone through more cleaning accessories and products than you'll find on the shelves of an automotive superstore. These are Tipper's Tips for the Hagerty community.
Alcantara is used widely across the automotive industry and it's been a feature of car interiors for decades. People buying cars on the used market often think that worn or flat Alcantara is beyond any form of recovery and will need a retrim, but the material is actually very durable and, happily, surprisingly simple to revive.
How much is your car to insure? Find out in four easy steps.
Get a quote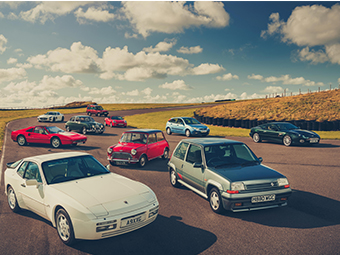 Some of those assumptions come from a case of mistaken identity, as Alcantara is an artificial suede, used because it's both cost-effective (even if manufacturers tend to charge extra for it…) and long-lasting.
Real suede, as a hide, really is irretrievable once it wears away, but when Alcantara looks worn it's often just that the pile of the material is lying flat, and has absorbed the sweat and grease from your hands (particularly on a steering wheel) or fibres from your clothing. Bringing it back is just a case of reversing this – cleaning away the grease and brushing the pile back up.
There are several cleaning products available on the market, some specifically designed for cleaning Alcantara. I've used a cleaner from Race Glaze for many years now and can fully recommend it, but if you're on a tight budget there is another way, and it's one you almost certainly have lying around at home: dish soap.
It's one of the few times you can use it effectively on a car, as it is formulated to break down grease so works very well indeed in this instance (but never your car's paintwork). You don't need to cover the material in suds – if you soak it, it can become brittle when it dries – but with a few drops in a shallow pot of warm water and a microfibre cloth, you can gently rub around the Alcantara to allow the detergents to break down and lift away any grease and dirt.
Working on a steering wheel, it's best to do a quarter at a time, working the cleaner in with a microfibre cloth wrapped around the wheel rim, gently twisting it as you go. Some parts may need more attention than others, such as the thumb grips – wrap a microfibre cloth around your finger to concentrate on those areas.
You can then use a dry cloth to absorb moisture from the surface, and give it a few hours to fully dry before the next stage, which is brushing back the pile. As you can tell from the photos, you can do this cost-effectively too by using a toothbrush! They're incredibly good for detailing in areas like that, as well as around dashboard switches and the like.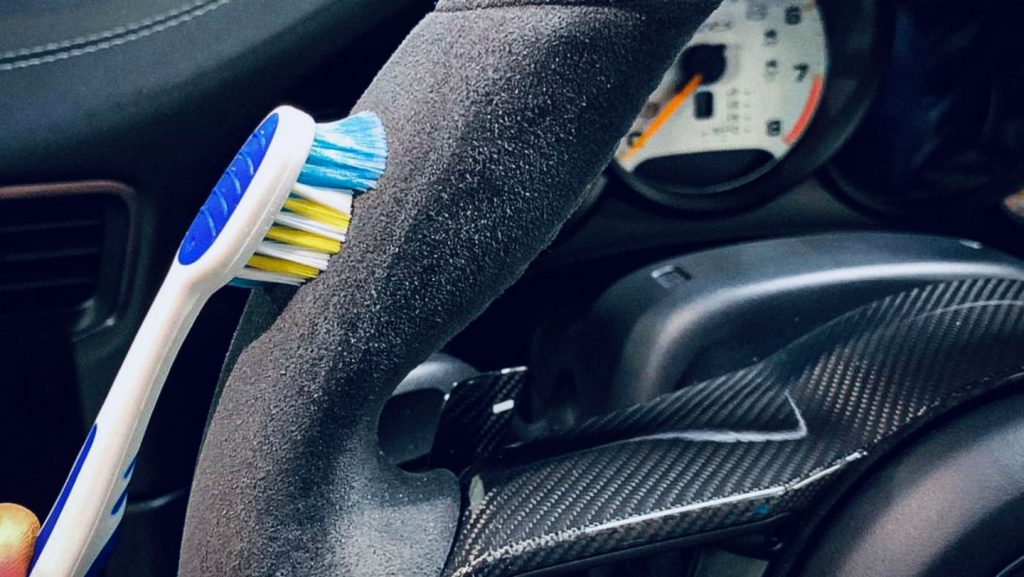 Any fine-bristled brush will do really, provided the bristles are firm enough to get a bite on the pile of the Alcantara but not so firm you're scrubbing at the material. You can use a fairly delicate action, just enough to bring back the pile to that nice fluffiness. You can even brush it a bit like you'd cut a lawn, putting stripes into it!
One thing to be careful of with vehicles that use Alcantara seats (Lancia Delta Integrales, BMW M3 CSLs, Porsche 911 GT3s and the like) is that if you're vacuuming away dirt, be careful not to put too much pressure in localised areas, which can score lines into the fabric if you're using a crevice tool. If the vacuum has a brush attachment, use that instead to even out the pressure.
While it's generally long-lasting, older Alcantara can dry up and flake too, and if an area sees a lot of direct sunlight, like the dashboard on a Ferrari F40 or F50 (not a problem for everyone, I'll admit!) the material can fade and there's no way of doing that professionally and satisfactorily back into a deep black appearance. In those instances it is too far gone, I'd say. It's a durable material, particularly for general wear and tear, but it can still get damaged.
If you're buying a car with Alcantara trim though, the moral here is not to be too disheartened if it's looking a bit flat and grubby, as it's a lot simpler to bring back than you might think. In the coming weeks I'll be focusing on other specific areas, such as leather cleaning and detailing your engine bay.
Also read
Wax on, wax off: Protecting your paintwork after cleaning and polishing
Elbow Grease: You've got a rotary polisher, so now what?
Elbow Grease: All work and no clay?